V&A Dundee has unveiled its first fashion collaboration with designer Kerrie Alexander and textile innovators Halley Stevensons in the form of the Dundee Raincoat.
The limited-edition raincoat is a modern-day unisex number. Made using waterproof waxed cotton, it is inspired by Dundee's innovation, creativity and resilience (via V&A Dundee).
"Partnering with a design museum and a textile factory to design the ultimate contemporary raincoat has been a brilliant experience," said Kerrie Alexander, founder of KerrieALDO.
Alexander said V&A Dundee's contemporary architecture "had a big influence on the design of the coat", adding that "care and attention" went into each piece.
"A collar was discussed at an early design meeting, but having grown up in Dundee, I knew a hood was an essential feature of the Dundee Raincoat, to deal with the unpredictable Scottish weather!"
Inspired by contemporary architecture of V&A Dundee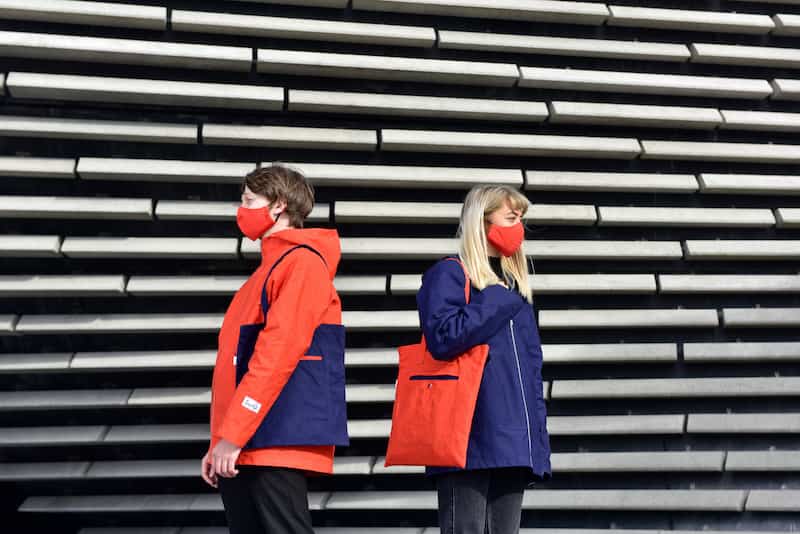 Designed and hand produced by independent fashion label KerrieALDO, the sustainable raincoats and matching bags were hand-cut and crafted for the collaboration.
Available in navy and orange, the Dundee Raincoat features signature KerrieALDO finishes, including coloured trims and an inner patch pocket made from Ancient Dundee Old Heavy Weight Tartan.
"The Dundee Raincoat combines authentic heritage with contemporary style, which will be available at V&A Dundee's design shop," said James Campbell, managing director at Halley Stevensons.
"Halley Stevensons is pretty unique in that we work in the same way with large brands as we do with smaller artisan labels such as KerrieALDO."
Hand produced by fashion label KerrieALDO
The limited-edition run of 20 Dundee Raincoats are exclusively available from the shop at V&A Dundee. The coat costs £200 and the matching bag costs £45.
"Our visitors tell us they are interested in supporting independent designers and shopping for unique items that have a local connection," said Christian Moire, director of operations at V&A Dundee.
Mona recently launched this year's winter collection using its museum workers as models, an innovative solution to saving money during the costly coronavirus crisis.
V&A East director Gus Casely-Hayford will be speaking at the blooloop V-Expo, running from October 13 to 15. Don't miss out – register here today.