Barco is pleased to have been a part of a stunning mountainside projection at the closing ceremony of the Dakar rally 2020. This was held at Qiddiya, an entertainment, sport and arts destination in Saudi Arabia which is gearing up for its grand launch in 2023. It will be home to theme parks, water parks and many cultural attractions.
Visitors to the closing ceremony of the Dakar rally were treated to a giant projection on the Tuwaiq mountains. At the start of the project, the Qiddiya Investment Company (QIC) contacted Martin Professional to request a visualisation of the Qiddiya logo on the mountainside, measuring around 100 by 100 metres.
Mountainside projection
To achieve this, Martin Professional suggested Barco projectors, due to their high brightness and quality colour performance.
After seeing a successful mockup with two UDX projectors, the customer agreed that Barco was the best choice to get the results they wanted, and also extended the projection coverage to 440 metres wide for even greater impact.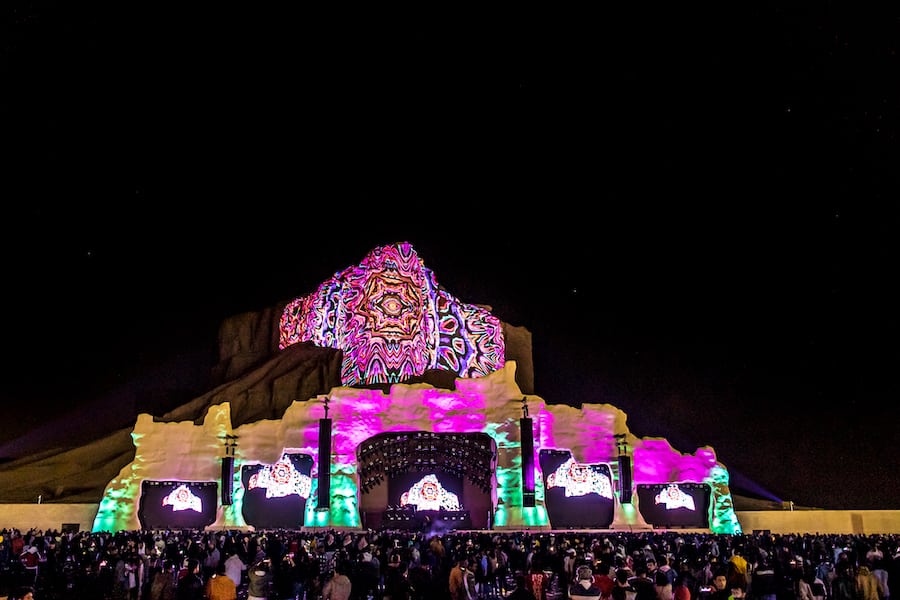 In the final project, 84 UDX-W40 projectors were used to transform the mountain and were equal to the challenge of projecting a uniform image onto an irregular surface.
Success was achieved by working collaboratively with several expert teams in order to study the mountain, design the content and projection setups and develop special mounting kits.
"Given the scale of this project and the time-window of 60 days to finish," says Bilal Assidi, Martin Professional Sales Manager. "We realized that there will be some serious challenges ahead of us, but our team worked day and night to break all the walls we hit during the implementation.
"Seeing those 84 projectors producing a single blended image on the cliff for the first time was a breathtaking and unforgettable moment. It was all worth it."
Barco also recently hosted a successful webinar on the use of technology in immersive visitor attractions.
Event pictures courtesy of Phntm Labs. Video courtesy of Qiddiya.