Ferrari World Abu Dhabi, located on Yas Island, is home to record-breaking attractions including the Formula Rossa, the fastest coaster in the world, and Flying Aces, a dynamic coaster with one of the world's tallest loops.
Blooloop spoke to Bianca Sammut, General Manager of the park and Acting Head of Yas Theme Parks. She talked about her experience of managing a park showcasing one of the world's most iconic brands, and the innovations she has put in place since taking on the role.
Outlining her career in the industry, she says:
"I have just celebrated my 25-year industry milestone, which is incredible. It's great to reflect on my career and the amazing attractions and venues that I've been able to work at since that time."
Bianca Sammut's early career
Before her work with Ferrari World Abu Dhabi, Sammut gained valuable experience working in the Australian attractions industry. She worked at Australia's Wonderland, a combination of theme park attractions, water park rides, wildlife experiences and shows, for five years.
"Opportunities have just always continued to open up for me across the 25 years," she says. "I then worked at Sydney Tower Observation Deck for five years, before moving to The Gold Coast, home to Australia's theme parks, and was fortunate enough be working with Village Roadshow Theme Parks who have an incredible portfolio of theme parks and attractions."
She also worked at SeaWorld, MovieWorld, and Australian Outback Spectacular:
"I was involved in the opening of many new attractions and venues. I was able to diversify my portfolio and my knowledge, across into sales and marketing and different parts of the operation. This included management of the waterpark and the resort facilities, working with some great IPs."
Yas Waterworld
Following this, Sammut moved into a new role at Yas Waterworld in Abu Dhabi. "We packed up our little family and decided to take the journey to the other side of the world, to begin our adventure. We have now been here for 6 years, living and working."
At that point, Yas Waterworld had been open for a year:
"I was the second in charge. It was a great start, as the water park was brand new and in its opening year. I felt like there was a lot of connection, just in terms of reviewing where you sit after a year of operation, what you need to adjust, how do you start to build on the portfolio and the guest experience.
"After my first year, I was appointed to the General Manager position. I was there for four years, and then I moved across to Ferrari World Abu Dhabi. This year, I was appointed as Acting Head of Yas Theme Parks. It has definitely been a continuous journey."
Ferrari World Abu Dhabi
At Ferrari World Abu Dhabi, Sammut's focus from the start has been on adding value to the guest experience, something she is passionate about.
"Having been an operator for many years, I have a deep understanding of how attractions deliver the experience. For instance, the things that they need, the challenges that they face, and how the delivery and the experience looks from the guests' perspective."
"Ferrari World Abu Dhabi is home to one of the most iconic brands in the world. And it is also an enormous theme park, which I just love. For me, the focus has been, with the team, on how the brand translates into an experience that talks to all the different ages, conveying the brand message. How, in short, do you bring Ferrari alive?"
Her answer has been both to enhance existing programs, and introduce several new ones:
"Ready, Set, Pizza is one of those. It is a program for our schools and for our birthday parties, as well, where the guests actually make the pizza dough with our chefs. Then there is Coaster Lab; the only educational program in the UAE based on the science of rollercoasters."
Ferrari World Abu Dhabi's Coaster Lab
Ferrari World Abu Dhabi's Coaster Lab is a unique exploration of physics that is the first-of-its-kind in the UAE.
The year-long initiative for schools will allow science-loving primary and middle school children to combine the basics of physics, technology and engineering with the fun and thrills of roller coasters, building mini replicas of their favourite roller coasters and participating in interactive demonstrations before riding the real things.
"The program pays homage to our lead ride, Formula Rossa, the world's fastest roller coaster," says Sammut.
New zones 
In addition to guest experiences, Sammut introduced numerous tech upgrades as well as scenic work to Ferrari World Abu Dhabi in February this year.
"I'm so excited to be at the theme park for our tenth anniversary. You can see our 10th-anniversary logo in park banners everywhere you go. And we also have our new virtual park map that can be accessed using guests' phones.
"We have our brand-new Family Zone that houses four family-friendly attractions based on miniature versions of our famous rides. We're Ferrari: we prefer not to settle for one at a time."
Family-friendly rides at Ferrari World Abu Dhabi
The Family Zone rides includes Formula Rossa Junior. This is a scaled-down replica of the world's fastest coaster, for kids to ride with their parents. Then there is Flying Wings, a biplane attraction which is the equivalent to the Flying Aces roller coaster, in a format more suitable for families.
"Our guests will feel as if they're flying," Sammut says. "Turbo Tower is a mini version of Turbo Track, the steel shuttle coaster. What I love about Turbo Tower is that while you're sitting on it, you look straight across at Turbo track going around in front of you. So there's an automatic connection."
"It's great fun. Our guests will love it. And then Speedway Race lets children drive in scaled-down F1 cars. It's going to be a family favourite."
Other family-friendly additions were made to the iconic theme park this year, including push cars for toddlers modelled after Ferrari cars. There is also a brand-new retail line designed specifically with younger guests in mind.
An iconic brand
Translating one of the world's most iconic brands into a unique guest experience across a range of ages is a challenge. Explaining how to meet it, Sammut says:
"It's about understanding the brand. I have spent a lot of time coming to an understanding of Enzo Ferrari, and the vision of Ferrari, and in looking at the attractions and experiences we have at Ferrari World Abu Dhabi."
Sometimes, it is a matter of going right back to basics:
"Take the food and beverage offering, for example. It has been about enhancing the menu. We are ensuring that we have Italian flavours. In addition to this, where dishes are cooked fresh, we let the guests know about it. We're introducing kids' meals: Spaghetti Bolognese, all the classic Italian dishes. It's a combination of so many different elements."
"During Formula 1 last year, the F1 drivers came to the park, and they ate at the restaurant. So, we're bringing that to life with their favourite meal and putting that on the menu. There are so many little things that can be done to surprise and delight guests throughout their visit."
Bringing the Ferrari brand to life
There is a certain amount of replication aimed at bringing the brand to life. For example, the Italian Zone, the replica façade of Casa Ferrari, Enzo's house, at the racetrack. There is also the iconic replica of the Ferrari factory entrance.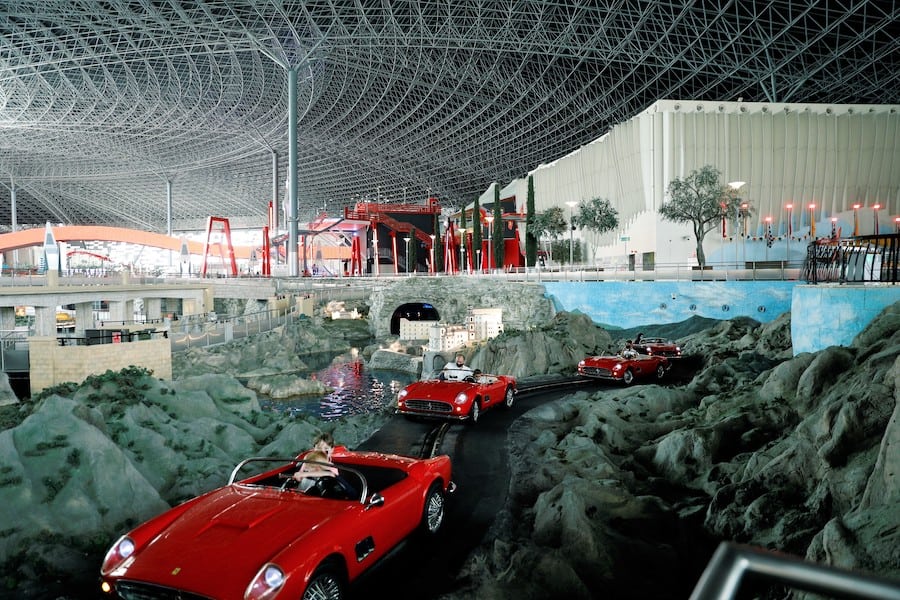 "It's important how we bring that to life and showcase it for our guests," says Sammut. "So that they understand what they're seeing. There are a lot of touchpoints."
The attraction draws visitors from around the world, as well as the local region.
"We are based in Abu Dhabi and we have a lot of international guests. For instance, India, Russia, Germany, UK, China – and then the GCC is our local audience."
New experiences at Ferrari World Abu Dhabi
"We try to stay ahead of the growing experience economy. Our driving experience at the park is perhaps the most popular. Where else in the world can you get to drive a Ferrari? It's a bespoke attraction, for us, and that's where our guest experience starts to differentiate itself. You can't do these things anywhere else."
"We are constantly evolving and adding new experiences, based on the way that the market is trending. Our next event is the 'Hypercars – Evolution of Uniqueness' exhibition, an incredible new experience for our guests, where we will be displaying unique hypercar models that mirror the limited-series cars currently on display at the Ferrari Museum in Maranello.
"Our guests want so much more than just ordinary attractions. They are looking for that next piece. So, we're pretty excited, and I feel like we're ahead of the curve."
Staying safe at the Park
On 29 July 2020, following its temporary closure due to the COVID-19 pandemic, Ferrari World Abu Dhabi reopened to the public.
We asked Sammut what the popular attraction is doing to ensure guests and staff remain safe during their time at the park. She shared details about important precautionary measures they have in place.
"The health and safety of our guests is always our number one top priority. We have made sure to implement comprehensive precautionary measures across Ferrari World Abu Dhabi for everyone to feel safe and comfortable during the unforgettable experience."
Some of the park's safety measures include encouraging guests to wear facemasks, sanitize hands regularly and choose contactless payment at all outlets.