By Owen Ralph
There are a number of events in the UK that trade as "Winter Wonderland". However, none come close to Hyde Park Winter Wonderland in size, ambition and growth. The six-week spectacular continues in Hyde Park until January 6. It is now one of the biggest – and busiest – Christmas events in the world.
Working with The Royal Parks, organiser IMG has got the running of the 'pop-up theme park' down to an art. Earlier this year it won a new contract to manage and produce the event until season 2023/24. But what makes this seasonal spectacular so successful? Read on and find out.
1. It's more than a Christmas market
The Angels Christmas Market was one of the key features of the first Hyde Park Winter Wonderland in 2007/8. With its many wooden huts, the market would be a credible attraction in its own right elsewhere. However, as the wider London event has grown, it's almost become a supporting attraction to the rides and shows. Nonetheless, it remains the place to head for a relaxing respite from the more high energy activities at Winter Wonderland.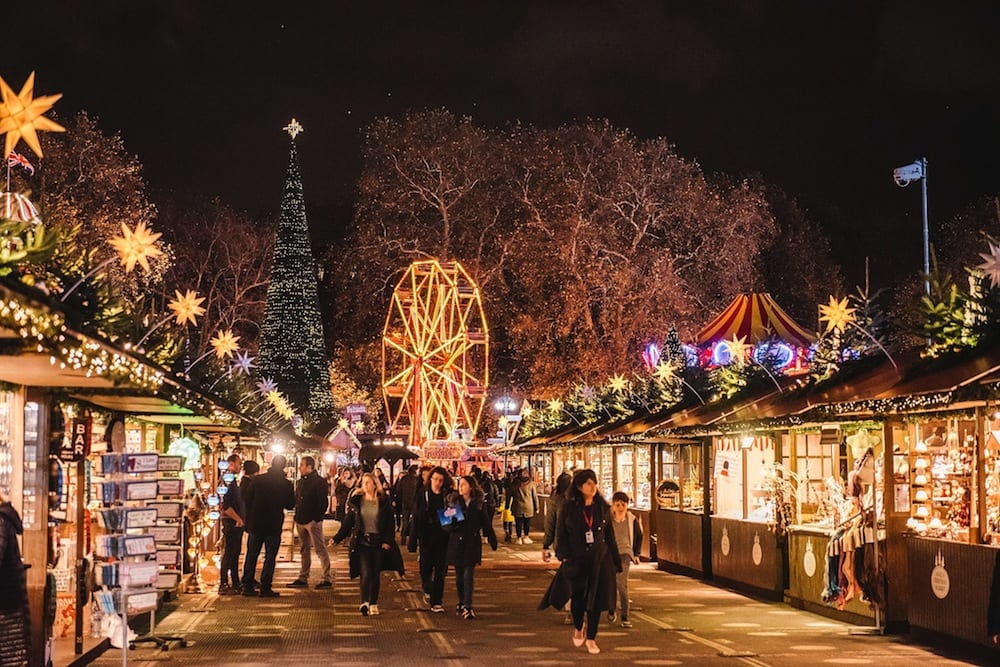 2. Hyde Park Winter Wonderland is more than a funfair
The rides at Winter Wonderland are contributed by travelling showmen from several European countries. Some apply to IMG directly. Others are contracted via operators such as the Mellors Group, Irvin Leisure or Manning Organisation. Manning is the largest single provider of attractions at the event.
Like a theme park, rides and attractions are spread over several themed areas. These include the Traditional Funfair, Thrill Zone, Alpine Adventure, Circus Zone and, just for the kids, Santa Land.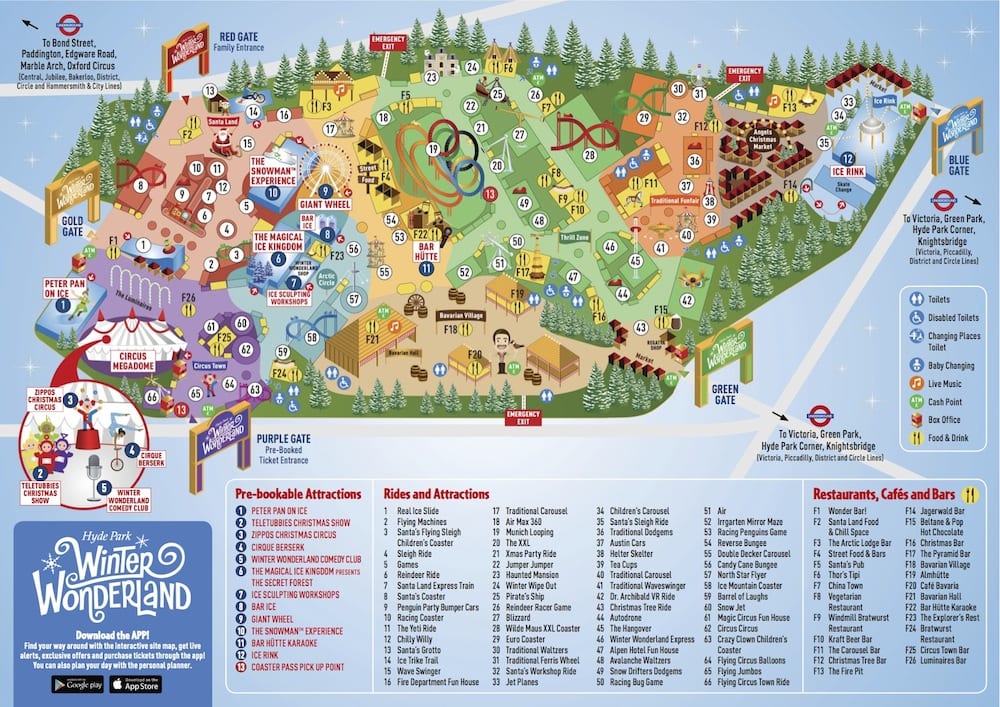 A highlight for many visitors is Munich Looping, a regular feature of the German city's Oktoberfest. The five loop Schwarzkopf classic – pictured below – is the world's largest travelling roller coaster. Featuring 1.2km of track, it is transported from city to city on no fewer than 50 trailers. The Barth family's gamble in bringing the mammoth attraction to London for the first time in 2016 certainly paid off. It was so well received, its owners had to add extra cars to cope with capacity.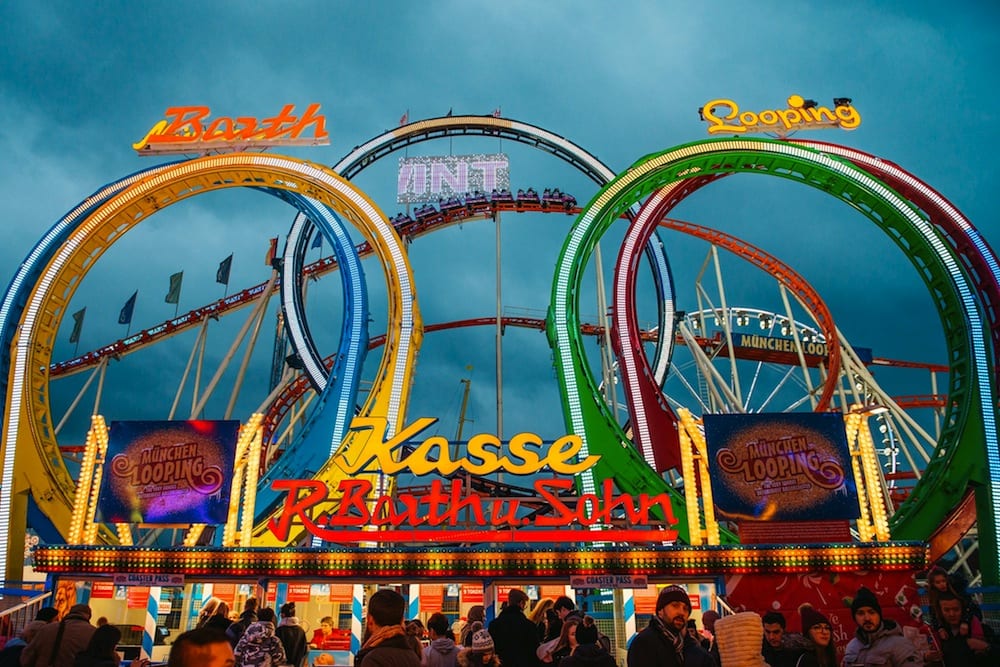 The looping attraction is one of eight roller coasters now part of the ride line-up at Winter Wonderland. Others include the Wild Maus XXL, Ice Mountain indoor coaster and the suspended Euro Coaster. Aerial highlights include a 60m-tall observation wheel, Star Flyer, Hangover freefall tower, XXL swing ride and Blizzard, a huge propeller ride manufactured by Mondial.
Many of the rides above would be headline attractions at any other fair or theme park. Yet the offer at Winter Wonderland is so broad that the organiser rarely publicises any individual rides in its marketing. Instead guests are encouraged to pre-book experiences like ice skating, the Magical Ice Kingdom and various shows, and then stumble upon the other attractions as they stroll through the site.
3. The circus is only part of the show
A firm favourite with London families, Zippo's Circus has featured at Winter Wonderland since the early years. Inside its heated big top, audiences can choose from a daytime Christmas Circus or the more risqué Cirque Beserk, performed each evening. In addition, the big top is also hosting a comedy club and Teletubbies Christmas Show this season. There's several other live entertainment options across the event too. Also new for 2018 are Peter Pan on Ice and The Snowman Experience by Backyard Cinema.
As was once the tradition in Las Vegas, the shows at Winter Wonderland are relatively short. After all, keeping audiences inside for too long prevents them spending money outside. Nevertheless, with the circus and Teletubbies starting at £10.50 ($13.25/€11.65) for an off-peak 45-minute performance, pound-per-minute they represent some of the event's best value experiences.
4. Ice is nice
IMG took over the reigns to Winter Wonderland when it acquired PWR Events in 2015. PWR had run the event since its inception, initially in partnership with concert promoter AEG Live.
PWR's background is in providing ice rinks and concerts at historic sites such as Windsor, Greenwich and Hampton Court. Ice-skating was therefore a perfect shoe-in for Hyde Park Winter Wonderland. After the first few years a new, bigger rink – now the largest in the UK – was constructed around Hyde Park's Victorian bandstand. Sessions regularly sell out for skating in this most majestic of settings.
PWR also instigated the Magical Ice Kingdom as an attraction at Winter Wonderland. This walk-through ice sculpture exhibition has been extended this season with a new Winter Forest theme. Over 500 tonnes of snow and ice were used to create its mythical creatures and scenes. Make sure you wrap up particularly warm for this one: it's -10°C inside! New for 2018, visitors can also book a place on an ice-sculpting workshop or sample a real snow slide.
5. It's the perfect place to eat, drink and be merry
As well as the rides, shows and entertainment, an important part of Winter Wonderland is its food and drink. A focal point for many revellers is the Bavarian Village. While the individual beer halls here may not be as large as any of the massive tents at Munich Oktoberfest, the cluster of bars, food outlets and stages here is vast. And the music acts and atmosphere are similar to the famous Bavarian beer festival.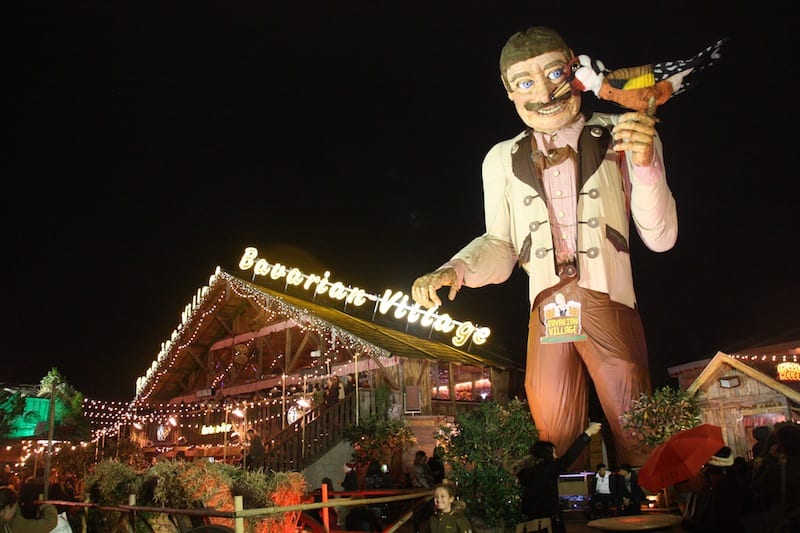 But don't try dancing on the tables. That is strictly verboten at the London event. Don't expect table service either. This is Great Britain, where you must queue at the bar for your drinks. Licensing regulations also outlaw the use of the large 1-litre 'Mass' beer glasses seen in Munich. Instead, Winter Wonderland visitors must drink from plastic pint glasses. Yet, given the time of year and many Brits' fondness for a drink, nothing seems to stop visitors to the Bavarian Village enjoying high spirits. Even on cold or rainy nights, when the rest of the event is quiet, this area is buzzing.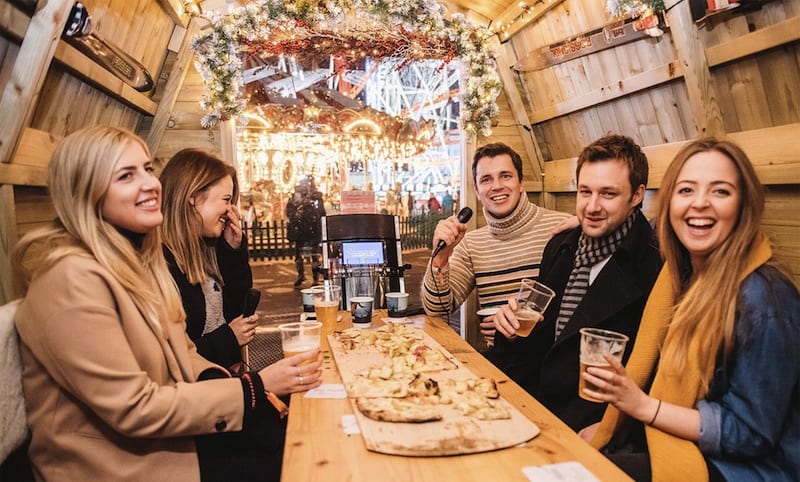 There are also several cosier bars and food areas. Winter Wonderland and other Christmas events around the UK have been successful in introducing Brits to joy of Bratwurst and other food specialities. But you can also find a good old British 'banger' (sausage) if you look, or old English hot drinks such as Mead. To bring a more contemporary touch to the event in recent years, new offerings have included a street food village and craft lager bar.
6. Entry to Hyde Park Winter Wonderland is free
Hyde Park Winter Wonderland has featured free admission since the start. To sample its rides and attractions, visitors can buy paper tickets from the many payment booths on site. New for 2018, a Coaster Pass system provided by Connect&Go allows cash-free access to nine selected rides.
Visitors can also pay for certain attractions using Google Pay or the contactless function on their own debit/credit cards. Depending on the success of the Coaster Pass trial this winter, IMG may consider rolling out an cashless system across the event in the future. This might also include payment for food, drink and games.
With big rides starting at £5 ($6.30/€5.50) each, climbing to £9 ($11.35/€10.00) for star attractions like Munich Looping and Dr Archibald, a ticket to ride does not come cheap. However, no other event in the British Isles boasts such a stellar line-up of attractions, nor the logistics involved in getting them there.
7. Location, location, location!
Hyde Park is one of eight London parks managed by The Royal Parks. Located at the end of the busy Oxford Street shopping district, it's also walking distance from major department stores such as Harrods and Fortnum & Mason, plus several famous high end hotels. With London Underground 'tube' stations Marble Arch and Hyde Park Corner situated at either side of the event, getting there by public transport is easy.
The venue is not quite as close to Buckingham Palace as St James Park or Green Park. Nevertheless it's close enough to be almost in the Queen's back garden. The monarch has yet to honour Winter Wonderland with her presence. However, Duchess Kate paid a visit with a then 16-month Prince George in 2014. Each November, more celebrities attend its VIP launch night.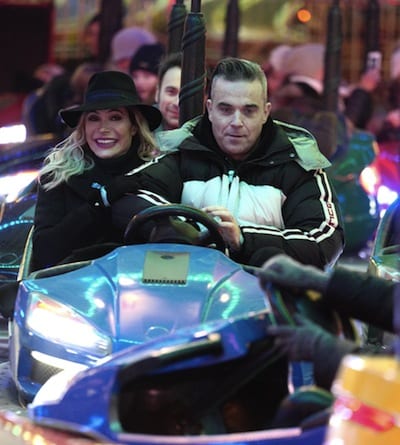 When it started in 2007, all Winter Wonderland's rides and attractions were arranged in a single avenue alongside the park's Serpentine Road. The event has grown and is now built over thousands of floor panels that are laid to protect the grass beneath. This same area of the park is also used for summer concerts and music festivals, freeing up Serpentine Road for regular park users.
Unfortunately, while the Queen has never made her feelings about Winter Wonderland known, some of the newer owners of expensive apartments around the park have voiced their concerns about both the Christmas event and summer concerts. But why should the concerns of a handful of millionaires/billionaires spoil the fun of millions or festive fun-seekers?
8. It's busier than most theme parks
Attendance at Hyde Park Winter Wonderland has climbed steadily over the years. It's now hosts around 3 million visits each year. Due to the nature of the event and its free entry status, that includes quite a few repeat visitors. And spend per head varies greatly. Nevertheless, that's a higher attendance than any UK theme park achieves in a full year.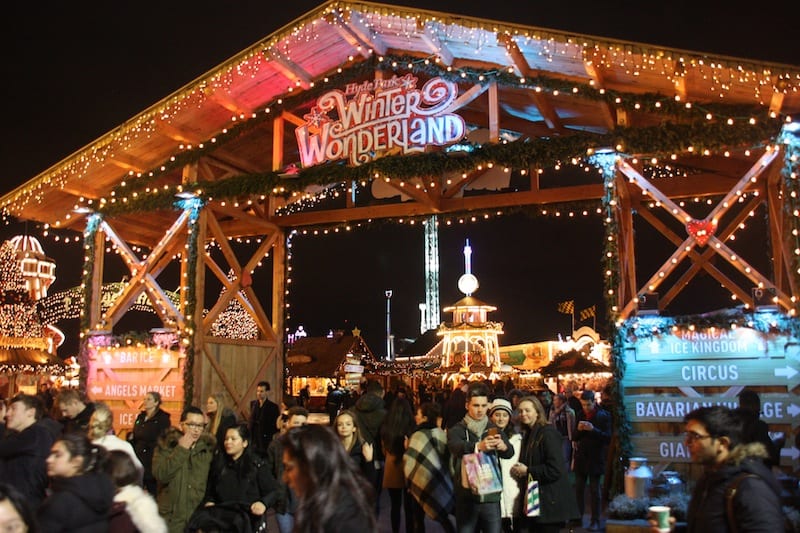 At times, the Hyde Park event can become extremely busy. For this reason, there are four gates, including a family-only entrance. The compulsory bag searches on entry have the dual effect or preventing restricted items entering the site and also slowing down the flow of arriving guests.
The threat of terrorism and other anti-social acts are of course an obvious concern. At peak periods, the Blue Gate near Hyde Park Corner is exit only. At particularly busy times (weekends and early evenings), visitors are even held back at the gate until the crowds inside subside.
Queues do form for certain individual attractions. However, visitors rarely encounter the long lines they might see for rides at permanent theme parks.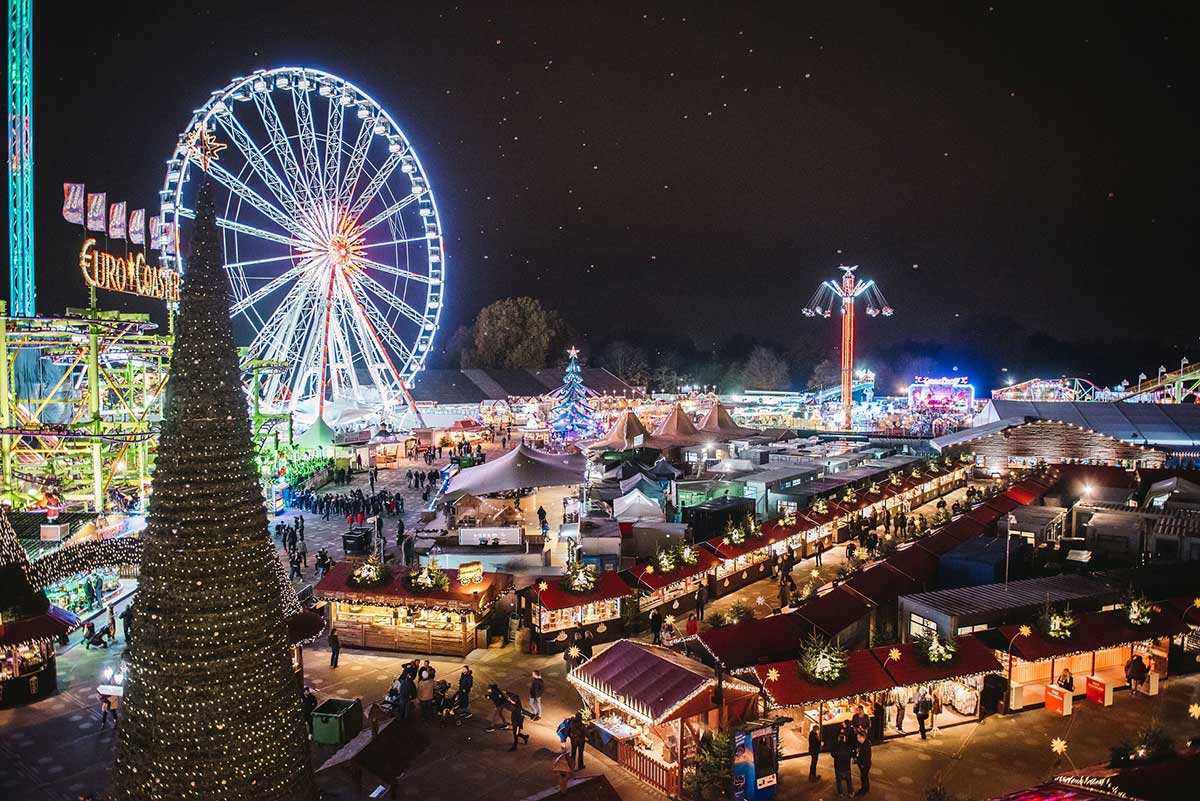 9. Everyone's on board
Although IMG employs a small core team of people to work on Winter Wonderland throughout the year, its retention of freelance staff to work the event is relatively high.
"People plans their years around it," says Suzy Griffiths, event director for IMG. "The Ice rink team has been doing it for 12 years now. The joint control team has been on board for the past seven years. It's a well oiled machine."
Which is just as well. Open from 10am from 10pm for 45 continuous days, sometimes in very inclement weather, it's "not a place people should come if they've not worked a large event before," adds Griffiths.
For the many attraction providers and traders that take part each festive season, getting ready for the Hyde Park spectacular is a year-round job. A lot of effort goes on behind-the-scenes building the bars, retheming rides and attractions especially for the event, ordering stock and making other preparations.
What might have been a regular Dodgem track the rest of the year, reappears with bumper cars resembling penguins. Other rides have their entire décor changed. Some, such as the Christmas tree bauble ride, are ordered from their manufacturers specially for the occasion. Designs for all these have to be approved by IMG and The Royal Parks.
10. It doesn't try to be cool
When you're drinking a Glühwein in the Bavarian Village, wearing a Christmas jumper (sweater) and swaying to a grinning performer singing covers of pop songs and Oktoberfest favourites, it's time to throw all inhibitions and delusions of credibility out of the window. Likewise, riding around on a tinsel-festooned roller coaster that's had its cars rethemed to look like a red-nosed reindeer, isn't quite cruising the Côte d'Azur.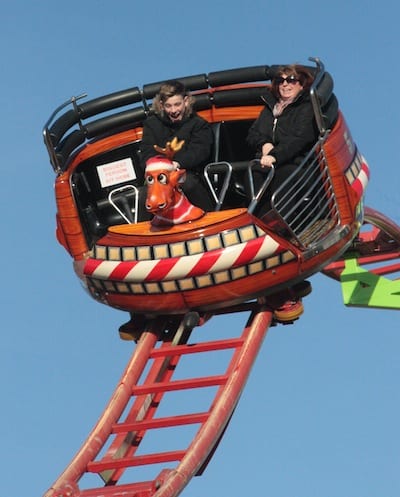 "Winter Wonderland is deliberately kitsch," says Suzy Griffiths of IMG. "You're not to supposed to take yourself too seriously here."
And that's exactly what many people love about the event. Hyde Park Winter Wonderland is inclusive and caters to as broad a demographic as possible. There are a few newer and 'cooler' events in the capital over Christmas, such as Winterville at Clapham Common. As well as a fun fair and ice rink, this features a contribution by Backyard Cinema for 2018. There is also a craft fair and several 'alternative' entertainment and food/drink options. But let's face it, the organisers would love to do Winter Wonderland's numbers if they could.
11. It's not afraid to embrace technology
As well as the aforementioned Coaster Pass, another innovation at Winter Wonderland for 2018 is the use of Google Assistant on the event's observation wheel. While queuing for the attraction, passengers can make use of voice activation technology. They can request complimentary hot chocolate from elves or snow effects for a wintry selfie. As noted earlier, various cashless payments offered are also now being offered across the event.
The use of technology extends to the rides and attractions too – and not just to make them work. Last year Max Eberhard, operator of Wild Maus XXL, offered optional VR headsets to those that prefer not to feel the wind in their face as they hurtle around the hairpin bends of this large roller coaster.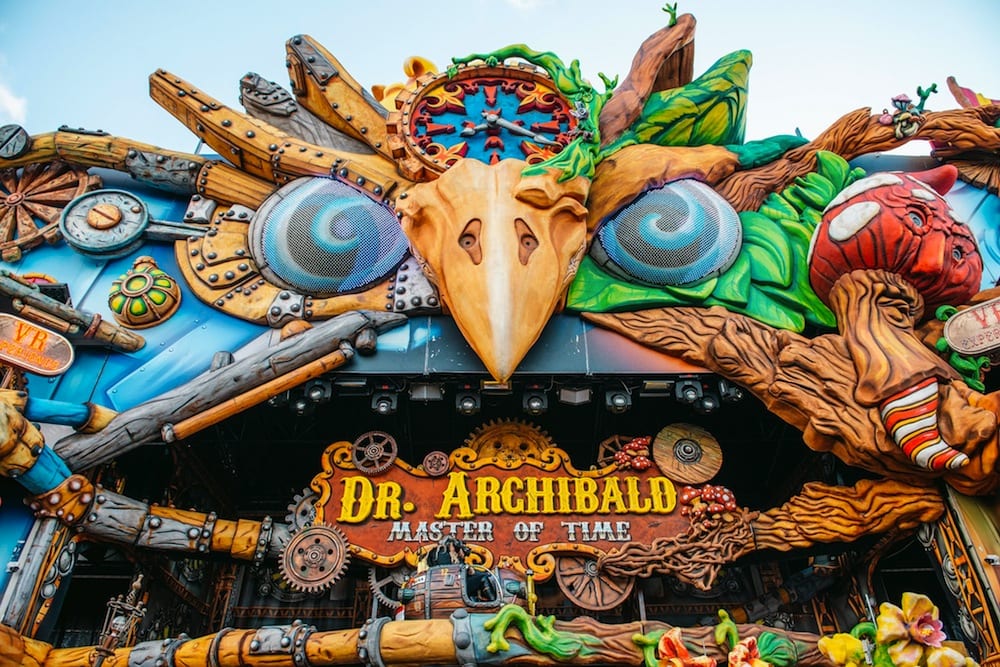 New for 2018, a fellow German showman has taken VR to another level. Dr Archibald by Patrick Greier (also the man behind the Bavarian Village) is a huge dark ride. It was built using the shell of a 47-year ghost train. Yet thanks to its fabulous themed facade and overhauled ride system, it looks factory fresh.
Take the VR headset off inside and you'll see nothing but other cars and track traversing the ride's various levels. But most riders keep them on, witnessing all kind of fantasy scenes. The ride also features a pre-show and a few fun house style obstacles to negotiate once riders disembark. To transport all this to London from Hamburg, Greier required over 30 trailers.
12. Hyde Park Winter Wonderland is a model of European unity
The current edition of Hyde Park Winter Wonderland is the last while the United Kingdom is still in the European Union. For the past 12 years, ride operators and traders from Great Britain, Germany, Belgium, France, the Netherlands and other European nations have worked together in harmony at the Hyde Park event.
Since the UK vote to leave the European Union in 2016, and the effect that had on the sterling-Euro exchange, overseas participants will now be earning less per pound from the event. Fortunately it's still so popular, many still want to come. Whether they will face extra red tape in shipping their equipment to the country after it leaves the EU in March 2019, like so many things with Brexit, remains unclear. Obviously IMG Events will be hoping trade remains as frictionless as possible.
Images copyright IMG and Owen Ralph