Following our special feature on Top 21 new family rides in Europe, Blooloop shines the spotlight on the USA. And this time we take things up a notch as we focus on major US roller coasters.
Attractions listed below in no particular order. Background image: Twisted Timbers at Kings Dominion.
HARLEY QUINN CRAZY COASTER – Six Flags Discovery Kingdom
Six Flags has a good track record when it comes to embracing new coaster concepts and technologies. This new ride at Discovery Kingdom near San Francisco is the first ever Skywarp from Orlando-based manufacturer Skyline Attractions.
Launched in early August, the attraction offers 32 passengers a unique experience as they board competing ride vehicles. Linked to each other via a giant chain, each train rocks back and forth, building up to full speed before completing several forward and reverse rotations through the twin Immelmann inversions. As they duel one another, riders see the fear and fun in the faces of riders in the opposing train.
Like the Fireball rides put into a handful of Six Flags parks over the past few years, purists will complain this isn't a true roller coaster because the train is not propelled by gravity. But it sure looks like a coaster, so we make no apologies for including it here.
SLINKY DOG DASH – Disney's Hollywood Studios
Only the second roller coaster at Walt Disney World's resident movie park in Florida, this new attraction anchors Toy Story Land, which opened in late June. Unlike Rock 'n' Roller Coaster, it's more of a family ride, although certainly not small in size nor stature. Themed after "everyone's favourite floppy-eared dachshund with the stretching coil body", Slinky Dog Dash is full of fun details.
The ride is in fact the first ever double launch coaster experience at a Disney park. When it hits the midway point, the train stops momentarily. Riders are then propelled through multiple rings pulsing with sounds, spinners and flashing lights.
Slinky Dog flat rides appear in other Disney parks around the world, however this is the first coaster of its kind. The company's Imagineers were responsible for the fantastic creative concept you see here. As with most Disney attractions, the theme park giant won't reveal who supplied the ride system. Yet it's common knowledge within the industry. If you don't know already, try Googling Slinky Dog and Mack Rides. Not that we told you of course!
HANG TIME – Knott's Berry Farm
There's certain similarities between this tall, twisting steel wonder outside Los Angeles and Schwur des Kärnan at northern Germany's Hansa Park. Both are Gerstlauer Infinity Coasters with a particularly tall vertical lift and beyond vertical first drop.
Yet whereas Kärnan, opened in 2015, features a lift/reverse freefall inside a tower and a storyline based on a Hanseatic legend, Hang Time is a much more bright and breezy offering. The ride is inspired by Californian surfing culture and redefines Knott's Boardwalk area.
The first dive coaster in the US State, it towers over 15 storeys (150ft/46m) high and features five gravity-defying inversions. For many passengers, the most terrifying part will be when they are paused for a few seconds before descending down a 96-degree drop.
Thrilling by day, Hangtime also comes into its own after dark thanks to a dazzling LED light show by KCL Engineering. Gerstlauer representative Ride Entertainment oversaw the ride's installation on site. With the opening of this new ride back in May, Knott's Berry Farm now features a total of 10 roller coasters.
ELECTRIC EEL – SeaWorld San Diego
SeaWorld's trio of US parks have long featured more than just fish and other marine creatures. In fact, drive down International Drive past the firm's flagship property in Orlando and, for a moment, you could be forgiven for thinking it's a thrill park thanks to the cluster of giant coasters that sit on the edge of the property.
SeaWorld San Diego isn't quite packed so full of coasters. However, the ride the California park opened in May is quite the eye-catcher. Electric Eel is based around Premier Rides' popular SkyRocket ride system, yet SeaWorld has really made it its own. Complementing the coaster is a live eel habitat featuring a collection of California moray eels (sea snakes).
On board the 150ft-tall (46m) attraction, SeaWorld guests can enjoy 853ft (260m) of intense thrills. The LSM-powered multi-launch coaster propels riders forwards and backwards through "high-energy twists, electrifying loops and inversions." including an inverted heartline roll.
The new ride is expected to give the park a boost as SeaWorld recovers from difficult trading conditions.
STEEL VENGEANCE – Cedar Point
TWISTED TIMBERS – King's Dominion
TWISTED CYCLONE – Six Flags Over Georgia
Since 2011, Rocky Mountain Construction (RMC) has converted 13 ageing wooden coasters into state-of-the-art 'hybrid' rides using its steel Ibox topper track. Three of those have (re)opened this season in the US.
RMC's Amy Garcia says, "We don't just copy the old layout of the original coaster. We add higher and steeper drops, large air-time hills and multiple inversions to provide a new thrilling experience."
Cedar Point in Ohio, well regarded for its rollercoaster pedigree, has introduced Steel Vengeance for 2018. Replacing Mean Streak, a record-setting ride when it opened in 1991, it stands 205ft-tall (62.5m) – making it the world's first hyper (200ft+) hybrid coaster. Previously it had a highest point of 161ft. The ride is now over a mile long at 5,740ft (1.75km). And, for the first time, it features four inversions!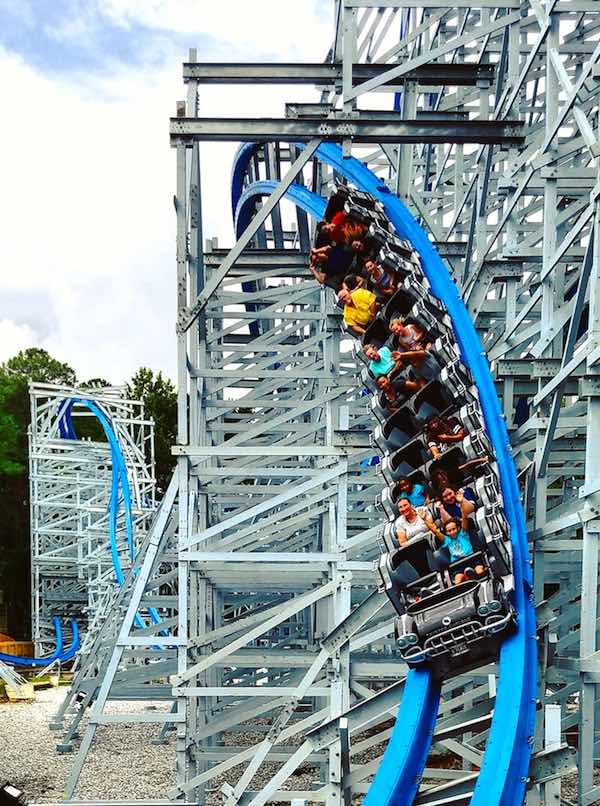 At Six Flags Over Georgia outside Atlanta, the Georgia Cyclone was inspired by the famous Coney Island Cyclone in New York. Created by Dinn-Summers in 1990, it re-emerged this May with a new name, look – and feel. On Twisted Cyclone, Six Flags guests can race on Ibox track through a series of elements including three inversions.
The attraction uses the bulk of the old ride's structure and retains the same top speed (50mph/80km/h). However, Twisted Cyclone is somewhat shorter (2,400 Vs 2,970ft) than its predecessor. Noted coaster designer Alan Schilke was responsible for fine-tuning the layout of both this and Steel Vengeance.
Over at King's Dominion in Doswell, Virginia, The Hurler, which closed in 2015, is back as Twisted Timbers (pictured below). Originally built by Philadelphia Toboggan Coasters, it's re-emerged following the RMC treatment more than two storeys (28ft/8.5m) taller than its predecessor. New elements include a 109ft tall barrel roll drop. The ride promises a top speed of 54mph and 20 airtime moments. Hold on to your hat!
TIME TRAVELER – Silver Dollar City
Mack Rides has been making spinning coasters ever since it installed Euro Mir at Europa-Park back in 1997. However, this beautiful new attraction at Herschend Family Entertainment's flagship park in Branson, Missouri, features an all new car and the type of ride elements normally confined to more extreme coasters.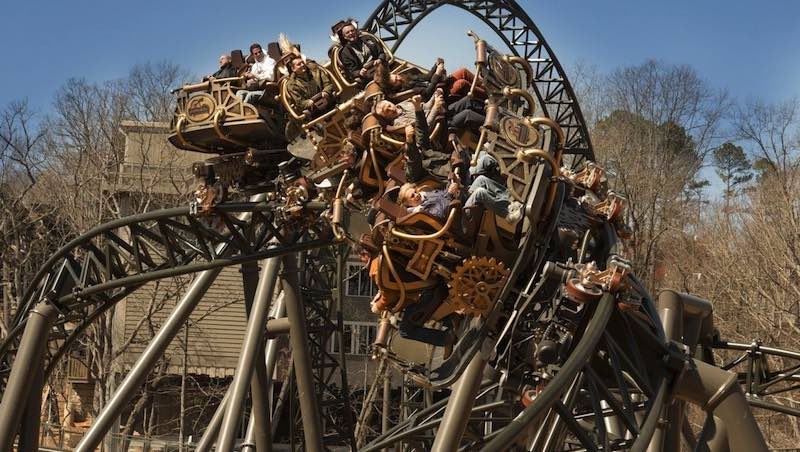 Time Traveler boasts the bragging rights of being the world's fastest (81km/h), steepest (90°) and tallest (30.5m) spinning coaster. The ride kicks off in dramatic fashion with a vertical drop straight out of the station. During the nearly 2-minute ride, passengers experience three inversions including a dive loop, vertical loop and zero G roll. Further boosts are provided via two launch sections.
Mack Rides' CEO Christian von Elverfeldt says, "the car on Time Traveler is the most advanced roller coaster car in the industry." The free spinning rotation is restrained by on-board magnetic brakes, allowing for a comfortable experience for all. And thanks to the Steampunk-inspired theming, the ride vehicles really look the part too.
WONDER WOMAN GOLDEN LASSO – Six Flags Fiesta Texas
RAILBLAZER – California's Great America
After installing a number of hybrid wood-steel coasters by Rocky Mountain Construction (RMC), Six Flags debuted the manufacturer's new single rail concept this May at its park in San Antonio, Texas. Hot on its heels, Cedar Fair rolled out the Raptor system at California's Great Adventure in Santa Clara in June.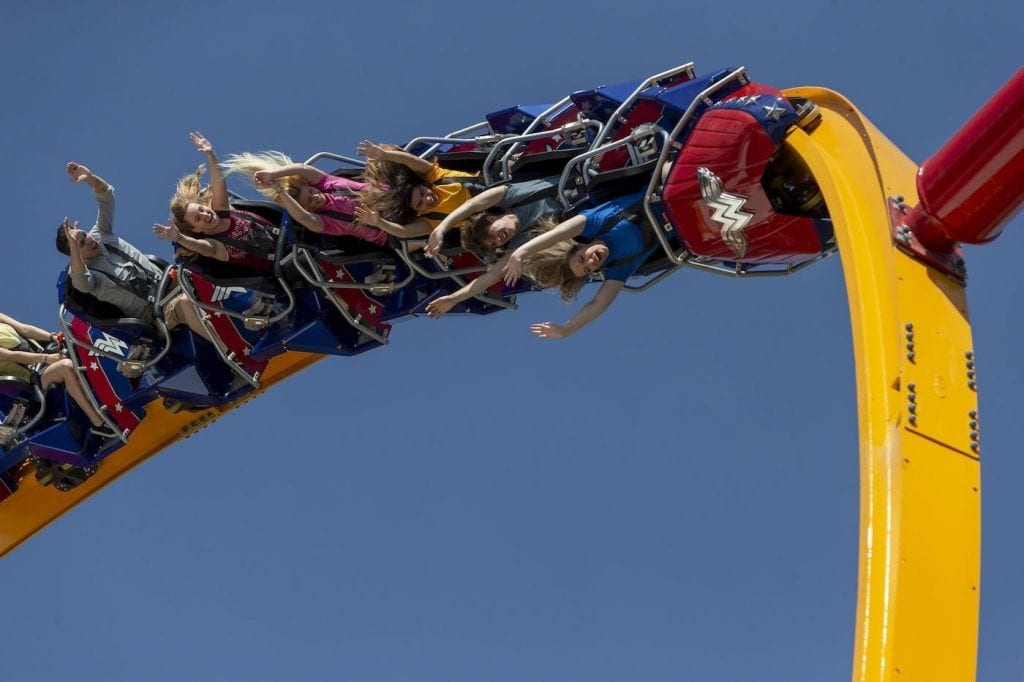 Apart from the interesting aesthetic, there are several points of difference compared to standard twin rail roller coasters. Passengers straddle the track, which is just over 1 foot (0.3 metres) wide, in individual seats. The small track and train also allow Raptor to perform particularly tight and fast manoeuvres. And thanks to the single track, RMC claims the price point is much lower and the installation time quicker.
During trials, the manufacturer constructed a 200ft-long (61m) prototype at its facilities in Idaho. However, RMC designed the system to reach heights of over 200ft and speeds of up to 52 mph (83.5 km/h). For now, Guests at Six Flags Fiesta Texas and California's Great Adventure can sample rides of 100ft (30.5m) each in height.
Built over water, Wonder Woman Golden Lasso Coaster at Six Flags features 1,800ft (548.5m) of yellow track on red supporting beams. Elements include a short tunnel at the foot of the 90-degree first drop, a dive loop, cut bank, corkscrew and over-banked curve. Billed as the West Coast's only single rail steel coaster, RailBlazer at California's Great America is identical in configuration.
OSCAR'S WACKY TAXI – Sesame Place
This family-friendly wooden coaster has a fabulously fun theme. But you wouldn't expect anything less at a park themed around the classic kids' TV show Sesame Street.
Oscar's Wacky Taxi was built by the Gravity Group. It features 365m (1,200ft) of wooden track on top of a steel support structure finished in green. Its highest point is a not too intimidating 12.2m (40ft). And guests of the park in Langhorne, Pennsylvania, need to be just 1m (40 inches) or taller to enjoy the ride.
Oscar the Grouch, the trash-loving, bin-dwelling star of Sesame Street, can be seen on the front of both the ride's two 12-seater trains. During an experience lasting around one-and-half minutes, passengers reach of top speed of 33mph (53km/h).
The first drop plunges into a pair of rabbit holes, followed by a tunnelled helix. Four speed bumps, a banked right turn underneath the lift hill and a couple more banked turns follow before the brake run. Surely even Oscar himself would jump off this ride with a smile on his face?
MERLIN'S MAYHEM – Dutch Wonderland
Located in the city of Lancaster, this Pennsylvania park celebrates the area's Dutch heritage. Its new ride for 2018 is the first ever Suspended Family Coaster from S&S-Sansei. It's also the park's most themed attraction to date.
Merlin's Mayhem boasts a track length and minimum rider height almost identical to Oscar's Wacky Taxi (see above). The ride experience is dramatically different, however.
Suspended beneath yellow steel track, passengers glide through a series of twists and turns. An interesting feature is the way the ride intertwines with two other attractions in the park. These include the Wonderland Special train and, as can be seen here, the Sky Ride cable car.
"My favourite part is the tunnel dive shortly before the end," says Dutch Wonderland marketing manager, Hannah Shephard. "Guests say they are surprised by the coaster's speed and thrill level. Yet they still note that it's not too intense for some of our youngest riders."
Constructed at a cost of $7.5 million, the new coaster opened one season late. Yet Shephard is full or praise for its manufacturer. "S&S has been wonderful to work with during the entire process, from the early development through to the end result," she says.
TANTRUM – Darien Lake
ADRENALINE PEAK – Oaks Amusement Park
Gerstlauer's Euro-Fighter coaster concept – defined by its vertical lift and beyond vertical first drop (as seen here on Tantrum) – has been a good seller for the German manufacturer over the years. Two new versions of the ride opened in the States this season, in collaboration with US sales agent Ride Entertainment.
The first to debut, back in March, was Adrenaline Peak at Oaks Amusement Park in Portland, Oregon. The smaller of the two, it features 320m (1,050ft) of track, a 22m vertical climb and 97-degree fall.
Experience these and the other thrilling elements that follow in the video below, shot on a particularly rainy day. And as aficionados know, coasters ride better in the rain! Those interesting in adding such a compact yet eye-catching to their park can do so for around $5 million.
Over at Darien Lake amusement park in New York State, Tantrum opened over the Memorial Day weekend. Finished in vibrant orange and green, it boasts 1,246ft (380m) of track and towers almost 100ft (30m) high. Like Adrenaline Peak, it too has a 97-degree first drop. Other elements include an Immelman turn, dive loop, structure slalom, top hat and tilted loop.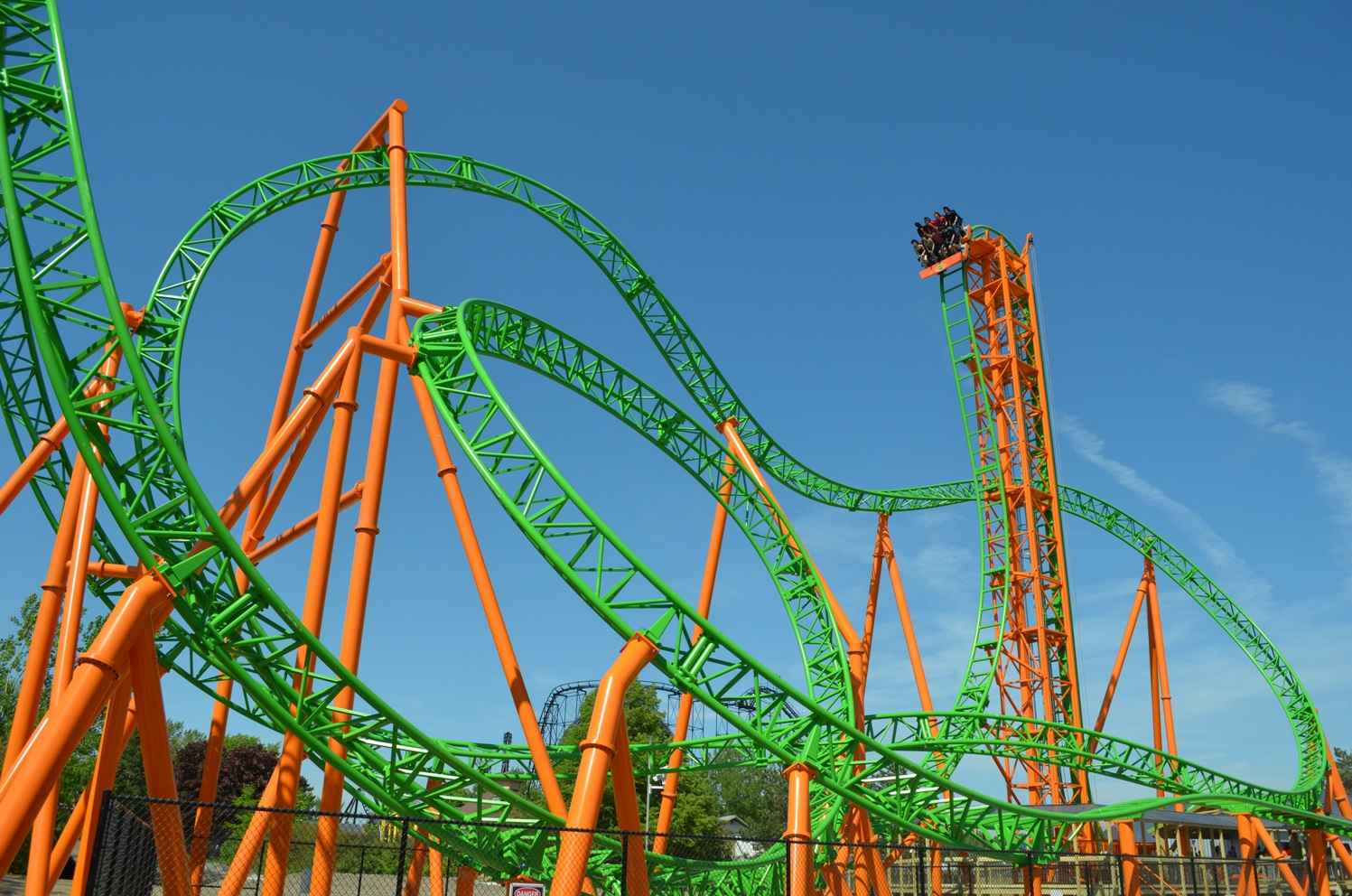 Tantum is the largest new roller coaster to be added to the park for almost 20 years. However now that it is back under the control of Six Flags, it's surely it's only a matter of time before more big coasters are added.
SEA VIPER – Palace Playland
Located at Old Orchard Beach in Maine, Palace Playland has in fact launched two new roller coasters this season. Both are aimed at the park's family crowd.
Sea Viper, a new Anaconda model from Preston & Barbieri, replaces an SDC Galaxi coaster that operated at the park since 1994. Standing 21m (70ft) tall, it's almost twice the height of its predecessor. The ride reaches a top speed of 42 mph (68km/h) as passengers race around almost half-a-kilometre (470m/1,540ft) of track. Six individual 4-seater cars are provided.
The ride was designed by former L&T Systems owner Andrea Mazzerenghi, who now heads up Preston & Barbieri's coaster division. Sea Viper's debut in June was followed six weeks later by the unveiling of Wipeout. The latter is a Compact Spinning Coaster by the SBF/Visa Group. For more on these increasingly ubiquitous rides, see below.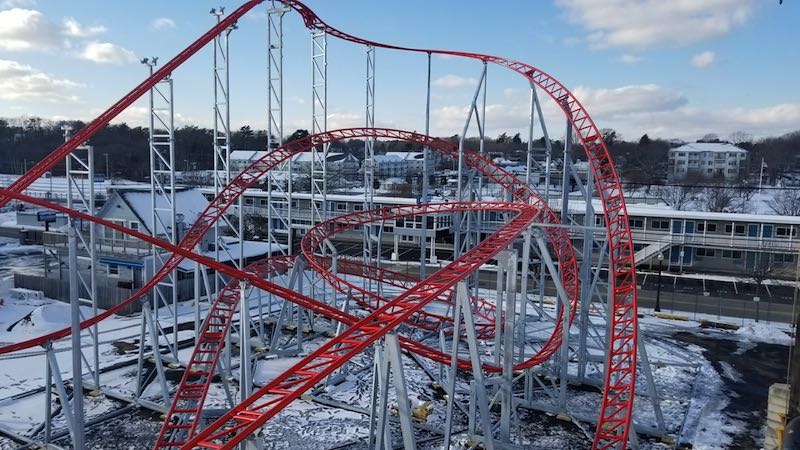 COMPACT SPINNNG COASTERS – multiple parks
First introduced to the industry at IAAPA Attractions Expo 2013, the SBF/Visa Group's Compact Spinning Coaster has become a sales success story. At the time of writing,the Italian manufacturer was close to clocking up 100 units of the ride. A good number of those have found their way to the USA thanks to efforts of local agent Rides 4U.
In addition to Wipeout at Maine's Palace Playland, these include new rides for 2018 named Twist 'n' Shout at both Malibu Jack's in Kentucky and Central Park Fun-Land, Virginia. At Craig's Cruisers Family Fun Centers in Wisconsin, guests can get in a spin on the new Cruiser Coaster. In Wildwood, New Jersey, Morey's Piers have added Wild Whizzer to their Mariner's Landing Pier. Meanwhile, Spinning Parrot, is the name of the ride launched in July at The Island in Pigeon Forge, Tennessee. All of these feature the popular figure 8 configuration.
In addition, Wonderland in Amarillo, Texas, has added a SBF/Visa Compact Spinning Coaster for 2018 called Spin-O-Saurus. New in 2015, the ride formerly operated at Wild Willy's Adventure Zone in Fort Walton Beach, Florida.
Blooloop acknowledges the use of certain facts and figures from Roller Coaster DataBase. Images courtesy of parks and ride manufacturers featured.