A $25m Butterfly Palladium that will feature 3.5 hectares of simulated Costa Rican rainforest is under construction in Buena Park, California.
The development of the project is being led by Rubin Stahl, who purchased the land from the city in 2015 for $2.5m. The immersive experience will feature a 13m-tall artificial mountain with streams, ponds, rockwork and other themed elements.
Paths and bridges will direct visitors to other multisensory exhibits. A range of species will be on display including turtles, fish, birds, bees and a variety of plants. There will also be a jellyfish aquarium and thousands of butterflies.
The facility will include a 3D-movie theatre and an atrium to host events as well as a restaurant and gift shop.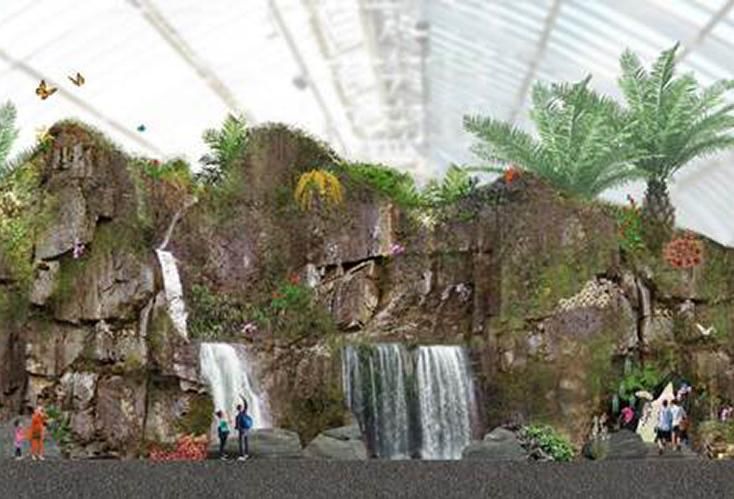 Brissette Architects is the lead designer with Acon Development as the general contractor. Conceptual Design and Planning Company has been hired as the landscape architect while Outside the Lines is designing and constructing the artificial mountain.
Buena Park receives 6.4 million tourists annually with the entertainment district the most popular location. It includes a Knott's Berry Farm theme park, Knott's Soak City water park, Medieval Times, Pirates Dinner Theatre and a Rock and Brews restaurant.
J Wickham Zimmerman, CEO of Outside the Lines, told Bisnow: "This will be a huge draw [that's different] than your typical experience at Disneyland, Knott's or another theme park. It's going to be like going to a science centre and Disneyland all in one."
The Butterfly Palladium will open in the entertainment district in the first quarter of 2019.
Images: c. Outside the Lines.
https://www.bisnow.com/orange-county/news/construction-development/designer-says-butterfly-palladium-in-buena-park-will-be-an-immersive-experience-85406