Star Wars: Galaxy's Edge has revealed details of its themed dining and F&B including Blue Milk and Bloody Rancor drinks.
Brimming with rides, new ships, droids, creatures and fan-favourite characters, Star Wars: Galaxy's Edge is just months from opening at Disneyland Resort in California and Walt Disney World Resort in Florida.
Ahead of opening its doors to the public, the 14-acre attraction has finally unveiled via StarWars.com some of the themed food and drinks on offer at its newly-revealed restaurants and bars as well as its attractions and activities.
Fortunately for fans of the Star Wars franchise, The Black Spire Outpost will seemingly provide an exciting culinary experience – with guests able to visit Ronto Roasters, Docking Bay 7 Food and Cargo, and Oga's Cantina.
Brian Piasecki, culinary director of concept development at Walt Disney World Resort said: "What is our creative direction of the food, because we don't know. What does it taste like? What does it smell like? What does it look like?
"So we had that opportunity to really bring all of those touch points to every single guest that's going to visit Galaxy's Edge, and we're super excited about that.
"If it looks like one thing and maybe it tastes like something else, that could be really cool."
Ronto Roasters
Ronto Roasters will, according to concept art, feature a giant podracer engine as the cooker.
"This location is super fun because it's all about meat, and it's all about heat," explained Piasecki.
Food will include turkey jerky, and the signature Ronto Wrap (a pitta bread filled with grilled sausage, roasted pork, cabbage slaw, and a spicy 'clutch sauce').
Docking Bay 7 Food and Cargo
Cargo crates double as eating stalls at this restaurant, which will serve Fried Endorian Tip-Yip (fried chicken with roasted vegetable mash and herb gravy), Kaadu Ribs (sticky pork ribs with blueberry corn muffin and cabbage slaw), Felucian Garden Spread (plant-based 'meatballs' with herb houmous, tomato and cucumber relish, and pitta bread).
"The flavors in Galaxy's Edge and Docking Bay 7 are going to be very bold. A lot of spice-forward," added Piasecki.
Oga's Cantina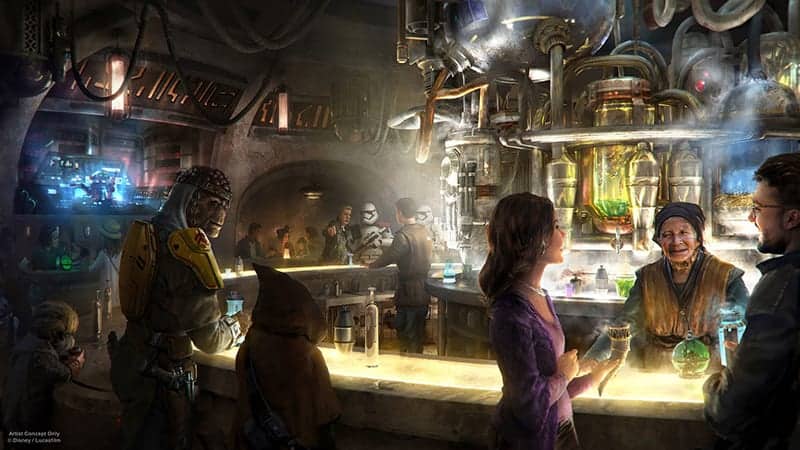 Similar to the Mos Eisley cantina in A New Hope, beverages here include the non-alcoholic Tatooine Sunset, Moof Juice, and Oga's Obsession.
For those after something a little stronger, alcoholic drinks include The Fuzzy Tauntaun, The Bespin Fizz, The Bloody Rancor (complete with edible bone) and The Outer Rim.
Also available is Blue Milk – the iconic drink first served by Aunt Beru – made with plant-based dairy. There will also be frozen versions at the Milk Stand.
"They're very flavorful, they're kid-friendly. Guests of all ages can enjoy these," said Brian Koziol, food and beverage concept development director at Walt Disney World Resort.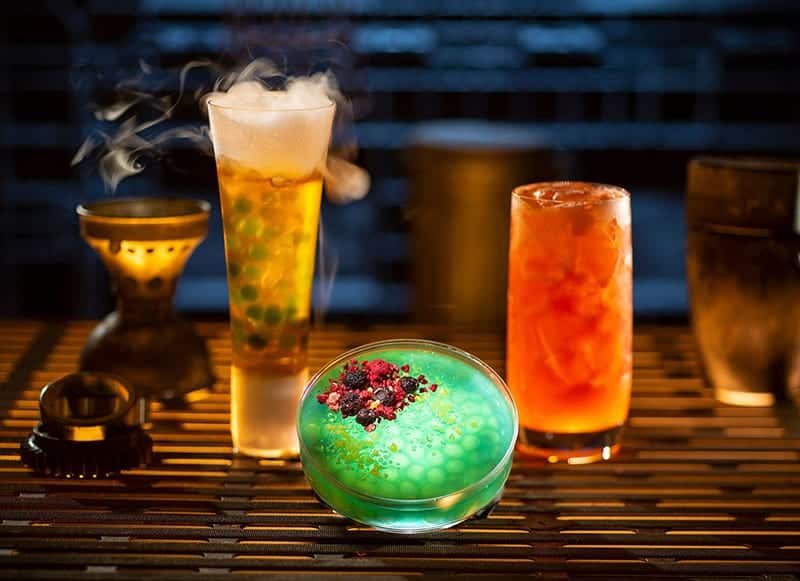 Images: Disney