Cruise line Royal Caribbean has unveiled the first of a series of private island destinations featuring a new water park with the most slides in the Caribbean.
Perfect Day at CocoCay, Bahamas is the first of the Royal Caribbean Perfect Day Island Collection, a series of private island destinations around the world. In addition to the water park, it will feature a range of attractions including a helium balloon rides, the largest freshwater pool in the Caribbean, zorbing, kayaking and more.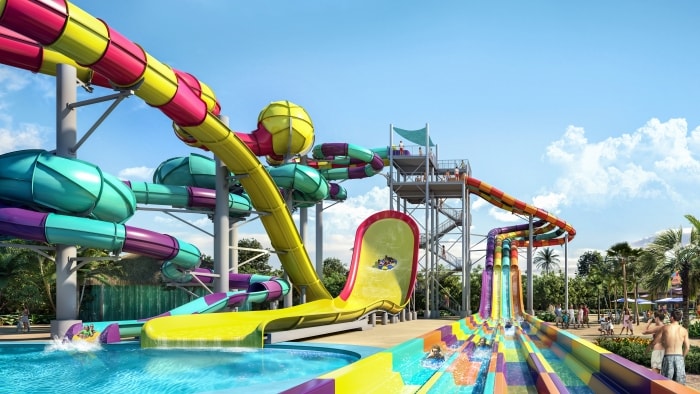 "At Royal Caribbean, it's not just about the hardware. It's true that our new ships are technological and engineering marvels in their own right and offer a multitude of unexpected experiences. Our destinations are an equally important part of the cruise vacation," said Michael Bayley, president and CEO of Royal Caribbean International.
"We are introducing Perfect Day Island Collection to ensure that we deliver the most memorable vacation for adventure seekers on land, as well as on board our ships."
The heart of CocoCay will be Thrill Waterpark with two towers featuring a combined 13 slides. It will also be the home of the largest wave pool in the Caribbean.
Daredevil's Tower will have seven slides, including the twin Duelling Demons drop slides and two Manta Raycers. There will also be the high-speed, fully vertical Screeching Serpent, the coiling Green Mamba and the 41m tall Daredevil's Peak – the tallest waterslide in North America.
Family Tower will focus on cooperative fun with six multi-rider slides including The Twister, a winding tube slide for two sharing a raft, The Slingshot, a zero-gravity slide for four, and the four-lane Splash Speedway racing slides.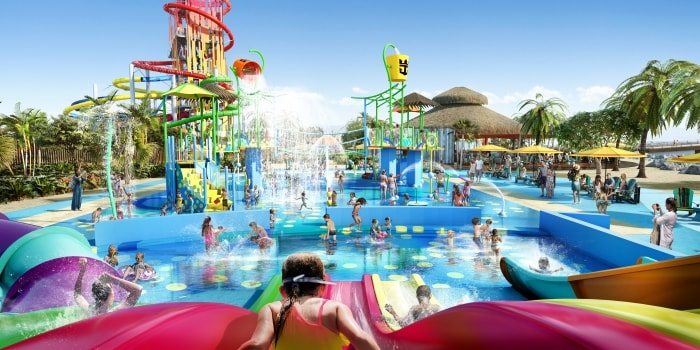 A 487m zip line will allow guests to soar above the action before ending in a splash water landing. Younger guests will be able to take on an obstacle course, rock climbing wall and swing robes at Adventure Pool.
The resort will also include a range of bars, restaurants, white sand beaches and luxury experiences. Perfect Day at CocoCay is scheduled for completion in late 2019.
Images: c. Royal Caribbean International.