Exmoor Zoo
, on the edge of the wild Exmoor National Park is renowned for its dedicated staff, its compelling education and outreach programme, and its conservation initiatives.
Blooloop spoke with Lynn and Danny Reynolds, co-founders and owners of Exmoor Zoo, and with the zoo's award-winning education officer Stephen Eddy.
A family affair
Lynn Reynolds has always loved animals.  Her career started with a pet shop in Guildford, Surrey which eventually expanded to become three shops. "Two were in garden centres, one in Horsham and one in Hampshire, with an emphasis on water gardening," she says.  It wcas here that she met Danny, her husband and co-founder and owner of Exmoor Zoo.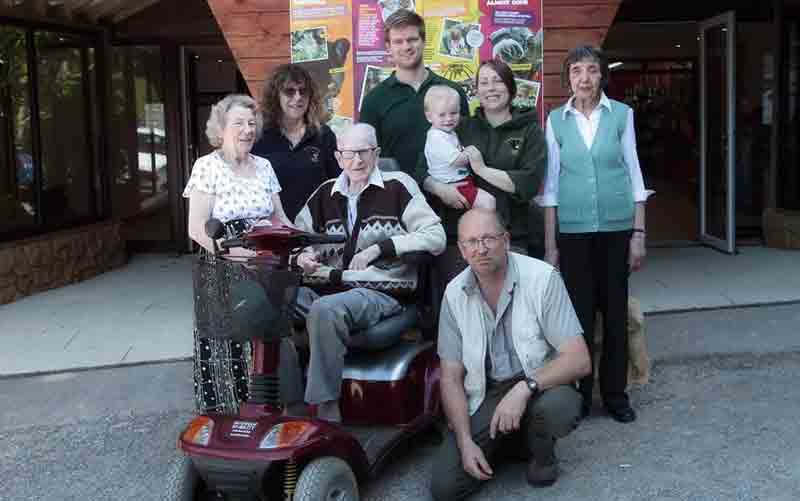 In the early nineties the couple started looking for a property where they could open a small animal collection.  They found the Exmoor Bird Gardens.  "By the time we viewed it, it had been closed for six months and there wasn't a lot of anything left," Lynn recalls.  "It was in a sorry state with only one keeper and the owner doing the feeding and cleaning."  Nevertheless they bought it and moved in on April 9th 1993: Easter weekend.
"The whole family moved down with us; my parents, Danny's mum and, obviously, Tina, our daughter, who was nearly four at the time. Had we known then what we know now, we wouldn't have touched it with a barge pole."
Although the sale was meant to be 'lock, stock and barrel', it transpired that most of the animals had been sold off during the exchange process.  "We were left with a few birds, some emus (which didn't even belong to the zoo), and some Humboldt penguins," says Lynn.  "The [empty] pheasant aviaries were so rat infested that we pointed the digger driver at the area, and said 'Flatten it.'  He had great fun demolishing it."
BIAZA and a growing collection
At this point, Lynn explains, she and Danny had no concrete plan to create a zoo. "We just wanted somewhere where we could look after our monkeys and the parrot collection.  The plan was to make it a self-funding paying attraction."
However, with support from the entire family, the attraction began to grow.  "We added more animals and birds, and then started to take on keepers and help in our tea room, which seated about 20 people at a push.
"We became members of BIAZA (the British and Irish Association of Zoos and Aquariums), and started to make contact with other collections."
Attendance grew from a handful of visitors in the first year to 30,000 by the fifth.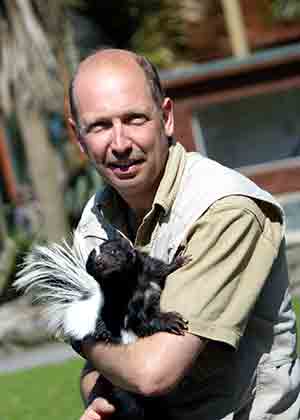 "For a small family business, the zoo is a way of life," says Danny.  "It really is all about the animals – how we can help them and provide for their needs in a rapidly changing world that no longer has room for them."
Weather is a huge challenge
Running a small zoo on Exmoor poses numerous challenges.  "Where do you want me to start?" Lynn laughs.  "What person is their right mind would put a zoo on the edge of Exmoor?"
The weather is the first challenge.  "I guess we never considered the weather when we left Guildford. Being on the edge of Exmoor, if there is any rain around, we get it. We are above the 'snow line' here, and the weather above that line can be completely different from the weather below it."
The weather has had an enormous impact on the animals they keep. "Those that don't like the cool, wet, windy conditions have to be carefully considered," says Lynn.  "We either have to build enclosures that can accommodate all their needs, or we simply choose not to house them here."
A unique and unusual collection
"Exmoor is wet with clay soil," explains Danny. "Underground springs appear everywhere as Exmoor is nothing more than a giant sponge. We just cannot keep species that you would find in urban zoos or, say, on the coast of East Anglia. The wind and rain combined means that even in summer many mountain/high altitude species are unable to survive here – which is unexpected. The actual collection is unique and without a doubt unusual."
He points out that the environment on the south-west facing sides of Exmoor has "drastically changed" in the last ten years. "The increase in annual rainfall and the mild winters has meant the animals we keep have had to change as well."
The needs of guests have had to be considered, too, given the idiosyncratic microclimate. "A zoo is primarily an outdoor attraction," says Lynn. "But we have started to build more covered areas for visitors."
A different audience in winter
The zoo's location – way off the beaten track – is certainly another challenge. Finding and keeping staff is difficult, for starters.  Then there's the issue of attracting visitors.
The zoo is tucked away and people can easily drive on the main A399 from South Molton to Ilfracombe without realising there is even a zoo nearby.  Then the road is often closed during February half term – the start of their trading year.
Fifteen years ago, the zoo made the decision to stay open year-round.  This extends the tourist season and allows the zoo to retain its staff, rather than laying them off for the winter.
"Cafe staff turn into painters and decorators and office admin," says Lynn.  "We now run our 'Locals' Month' in November. The aim is to encourage people in the area to come and see what we have to offer. Of course, they don't see the zoo at its best as it is winter. Other offers are put in place for the quieter months: discounts on our animal experiences, offers for grandparents, pram and pushchair days, and so forth."
She says that the zoo is a very different place in the winter months.  "But, if you dress for it, you can have a great day. Sometimes you get the keepers all to yourselves, like a private tour. The keepers and staff are not under so much pressure out of season.  Although we always get positive feedback about our staff, we find that during the winter months they get even better comments."
Education is a key focus
The zoo is funded entirely by admissions and memberships, sales from the café and shop, animal experiences and adoptions, alongside outreach visits. From the very beginning education was a key part of the zoo's ethos. The zoo takes a very hands-on approach.
"Our handling, contact, and tour sessions are a big part of the zoo," says Lynn. "We believe just coming and looking at an animal doesn't give you too much information."
She points out that introducing visitors to the animals is something that a lot of the bigger zoos have moved away from.  "We realise that while we are lucky enough to be able to go and see animals in the wild, most people don't have that privilege.  What does a binturong smell like? Or a meerkat? What is a tapir, or a yellow-throated marten? An aracari? Why are singing dogs so endangered? What is a serval?  We need to educate people, and I think that is what we are good at. I always say that if a visitor goes home knowing just one new fact then we are doing our job."
Explaining the "Exmoor Beast"
"Way back in 1994, just after we took over the old dilapidated bird gardens here, I nearly run over a puma barely 100 metres up our lane," says Danny. "It piqued our interest in the possible big cats that roam free within the UK."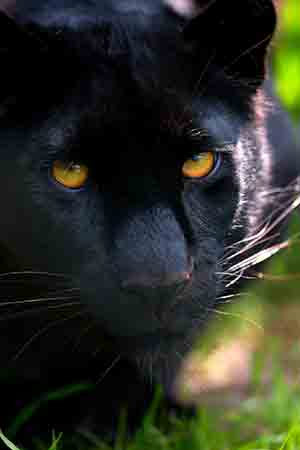 The zoo exhibits one of only two pairs of black leopards within the UK. "Black leopards, the notorious "Exmoor Beast", are really a relic of the bygone Victorian era where everything was shot, eaten, stuffed or preserved and put in a museum," explains Danny.  "Collected back in that era due to their rarity (black leopards are unusual and really do only occur in certain areas of India) our pair Ebony and Zoysa represent scientifically a typical highly dispersed big cat that is adapting well and living in and around humans across the Asian and African sub-continent today."
The zoo also holds a pair of puma that the Reynolds bred, adding triplets to the captive breeding programme within zoos. "We no longer breed our pumas," says Danny. "European zoos question the ancestry of the captive population and priorities have moved with EAZA Taxon Advisory Groups requiring zoos to allow these to die out and no longer breed. The suggestion is that the room is needed for the more threatened Persian leopard and other middle-to-large sized felidae, giving them and their genetics the safety net of the ark that zoos offer."
The importance of breeding programmes
The zoo is a temporary member of EAZA (the European Association of Zoos and Aquaria). The hope is that, by this summer, it will be a fully approved member.  "This big association runs and looks after all the important breeding programmes for zoo species," says Danny. "Either IUCN [International Union for Conservation of Nature] classified threatened species are maintained or a typical species example of any genus that exists in any numbers in zoos. This gives ark protection and gained husbandry knowledge, research opportunities and allows for a species that could require the skills inherent within the zoos to help maintain it in the future."
He uses the example of the Montserrat oriole. "When half the island was covered in exploded volcanic ash, the species nearly died. Numbers were caught and, in this case, transferred to Jersey Zoo.  A breeding programme was maintained for those in captivity."
Danny also cites the skills in keeping waterfowl inherent in zoos. "For example, the WWT at Slimbridge has managed to rescue the remaining Madagascan pochard from the wild. It is breeding and maintaining them in captivity while new suitable habitats are sought and identified in Madagascar. Reintroduction programmes – for example the Western Atlantic rainforest golden lion tamarins – are all done through the expertise and skills acquired from captive husbandry."
A fox on stilts
Exmoor Zoo tends to have more small to medium sized carnivores compared to other UK zoos. "Animals within breeding programmes that are special to us include the yellow-throated martens," says Danny. "They are widespread throughout Asia but extremely rare within zoos and potentially the original ancestor of all martens throughout the world."  He says the zoo has just acquired a young male born in Berlin Tierpark zoo through their breeding programme. "We will now have to try and pair him with one of our two five-year old girls as less than 35 of these exist outside of the wild."
However breeding isn't always possible. "Many of the breeding programme species we have we hold as non–breeding groups," explains Danny.  "Not all zoos can breed the animals they look after on behalf of the zoo studbook/the zoo community.  If you have too many and the wrong genetics, housing them in good welfare conditions can be compromised."
He gives the example of non-breeding maned wolves. "They are a type of enormous fox on stilts special to the Pampas region and the Cerrado of South America. Litters can number between six and 12 individuals which can make finding homes within zoos very difficult if the standards are to be maintained. For this reason we often choose to hold single sexed groups or non–breeding animals. Often this can be disappointing but the enjoyment comes from looking after some wonderful and very special individuals and being able to exhibit these to the public."
Creating a haven for indigenous wildlife
Danny also points out that the zoo creates a unique environment that allows protection for indigenous wildlife.  "Any zoo is supposed to be an island so larger animals such as larger domestic cats and dogs, foxes, badgers, stoats, rats and farm livestock cannot enter," explains Danny. "So, some typical and often rare indigenous flora and fauna can be found mixed in amongst the exotic. We have flocks of house sparrows – possibly over 500 come winter – which are whittled down to double numbers by sparrowhawks in spring.
"You see marsh orchids here in with the sitatunga.  Our bamboo stands in the winter can support big murmurs of starlings depending on the severity of winter.  Come summer you can duck under massive Gunnera leaves, some nearly two metres across as you walk around the zoo.  Winter-visiting Siberian bullfinch go after the leftover seed heads of our summer butterfly bushes (buddleia).  Visiting nightingales establish their summer homes at our nature trail in the adjacent woodland.
"Then there are the silver-washed fritillaries and the summer emergence of tortoiseshell, admiral, peacock and all our favourite butterflies.  Put all that together and you can understand what makes a rural zoo like this just that little bit different.  Not many land owners would welcome two separate rook colonies and enjoy their raucous call as they herald in spring!"
Award-winning education officer Stephen Eddy is key part of team
The zoo's education officer, Stephen Eddy, is a trained veterinary nurse.  Creative and innovative, he puts an imaginative spin on his education and outreach initiatives, turning compelling animal encounters into something close to performance art.
Lynn nominated him for the Visit Devon Award for Outstanding Customer Service, which he won on November 23rd.  "He has built up the education side very well, and amazes us with his ideas and actions," she comments.
Eddy's steampunk animal encounter sessions at Dunster Castle are a case in point.  So too is his education initiative with local libraries.  He and his assistant, dressed as film noir detectives, presented animal mysteries.
Eddy has a particular talent for imparting his passion for wildlife to differently-abled children.
"My mother was once expelled from the dentist," he recalls. "She was told, 'Mrs. Eddy, would you please take your children with you – I have never seen two such ill-behaved children in my life.' It's always easy to focus on the badly-behaved ones, as opposed to all the children who are brilliantly behaved. So my policy is to ignore the bad, and praise the good."
"My earliest memories are of zoos"
Eddy was born in the Changi district of Singapore – his father was in the Navy.  He came to the UK as a small child, and grew up in South Devon.
"My earliest memories are of zoos," says Eddy.  "Plymouth had a zoo back then.  I used to go along there with my father, on a Saturday morning, to stare at the hippo, a firm favourite.  And I've got pictures of me at Paignton Zoo. It was a very different organisation from what it is now.  There was a tropical house that is no longer there – it was fantastic. You could smell the humidity, and dip your fingers in the little pond. It was waist height, so very easy for a small child to dip their fingers in."
Several people encouraged Eddy's passion for animals.  "My grandmother encouraged me," he says. "Also I was lucky enough to know [naturalist] H.G. Hurrell, who wrote Atlanta My Seal. He lived just up the road, and I became very good friends with him. There was a chap who lived behind us who used to keep falcons. He was another person who encouraged me and kept that spark going.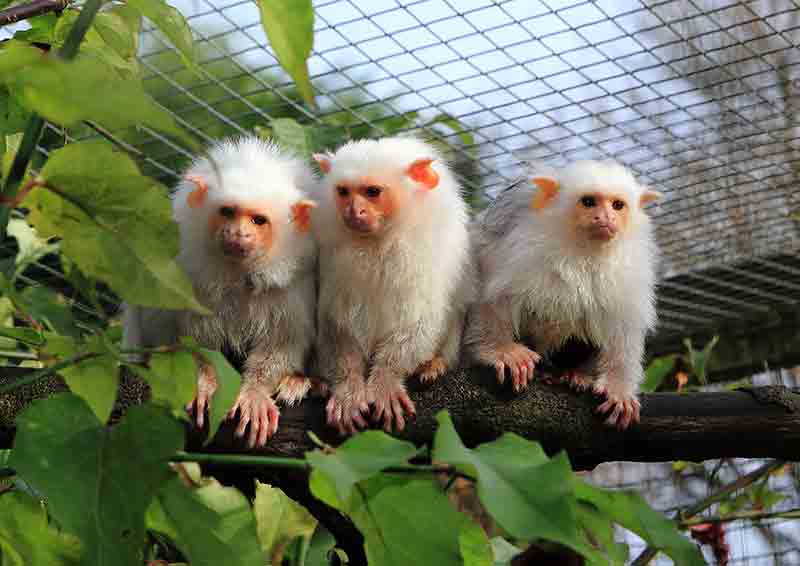 "All I ever wanted to be was a zookeeper," Eddy recalls.  Everyone insisted that being a zookeeper was an unrealistic ambition.  Undeterred, Eddy approached the problem sideways, volunteering at a local vet's practice as part of the Duke of Edinburgh Award Scheme.  When he left school he spent seven years at the mixed veterinary practice, and qualified as a veterinary nurse.
Then an opportunity arose at Dartmoor Wildlife Park, which went on to become Dartmoor Zoo.  Eddy remained at the zoo for six years, before moving to the Combe Martin Wildlife and Dinosaur Park.  For the last 24 years he has been at Exmoor Zoo.
Some species revel in the poor weather
He agrees with Lynn and Danny Reynolds that running a successful animal attraction on the edge of Exmoor is definitely a challenge.  "There were so many places they could have established a zoo.  Yet, as it happened, it was established right out in the sticks, a place with a poor infrastructure.  The nearest hedge is on Lundy Island.
"Yet it works, and it continues to grow.  The summer months provide the finance for the rest of the year; the rest is explained by very sound running of the zoo by its owners."
He adds that while the climate precludes them having some animals, others do really well.
"Most of the cat species come from climates which are, at certain times of the year, even worse than this," he points out. "Pumas range from America right down to Mexico. There are also parts of North America that are more wretched than here, and, similarly, many parts of Africa.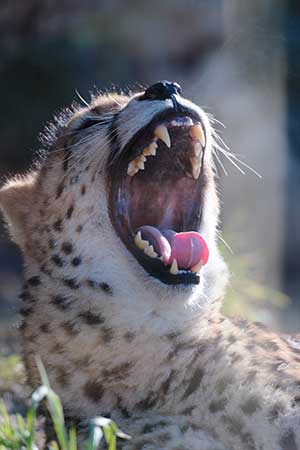 "The species we have that are a little delicate need heated housing, and so on. Most birds and animals would cope with an average British winter, but here we don't have average weather."
Danny points out that they also have Carpathian lynx (a future possible contender for rewilding in Scotland), Russian wolves, Eurasian spoonbills.  "In time we want to become part of the Scottish wild-cat release project," he adds.
Some species from further afield can cope with the conditions.  "We keep sitatunga, an African swamp dwelling antelope that can live in the wet," says Danny. "We hold and breed bird species that are from wetlands like ibis, storks and cranes.
White stork re-wilding
The zoo is currently involving itself with the rewilding of white storks. Danny says that white storks have been recorded as part of rural life in the UK since medieval times.  However their numbers fell as they were shot and eaten, considered a delicacy.  Now the white stork, Ciconia cicania, is considered a 'scarce visitor' – so Natural England are backing an initiative to re-establish the resident white stork of the UK.
"As far as we are aware no other zoo in the UK keeps and maintains both a wild and captive population of this beautiful bird," says Danny.  "It is our intention to try and achieve both a captive breeding population and eventually a free ranging wild population within the zoo grounds. As a zoo we are ideally situated next to the wilds of Exmoor National Park and surrounded by a UNESCO biosphere and farmland and can offer the security for rehabilitated and wing-clipped birds."
The hope is that the stork's strong natural fidelity to its breeding site will establish local breeding populations.
The talented, dedicated staff of Exmoor Zoo
The fact that the zoo, despite its remote location and the insalubrious climate, is not just surviving but thriving, is a tribute to the Reynolds' sound business acumen.  Their unerring talent for selecting talented, dedicated staff who become an intrinsic part of what is still very much a family business is another key part of their success.
"We have carefully picked our team. They are all people who are enthusiastic about what they do, share their knowledge, and generally engender their enthusiasm to the public," says Lynn.
She says that they would love to increase their visitor numbers just 10,000 – from around 50,000 to 60,000.  "That would be just enough people to put some more money back into the business.
"The resources available to the zoo (how many paying visitors come through the gates, whether they eat in or bring picnics and if we can persuade them to buy a gift on leaving) all determine what we can look after and join in within the zoo community, for breeding programmes and their exhibits," says Danny.
"Above all, it is essential to give our visitors a chance to reconnect with their true ancestral world, and the relationships we have always had with animals. "The majority of people in the UK are 'urban citizens', divorced from the natural flows and rhythms of life."
"The role of zoos is contentious and constantly changing," he concludes.  "However the zoo is alive. Our understanding of animals' welfare and their requirements means constant assessment and evolution."
All images kind courtesy Exmoor Zoo.