As Merlin Entertainments launches its latest midway attraction format, Blooloop learns more about Little BIG City in Berlin and also the company's recent introduction of the Sea Life brand into China.
Traditionally in the attractions industry, the USA in particular, the midway is known as the area of a carnival, county fair or amusement park where rides and games are featured. Yet for the world's second-largest attraction operator, Midway means something different.
For many years the short-stay attractions Sea Life and the Dungeons were Merlin Entertainments' "bread and butter". As the industry giant expands its global footprint, they along with other Midway brands including Madame Tussauds and Legoland Discovery Centre remain an important part of Merlin's business model. Offering a quicker return on investment than the company's resort theme parks, often two or more outlets are "clustered' together in high-traffic locations.
Until this summer, Merlin's latest Midway format was Shrek's Adventure! at its Central London site. This also comprises the London Dungeon, a Sea Life aquarium and the famous observation wheel the London Eye. The experimental format, developed in partnership with DreamWorks, has yet to be repeated at any other locations.
However, a second outlet has already been confirmed for Little BIG City in Beijing, following its July 1 launch beneath Berlin's landmark Fernsehturm (TV tower). But more about that, and other midway developments in China, later.
700 years of history under one roof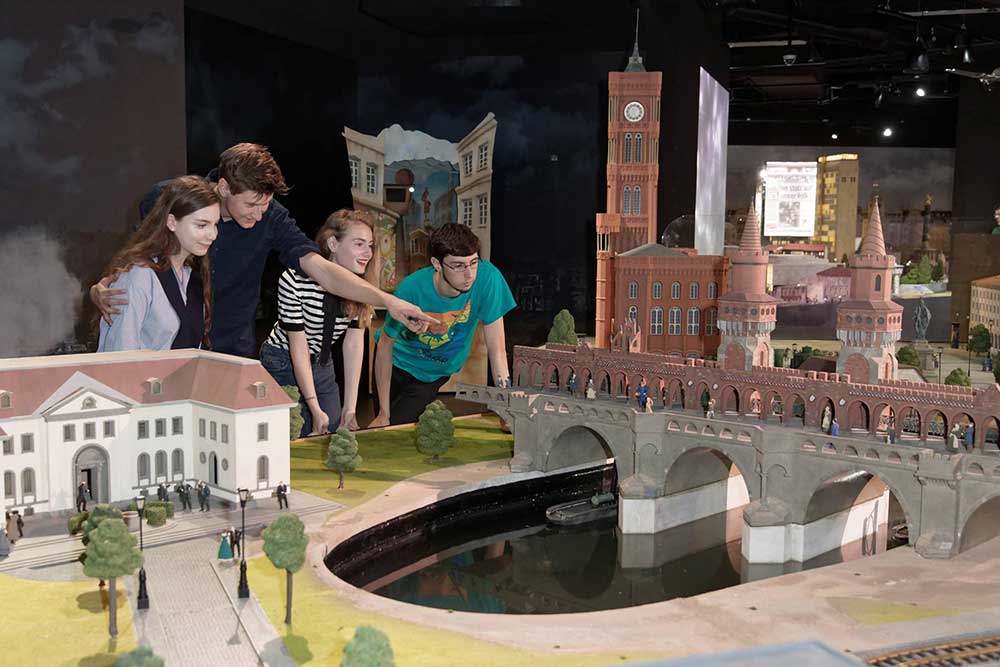 "We are absolutely delighted with the introduction of Little BIG City Berlin to the German market," says Kieran Lancini, Global Head of Media Relations for Midway New Openings and Acquisitions at Merlin Entertainments.
The new undercover attraction brings to life 700 years of Berlin history. It does so by using scale sets of local landmarks past and present. Seven eras are depicted from the moment the city was 'born' right up to the present day.
Visitors start their Little BIG City journey in Early Berlin, then move onto the radical and ingenious Industrial Revolution. This is followed by the decadence, glamour and entertainment of the Weimar Republic. Next comes the Reichstag blaze of 1933, through to the Devastated City after WWII. Then the Divided City in the era of the Berlin Wall. Finally, guests reach modern day Berlin, now firmly established as the nation's capital.
Little BIG City's very own Reichstag
Effects such as optical illusions and projection mapping are employed to make the sets and characters appear more real. Merlin's creative team devised its own automatons to guide guests through each era. There are interactive opportunities for visitors too. They can, for example, compete in a Medieval ring race or choose a Weimar Republic cabaret act to perform in a digital theatre.
"We are not your standard model village," smiles Lancini. "We are showcasing Berlin history in a fun, educational and entertaining way. Guests can witness sights such as the burning down of the Reichstag through to the taking down of the Berlin Wall within the emotive Divided City set. All this, in front of their eyes in incredible detail."
Although Little BIG City is based around real events and people that have shaped Berlin, Lancini concedes that "we are all about entertainment and so have taken some creative license to benefit the natural flow of the experience. History is made fun and memorable; while certain chapters of history are designed to provide reflection and are treated with the utmost respect. Ultimately, the attraction is bursting with personality and packed with fun and little and BIG touches."
More, much more than that, Merlin did it midway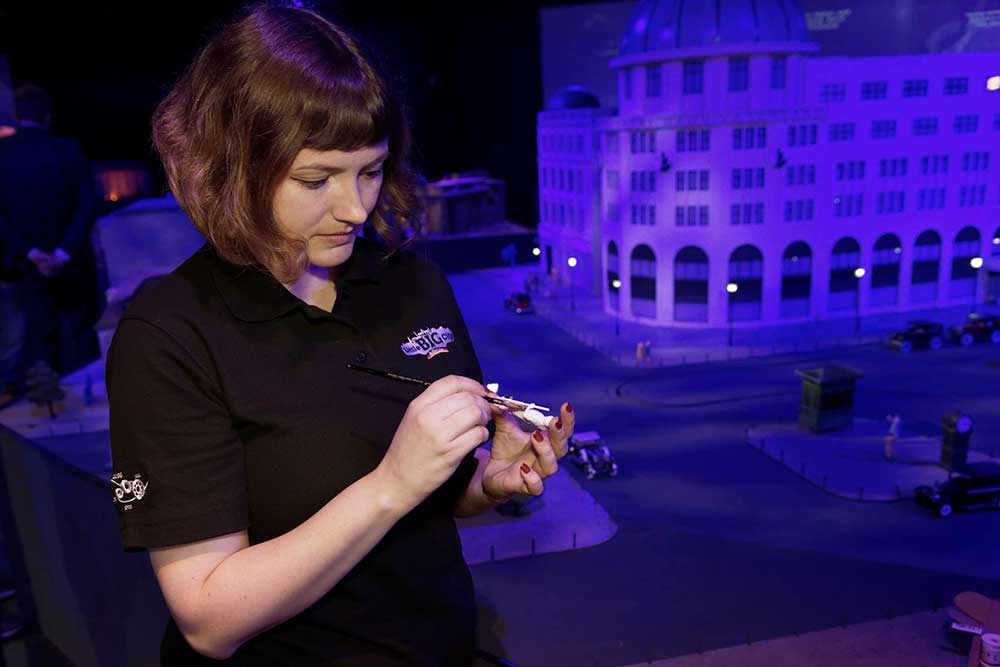 Merlin's new Midway format has been several years in development. There are obvious comparisons to the Miniland model cities found at the heart of every Legoland and Legoland Discovery Centre. Yet no Legoland creatives were involved in the creation of Little BIG City.
"We have our own team of specialists solely dedicated to the creation of the attraction," explains Lancini. "We did consult the Madame Tussauds creative team on the creation of LBC's 'residents', however. Each resident has been carefully researched and had their own professional stylist."
But why chose Berlin as the launch location? "It made perfect sense for us – especially alongside the popular Midway attractions already in the local market," says Lancini.
The attraction is walking distance from what was also the world's first Legoland Discovery Centre when it opened in 2007. Not much further away, in the other direction, is both the Berlin Dungeon and Sea Life. That means visitors to the city can enjoy almost all the company's Midway brands in one place; making it a day's worth of entertainment rather than a few hours. Those wanting to sample just Little BIG City (LBC) can step inside for the introductory price of €10. But part of the reason Merlin clusters attractions is so that it can push combination ticket deals. A 20% discount is also available to those wishing to sample LBC and the TV Tower.Miniature Wunderland
Mini worlds, big profits?
Miniature worlds have been popular visitor attractions for years, but suddenly these tiny towns seem like big business. Model villages, some better than others, can be found in countless locations around the world. In the Netherlands, the miniature city Madurodam has been entertaining families in the The Hague for several generations, and enjoys better attendance than some of the nation's theme parks.
Elsewhere in Europe, the indoor metropolis Miniature Wunderland, centred around a model railway – but offering rather more than that – enjoys the reputation of Hamburg's no.1 tourist attraction.
But clearly the success of such miniature worlds has inspired others. Gulliver's Gate, which opened this May in Times Square, New York City, certainly bears some similarities to Miniatur Wunderland. Braun even confesses to being asked to be part of the attraction during in its development. Ultimately, he declined.
With its Hamburg Dungeon sharing a building with Miniatur Wunderland, Merlin is no stranger to the German success story either.
"Little BIG City is very much a unique, standalone attraction – there really isn't anything like it. The attraction has a mixture of model buildings. We're on the larger scale of 1:24 compared to models featured in standard miniature villages which are typically 1:87. We also have special effects, interactivity and personal stories of the people who have shaped the city to truly bring to life the unique and colourful essence of Berlin."
Midway attractions in the Middle Kingdom
Merlin will be opening its next Little BIG City in Beijing in 2018, and also has plans to bring the Dungeon brand to China. The latter has a tradition of reinterpreting gruesome local history in an entertaining way, and should have a rich stream of stories to draw on in this sprawling Chinese city.
Meanwhile in Southwest China, where Merlin already operates a Madame Tussauds celebrity wax attraction, Chongqing was chosen for the launch of Sea Life in May, following earlier Asian outlets in Bangkok and Busan, South Korea.
"China is a very important investment market for us," says Lancini. "The Madame Tussauds and Legoland Discovery Centre brands are already extremely successful in China. We felt this was the right time to introduce Sea Life – and we couldn't think of a better location than Chongqing. The city and surrounding area has a population of over 30 million. It is one of the country's most exciting emerging mega cities."
Strength in numbers
Merlin is using its familiar cluster strategy. "We already have a Madame Tussauds located within the same mall – Landmark Riverside Park.  We feel that with our consistent strategy of establishing attraction clusters in key gateway cities will be a significant step in establishing Chongqing as a destination for family entertainment."
The attraction was several years in development. This was partially due to the many factors that come into play in dealing with living and breathing animals. There are over 4,000 fish and marine creatures across a 150 species at Sea Life Chongqing, all from accredited sources.
Merlin worked with both British and Chinese companies to bring the new aquarium to life. The attraction was designed in-house by the creative team at Merlin Magic Making, working with Kay Elliott Architects in Torquay, England, which was also a contractor on Little BIG City Berlin. Figment Productions in the UK developed the AV content and the hardware consultant was SM&W of China. The lighting consultant was Mark Frank from Emphasis Lighting in the US.
Octopus, stingrays – but no dolphins or whales
The new attraction in Chongqing takes guests from the depths of a tropical ocean to the deck of a submerged shipwreck. It features several maine species on display for the first time in China. These include the Pacific Giant Octopus, Flamboyant Cuttlefish and Yellowtail Blue Damselfish.
There are two interactive show areas. Here, the venue's Sea Life Rangers use a combination of AV-led content, audience participation and live cameras to demonstrate the drama of life in a stormy rock pool and the majestic beauty of the stingray.
"Our expert Sea Life Rangers love to interact with guests, enable them to have up close encounters with amazing creatures and inspire them to care for the oceans and inhabitants," notes Lancini."We are very proud of the work that Sea Life does around the globe to help safeguard the oceans and protect the creatures that live there. We always feature some of these initiatives (both local and global) in our Sea Life attractions."
'Breed, Rescue, Protect'
Some larger marine parks in China include dolphins and, more controversially, whales as exhibits. Merlin has chosen not to feature such creatures at Sea Life Chongqing. "Sea Life believes that cetaceans such as whales and dolphins should not be kept in captivity; and we have never pro-actively acquired them," explains Lancini. "That said, we believe that in circumstances where such creatures are already in captivity or have been injured then Merlin's involvement can be, and indeed always is, a positive force for change."
"If some of our visitors have an expectation of seeing whales or dolphins prior to their visit to Sea Life Chongqing," he continues, "we are 100% confident the experience we provide them with will quickly dispel any initial disappointment. And of course we hope in time they will come to share our view. Whales and dolphins should never be taken from the wild for entertainment purposes!"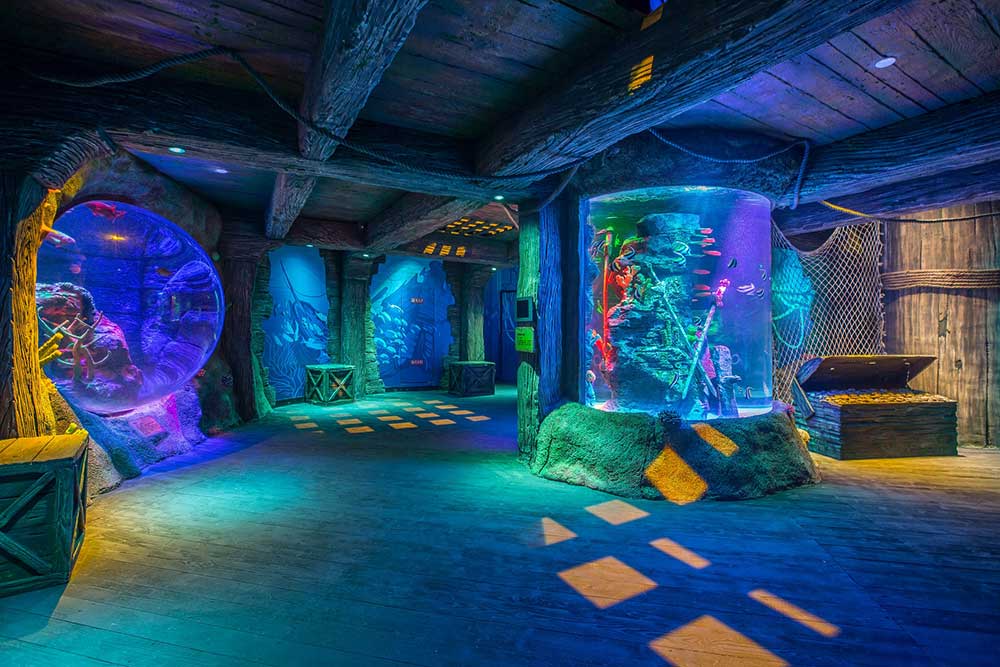 Merlin's next Sea Life venture in China will be in Shanghai, when the company relauches an existing aquarium it acquired in 2012. Further outlets seem likely as it continues its rollout of Midway attractions across the Middle Kingdom.
"We see great potential for the Sea Life brand in China," concludes Lancini. "We are the world's leading aquarium operator. For more than 30 years, conservation has been at the very heart of our business. Sea Life has built its  reputation not just on creating exciting and informative marine attractions, but most importantly doing this responsibly and ethically. This is summed up in our Breed, Rescue, Protect philosophy. We are excited to bring the attraction and this philosophy to China."
Images courtesy of Merlin Entertainments.