Chattanooga Zoo in Tennessee is undergoing a $10 million expansion, 'Reaching Great Heights Campaign', adding giraffes and lions as part of its 'African Expansion'.
The project will include giraffe and lion exhibits, as well as smaller African animal exhibits. The zoo will create multiple viewing opportunities for each exhibit and stations for guests to feed the animals.
Chattanooga Zoo also plans to enhance views from the front entrance, add a special event plaza for up to 300 guests, build areas for interactive and educational experiences, and provide more immersive experiences.
The attraction will also work on strengthening its business model, and furthering its conservation and education mission.
Interactive, educational and immersive experiences
Phase 1 of the African Expansion, scheduled to open later this year, is underway and involves building a giraffe barn, an indoor viewing yard with a public feeding station and a 4,000-square-foot outdoor giraffe lawn.
The giraffe barn will feature multiple stalls, veterinary equipment, zookeeper areas, and behind-the-scenes tours.
The outdoor giraffe lawn will be a savanna-style habitat, which will allow guests to get close to the animals.
Chattanooga Zoo will get the giraffes through the Association of Zoos and Aquariums (AZA) Species Survival Plan (SSP).
Chattanooga Zoo to build giraffe barn and outdoor lawn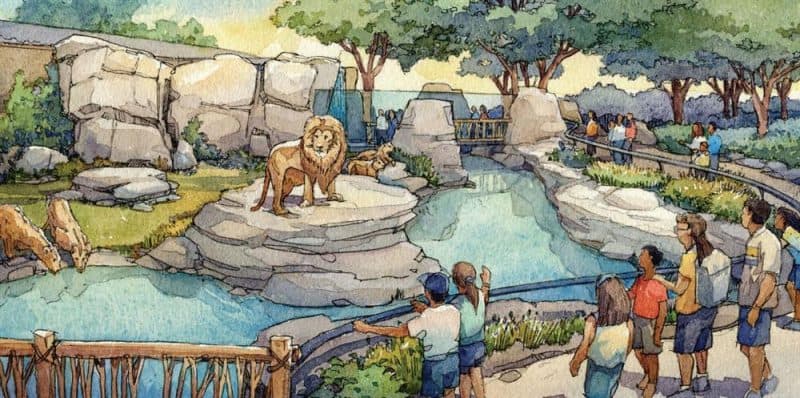 "This expansion will create large, immersive habitats for a new species at the zoo… giraffe! We are so excited for our community to be able to experience the great wonders of Africa in their own backyard," said Dardenelle Long, President and CEO, Chattanooga Zoo.
"After all, it doesn't make sense to send our community away from the 'Best Town Ever' to see these beautiful, exotic animals."
Elsewhere, Chester Zoo won big at the awards of the British and Irish Association of Zoos and Aquariums (BIAZA) for its Sustainable Palm Oil campaign, which saw Chester becoming the first Sustainable Palm Oil City in the world.
Blooloop previously chatted to Chester Zoo's Jamie Christon about the attraction's latest developments and its plans for the future.
Images: Chattanooga Zoo