Leading brand architects, dan pearlman, have designed a hands-on exhibition for Zoo Rostock's new themed world, Polarium.
Featuring underwater views of swimming polar bears, dan pearlman's Polarium exhibition immerses visitors in the creatures and habitats of the world's Arctic and Antarctic regions.
The interactive exhibition at the German zoo has been designed to encourage visitors to learn more about the regions and the importance of conserving their unique wildlife. Visitors are taken on a one-of-a-kind adventure through the world of penguins, polar bears and other aquatic creatures.
Designed and delivered by dan pearlman Creative Director, Karen Klessinger and her team, the styling evokes the cool colours and jagged icebergs of the polar landscape. AV elements also help to create the sense of place.
A stylized iceberg marks the entrance to the exhibition. Facts are given in bitesize chunks as well as more detailed sections, to appeal to all ages and abilities. An interactive level runs throughout the exhibition at a lower height, making it more accessible and engaging to children.
The "North and South Pole Exhibit" enables visitors to explore the geography of the polar regions. From here, a path leads visitors to the new centre of the themed world and immerses them in the dark blue and icy green environment of the polar bear exhibition.
Children can discover bear cubs in a cave
Here, five stylised icebergs ask and answer questions such as: how tall is a polar bear? and, how many teeth does it have? There is even a cave where children can listen to polar bear stories and discover the bear cubs.
The visit culminates in a huge glass wall where visitors encounter the zoo's polar bears swimming underwater and on the surface at eye level.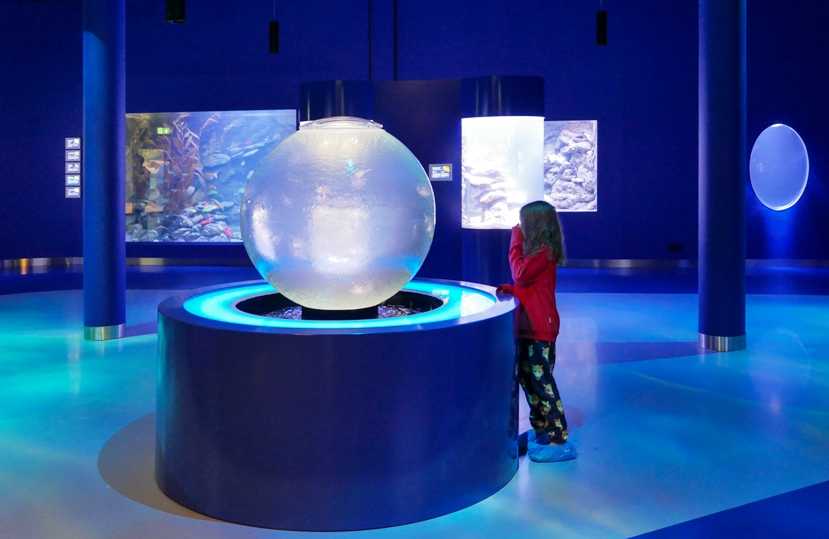 dan pearlman designed this area as a transition from the sharp ice floes to the soft light and smooth lines of the marine world. Atmospheric sounds play in the background and dark colours highlight freestanding aquariums.