Kay Elliott, the award-winning studio of architects and designers, worked on concept design, masterplanning and architecture at the flagship National Lottery Heritage funded project.
Kay Elliott has announced that work on the Living Wetland Theatre at WWT Slimbridge Wetland Centre is nearly complete. This project includes a 2000 square-metre walk-through aviary within a wetland landscape where guests can be immersed in the sights and sounds of nature. There is also an innovative diving duck tank where visitors can watch ducks diving under the surface.
Alongside the aviary, guests will also be able to enjoy the Living Wetland Theatre, a 360 seat open-air amphitheatre where they can view live free-flying demonstrations. Here, a 'floating' stage area means they can get closer to the wildlife, such as pink-backed pelican and crowned crane.
The attraction plans to host live debates on conservation issues on this new platform, featuring researchers, scientists and TV experts. The project is expected to open from Summer 2021.
A fun and educational experience
Kay Elliott's approach to the design builds on a desire to create a guest experience that is both fun and educational, while also responding to the opportunities and challenges of the site and working in harmony with the natural surroundings.
"The landscape design has developed to provide a rich and stimulating experience that will be used and cherished by visitors young and old providing a sequence of discovery and delight," says a statement from the studio.
"We have developed this thinking adopting the design principles and adding a richness of detail that works with the existing nature reserve building on the character and reinforcing WWT's passion for wetland conservation and sustainable design."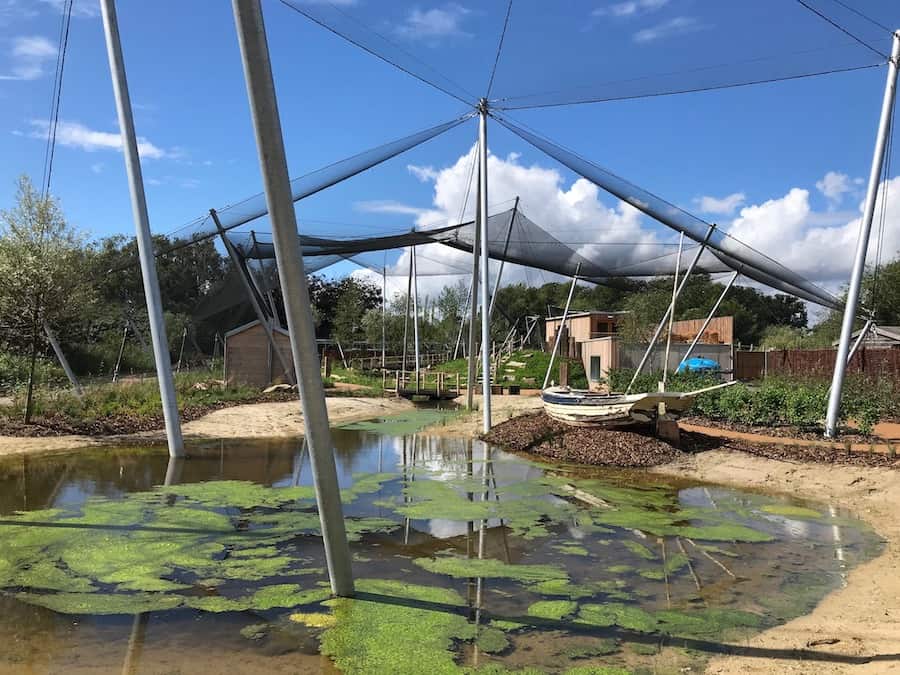 The theatre benefits from the natural backdrop of the Severn estuary and the Forest of Dean, connecting it to the landscape and creating an attractive setting and outlook for visitors to rest and picnic when presentations are not taking place.
The diving duck tank allows guests to see both above and below the water, giving a sneak peek into the underwater world of the resident waterfowl. The studio has also integrated 'airlocks' into the architecture, concealed as hide structures and theatre facilities. This means that they become part of the visitor experience rather than a barrier to movement.
The lower path has been closed to the public to reduce disruption to the nearby flamingos. This also creates dedicated keeper access and manages visitor flow. The aviary maximises available space for a variety of British wetland birds and visitors.
Kay Elliott has also been working on the unique reefLIVE Aquarium in Belfast's Titanic Quarter, an immersive visitor attraction opening in 2022.