Long Beach, California's Aquarium of the Pacific has opened its new Pacific Visions wing. Designed by US-based architecture and planning firm EHDD, the new stunning glass building houses a state-of–the-art immersive theater and interactive art installations.
These have engaging multimedia displays and live animal exhibits. The focus is on the underwater environment and the challenges it faces in the future.
1. Art Gallery
The visitor journey begins in an art gallery. This immerses visitors in a sensory space that sparks curiosity and inspiration. The opening installation was created by Convivial Studio, a European art and design practice based in Germany. It features elements that give visitors a different perspective of the ocean. These include a series of video projections, Coral World and Plankton World, accompanied by soundscapes and a touchable relief wall with video projections. There are also glass sculptures inspired by plankton, and a collection of mirrored exhibits called Infinity Coral.
This dynamic gallery provides an introduction to the Pacific Visions theater experience.
2. Orientation Gallery
Visitors next view a short film in the orientation gallery and whilst there they also interact with a virtual waterfall. This flows down one wall and then onto the floor, inviting visitors to interact with it. The pre-show film introduces visitors to the Pacific Visions theater experience. It highlights wildlife, nature and in addition, the beauty of our planet.
3. Honda Pacific Visions Theater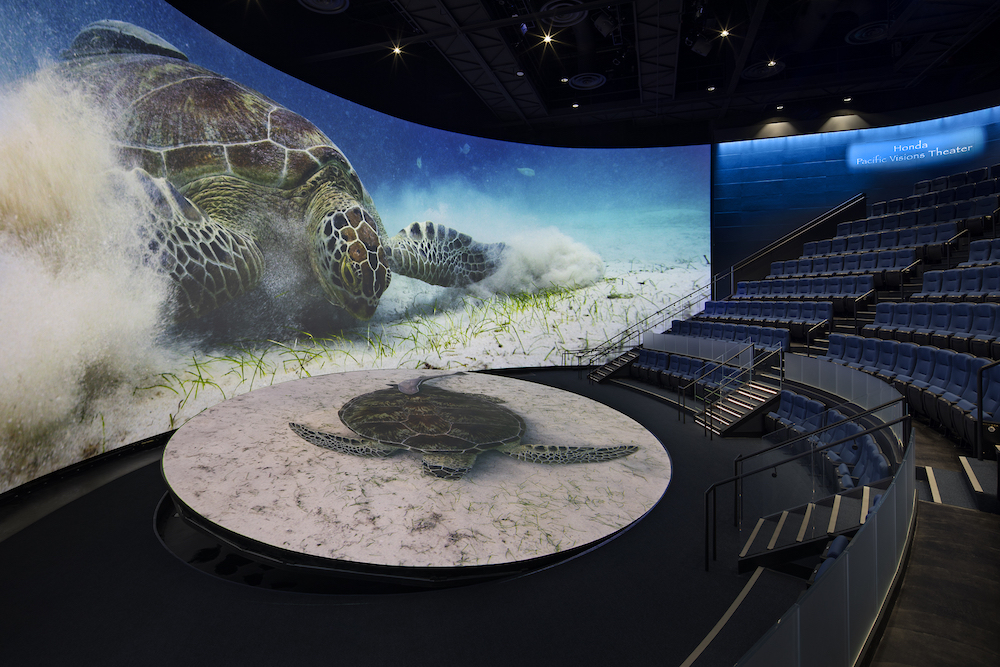 The Honda Pacific Visions Theater has more than 300 stadium-style seats, which face a 32-foot-tall, 130-foot-wide screen. This is curved in a 180-degree arc to capture viewers' entire range of vision.
The stage includes a 36-foot-wide, oval-shaped disc, which tilts up to display images projected onto the floor. The new Designing Our Future show playing in the theater immerses visitors in the underwater world and also provides visions of the future. Furthermore, the show is enhanced with multisensory effects which include seat rumblers, strobe light effects, fog, wind, and scents.
4. Culmination Gallery
After the theater show, visitors then enter the culmination gallery. This features a huge, interactive projection wall in addition to game tables, and animal exhibits. These encourage visitors to learn more about, explore, and also create a sustainable future.
Entry to Pacific Visions is included with Aquarium admission. Top image Aquarium of the Pacific / Pacific Visions / EHDD / Clark Construction / Photography by Tom Bonner