Phillip Island has opened a new Penguin Parade visitor centre, which features a state-of-the-art theatre, interactive activities, and new dining and shopping.
Located at the entrance to Phillip Island's Summerland Peninsula, Penguin Parade is a star-shaped building, which boasts a dedicated education wing.
The new visitor centre also includes an interpretive habitat space, providing guests with a 'penguins-eye' view with life-size grass tussocks and cinematic projections.
Phillip Island houses Australia's largest colony of little penguins. The restoration of more than six hectares of penguin habitat has created homes for 1,400 more penguins.
Guests will get the chance to view the penguins, and get up-close with 'Penguins Plus'. Also available are underground viewing, guided ranger tours, VIP tours, and adventure tours.
Get a penguins-eye view and take a tour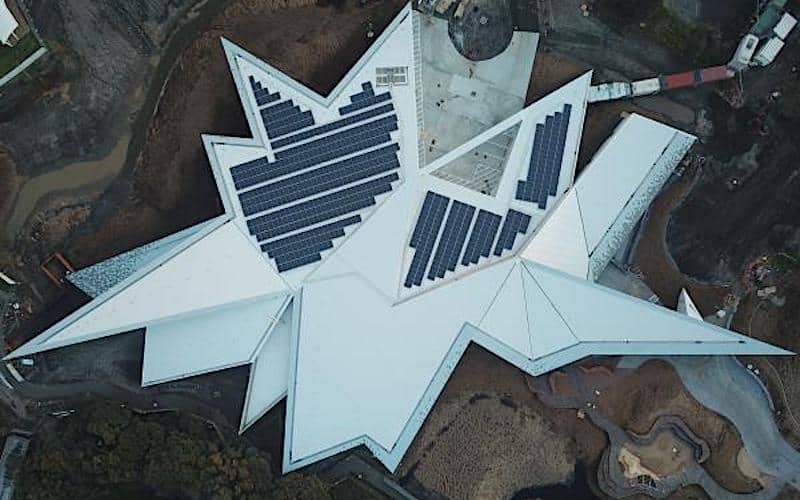 To enhance visits, the Penguin Parade Phillip Island app provides guests with interactive information and takes them behind-the-scenes of the penguin colony.
"Nearly one hundred years of history and learning has brought us to a point where we better understand the balance of primarily protecting wildlife and its habitat, and operating a successful eco-tourism venture in this sensitive environment," said Phillip Island's Major Projects Manager Damian Prendergast.
New app provides interactive information
"Environmental considerations were paramount during the course of this development, and informed all of our actions and decisions as we work towards our ultimate goal of the Nature Parks becoming carbon, energy and waste neutral."
The Penguin Parade visitor centre is eliminating single-use plastic in its food outlets, and features 666 solar panels on the roof, as well as a water filtration system to recycle rainwater.
Australia's largest colony of little penguins
Penguin Parade received $48.2 million in funding from the Andrews Labor Government, as well as a $10 million contribution from Phillip Island Nature Parks.
Last year, a brand new African Penguin exhibit opened at New Jersey's Turtle Back Zoo, and the Aquarium of Niagara opened its $3.5m Humboldt penguin exhibit.
Images: Phillip Island