Reid Park Zoo is getting ready for the first phase of its three part, 10-year, $80 million expansion, set to begin this year.
Plans are underway for Phase 1, which will include a new flamingo habitat, 'Treetop Adventure' play area for children, an upgraded Welcome Plaza and an Asia-themed expansion.
The first phase, expected to complete in 2022, will also add a palm grove, shade and seating to the Welcome Plaza. When visitors enter, they'll be greeted by a flock of flamingos, who are moving to a much larger habitat.
The Malaysian tigers habitat will more than triple in size, and a new reptile house will include the Komodo dragon. Animals in the Asia expansion will include lorikeets, siamangs and large fruit bats.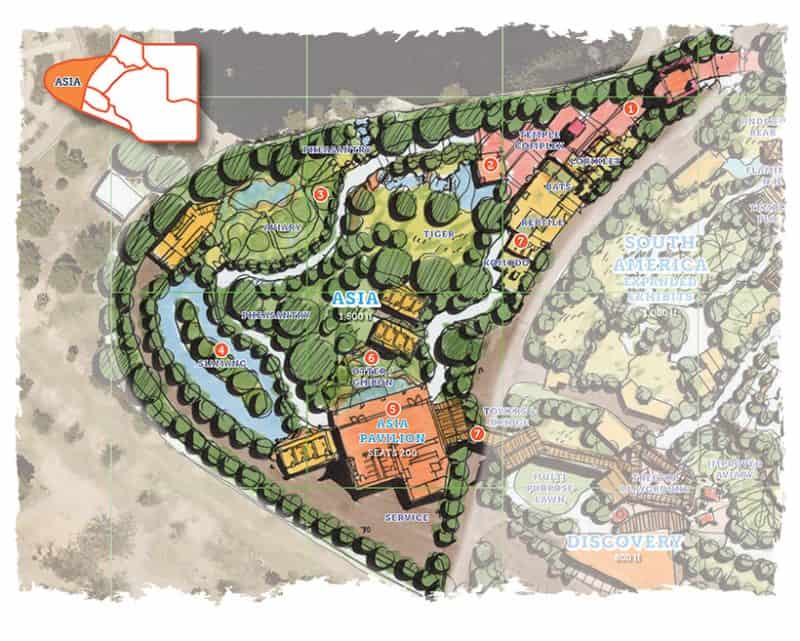 Reid Park Zoo expansion: helping wildlife in wild places
"Having these larger spaces allows us to be able to connect our animals to the people," said Jed Dodds, Outreach Supervisor. "Which in turn is going to help wildlife in wild places."
Phase 2 of Reid Park Zoo's expansion plans will take guests on a safari to Africa, where they'll meet lions, elephants, rhinos, hippos, wild dogs, giraffes, zebras, gazelles and more.
It will include another play area for children, with tunnels and pop-up viewing spots to get close to the zoo's meerkats.
A village of iconic round African homes will welcome guests as they head to the new lodge, with balconies on three sides and seating for 400.
Phase 3 will improve the zoo's existing South American habitat, including the Temple of Tiny Monkeys. The entry will be expanded to include a Mayan Temple and another playground, while the Andean bear habitat will also be extended.
At a presentation on Wednesday (May 1), Nancy Kluge, Reid Park Zoo Director, said: "We're looking to provide the best in animal care, as we connect people with animals."
The new Welcome Plaza and playground will be completed by 2021. The new flamingo enclosure is scheduled for completion by the end of 2019.
"This expansion is going to be quite good for not only the zoo, the animals, but also for Tucson," said George Ball, Reid Park Zoological Society.
Images: Reid Park Zoo