The Saint Louis Zoo has announced plans for the creation of Primate Canopy Trails, an $11.5 million outdoor expansion of the Primate House.
Construction on the 35,000-square-foot Primate Canopy Trails will begin by late 2019. The expansion is scheduled to open in 2021.
Primate Canopy Trails will consist of eight new outdoor homes for primates, adjacent to the Primate House.
Exploring in outdoor habitats
"Most importantly, Primate Canopy Trails allows us to improve animal care, health and wellbeing by providing access to enriching outdoor habitats, sunlight and fresh air," said Jeffrey P Bonner, PhD, Dana Brown President and CEO, Saint Louis Zoo.
"It also will allow visitors to experience primates like never before."
Overhead mesh tunnels connected to the Primate House, known as 'sky trails', will let the animals explore different habitats, providing further stimulation for them.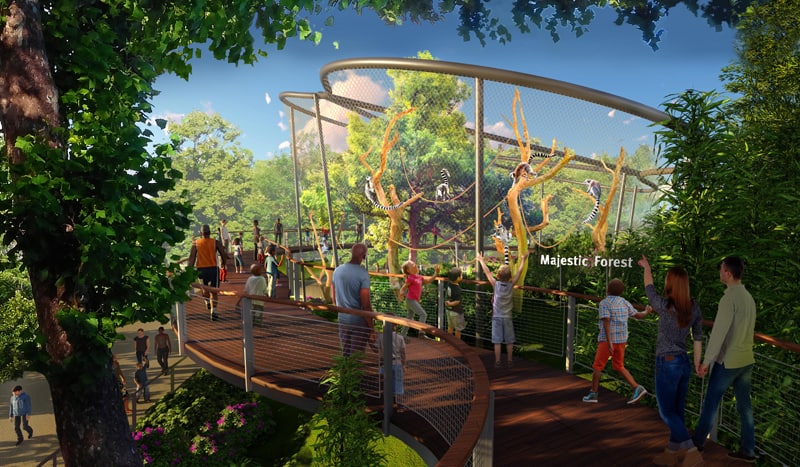 "Being outside is critical for primates' well-being, and this new habitat is a demonstration of the zoo's commitment to providing quality animal care," said Heidi Hellmuth, Curator of Primates, Saint Louis Zoo.
"One thing all our primates have in common is their love of the canopies and habitats situated high in the trees," she added.
"However, many primates worldwide are threatened with extinction and have declining populations, mostly due to extensive habitat loss, including forests."
Conservation at Saint Louis Zoo
For visitors, there will be climbing structures and an elevated boardwalk, as well as a clear acrylic tunnel, allowing them to explore the primates.
Saint Louis Zoo is a leader in primate care and conservation, and participates in Association of Zoos and Aquariums (AZA) Species Survival Plans (SSP) for all of its primate species.
Blooloop previously spoke to Tim Morrow, CEO of San Antonio Zoo, about his lifelong love of animals, the zoo he joined in 2014 and its laudable conservation initiatives.
Images: Saint Louis Zoo