SEA LIFE London Aquarium has captured the sounds of fish communicating with each other for the first time in the UK. Croaking clownfish, growling triggerfish and hooting crayfish now sing in Abbey Road Studios' festive fishy version of Jingle Bells.
The vocalisations were recorded by Blue Planet II scientist and expert in bioaucoustics, Professor Steve Simpson from the University of Exeter.
Professor Simpson worked with Kieran McCloskey from the University of Exeter. They collaborated with the London Aquarium's James Wright.
"Sound plays an important role in the health of our oceans and we were curious to find out how the diverse fish species at London Aquarium use language to communicate with one another or at the very least find a fish that had a vocal range like Mariah Carey in time for Christmas," said Wright.
Sounds recorded using specialist underwater equipment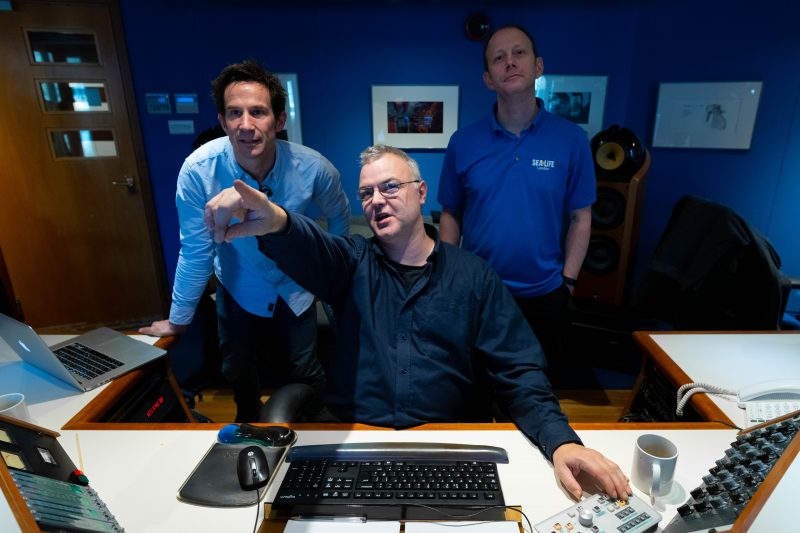 The sounds were recorded using specialist underwater equipment and include clicks, croaks, growls and hooting noises from a wide variety of fish species.
The recordings include the croaking, popping and purring of 300 clownfish asserting themselves, as well as two native crayfish bickering over food before one surrenders and makes a trumpet-like noise.
A triggerfish was also recorded making a constant growling noise, while a group of seahorses made clicking sounds as they opened their mouths to capture food.
"What we discovered is truly fascinating and highlights how fish are using sound to communicate to one another in an aquarium environment just like in more natural habitats," said Professor Simpson.
Fish use sound to communicate at SEA LIFE
"I'm passionate about understanding how fish communicate and interact with their environment," he added. "There are many reasons fish make noise, including defending territories, warning against predators and during courtship."
What's more, the sounds were remastered at Abbey Road Studios to create a festive fishy rendition of Jingle Bells using the SEA LIFE London Fish Choir.
"I never imagined having spent 30 years mastering music at the world-famous Abbey Road Studios that I would be remastering the hidden orchestra of fish sounds into a festive Jingle Bells track," said Andrew Walker, sound engineer at Abbey Road Studios.
Elsewhere, the New Jersey SEA LIFE Aquarium, scheduled to open at American Dream in March 2020, has started selling tickets for admission.
Images: Merlin Entertainments