Bjarke Ingels Group (BIG) proposes a 500-foot cylindrical observation tower for San Diego's waterfront as part of the $2.4 billion Seaport San Diego project.
The San Diego Union-Tribune announced the observation tower, which will be part of 1HWY1's redevelopment of the Central Embarcadero.
BIG's hourglass-shaped tower takes inspiration from San Diego's indoor-outdoor culture, with a stack of spinning discs at various vantage points.
The 70-acre Seaport San Diego project includes hotels, a 170,822-square-foot aquarium, 261,411 square feet of retail space, as well as office and leisure spaces.
'Vertical aquarium' in the observation tower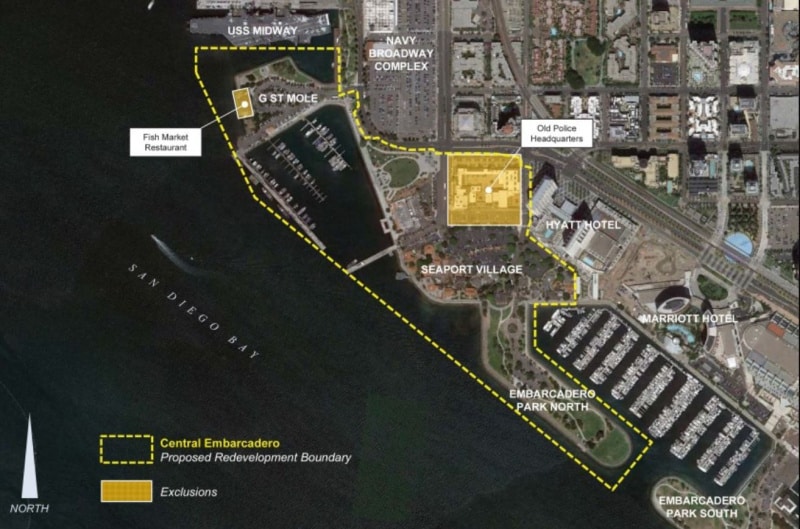 The aquarium will be housed within the tower itself, and will be part of OdySea San Diego, a deep-sea diving experience with more than 25,000 fish.
The multi-level aquarium, designed by BIG, will boast a living sea carousel, an underwater experience with certified divers, high-tech touchscreen tanks, a 4D movie theatre, a penguin park, an underwater escalator, and transparent slides in the shark exhibit.
Seaport San Diego, which bills itself as 'an interactive hub' will also have an expanded park and public space, restaurants, and accommodation at various price points.
It will also feature a marine-focused learning centre, water sports, an outdoor gym, beach volleyball, as well as boating and swimming.
High-tech innovative aquarium designed by BIG
The tower may also have a tropical rainforest habitat for butterflies, 'Butterfly Wonderland', with 3D immersive nature experiences, a wind garden, and an outdoor auditorium.
Last month, 1HWY1 submitted a formal project proposal to the Port of San Diego, and expect to present Seaport San Diego to Port Commissioners for preliminary approval later this year.
However, Melody Lasiter, a San Diego coastal planner, told the San Diego Union-Tribune that they "have concerns about the bulk and scale of the project in general".
Butterfly exhibit with 3D immersive experiences
Lasiter added: "Our major concern is that the existing development down at Seaport Village right now is easily accessible for a wide range of incomes.
"There's a lot of passive space, and anyone can go to Seaport Village and walk around. With the redevelopment, it might not be that way. Our focus is the public's ability to recreate there at low or no cost."
Images: Seaport San Diego/BIG