Stacey Ludlum continues her review of innovation in zoos…
I want to talk about the things that have been slowly happening, without much fanfare, across the United States in nearly every city from New York to Saint Louis to Portland. I want to talk about how things that the supposedly paradigm-changing design from Europe insists are innovative, or at least "rarely seen in zoos', have actually been around for years (and in some cases, decades) here in the United States.
Zoo Innovation #2: The "You're Not in a Zoo" Promise: Visitors and Animals Share the Space
The goal of most modern zoo exhibits is to transport the guest to another time and place when visiting a zoo or theme park. It's the romantic notion of sharing an experience with the animals; that we are walking in harmony in this big ole crazy world. What it comes down to is that we neither cage the animal nor cage the people, but we literally share the same space. This can take many forms and has over the years, from walk-through (or swim-through aviaries and in one case, a frigid indoor penguin exhibit),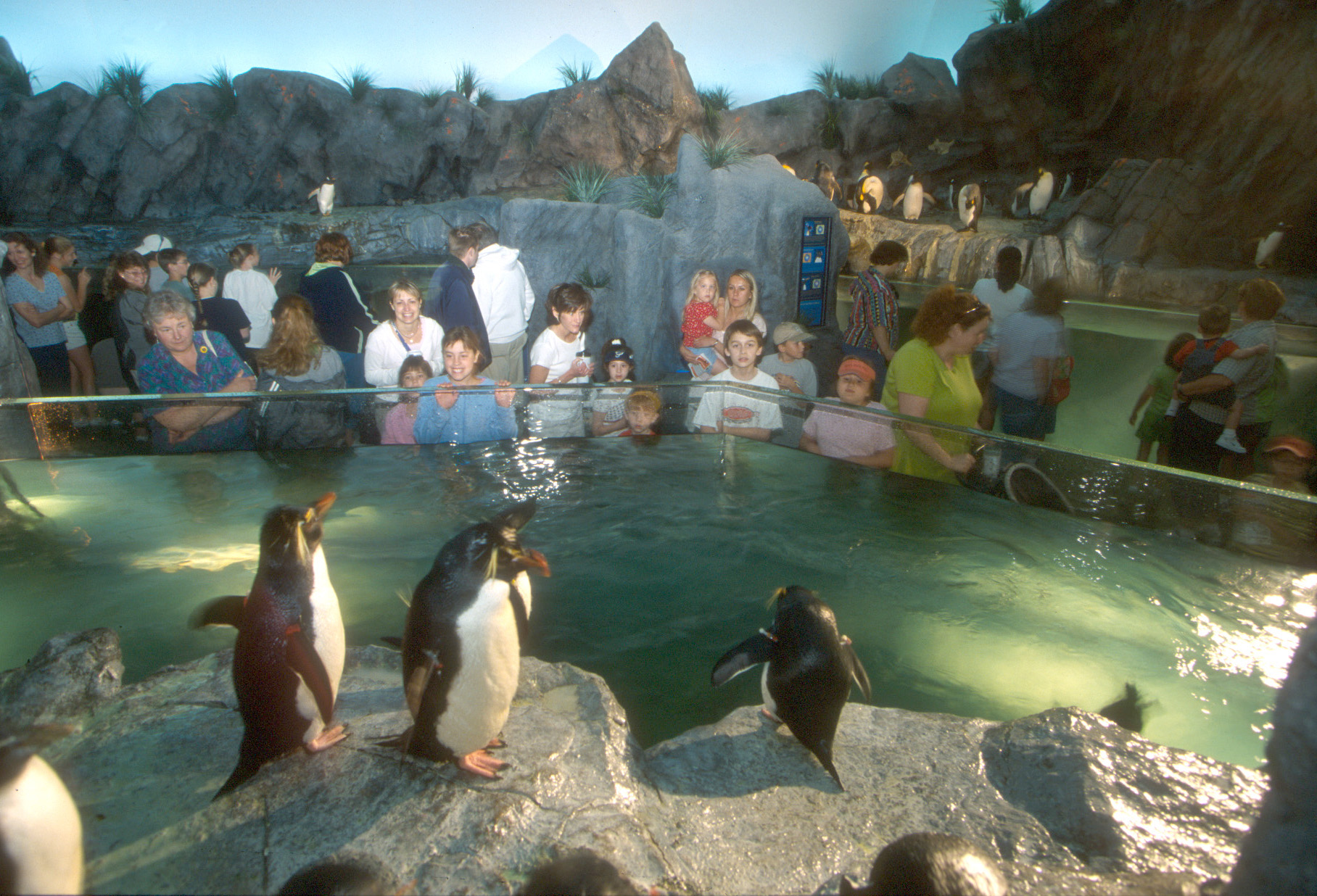 to swim-with programs like with dolphins, reef fish or sharks.
In fact, this is one category where European zoos have already taken some great risks
before the US zoos, allowing guests to freely share space with primates like lemurs.
These complete immersion exhibits are incredibly engaging, exciting and oftentimes, most represent the idyllic view of what a zoo is supposed to be.
The problem comes, however, when the animals represent a danger to the guests, which is to say, with most captive animals, or when sharing the space is literally impossible, like in an aquarium (short of donning a wetsuit). Here is where the most advanced innovations have come: getting guests as close as possible, through a barrier, but to feel as if they are sharing the space. The old stand-by of layered views with hidden moats do not achieve this due to the minimum horizontal distance needed to provide a barrier between the animals and people via a moat. You just cannot get close when you have a moat. But, a few clever innovations of the recent decades have gotten us closer than ever before, feeling as if we are in the animals' space, in the habitat.
Think giant acrylic underwater tunnels at aquariums and a few zoos;
think tunnels through dangerous animal habitats with glass panels on either side and sometimes above your head;
think pop-ups into prairie dog exhibits, pop-ups into penguin colonies, pop-ups into tigers' habitats.
The idea of us literally sharing the same space with animals is a beautiful dream to have, but the reality of the situation is we will always have to keep "us' and "them' separate for everyone's safety. Barriers of some kind will always exist, but getting creative to minimize those barriers is the real innovation.
Images/Video:
SeaWorld's Discovery Cove
Saint Louis Zoo Penguin & Puffin Coast
Shark Swim at Georgia Aquarium
Lemur Walk Through at Dudley Zoo
Saint Louis Zoo Sea Lion Sound
Bronx Zoo Congo Gorilla Forest
Jungala at Busch Gardens Tampa