They are doing this by using technology in a range of innovative ways. This means that many are now providing a service to visitors with visual or hearing impairments, people with dementia and more.
For a person with a visual impairment, objects behind glass don't make for a fulfilling museum visit. A person with a hearing impairment might not get the full benefit from audio-visual displays. Or a person with autism may struggle with crowded and noisy spaces. A person with dementia might get more out of hands-on interactions with the collection. Accessible museums have been using technology to enhance the experience for many visitors.
Accessible museums: catering to
visually
impaired guests at the Smithsonian
In spring 2019, the Smithsonian Institute introduced Aira technology. This uses smartphone cameras or smart glasses to provide free verbal descriptions. It benefits visitors to the Washington DC venues who are blind or who have a visual impairment.
Aira uses augmented reality and artificial intelligence. It connects visitors to a remote member of staff who views where the visitor is and can also see what is in front of them. This person is then able to assist the visitor as they journey around the museum. The trained staff describe the exhibitions and objects in the collection. They also help with practical information. They can guide visitors around the building and lead them to facilities such as toilets and cafés.
Visitors can access Aira by downloading the app to their smartphone. They can also use Aira smart glasses. Both are free to use.
Changing the way people experience museums
Beth Ziebart is the director of Access Smithsonian, which provides the system. She said, "For far too long, museum visitors with vision loss have depended on accompanying friends and family to help them navigate around museums. Now, with the touch of a button, visitors have instant access. This not only helps them engage with the museum but also increases their mobility and independence. In the words of one recent user, 'This revolutionizes the way people with vision loss experience museums.'"
Many other museums are also following suit and using technology to increase their accessibility. In her interview with Blooloop, Concetta Bencivenga, Director of the New York Transit Museum said, "There are things that we are doing to augment our electronic experiences. We are working on a tactile book project which has an electronic pen and a Braille companion. You can touch the pen to different exhibits through the museum, and listen for an explanation of what is in front of you."
Using technology to reach more visitors
3D printing is another example of where accessible museums have been using technology to reach a wider audience. Not everyone is able to visit a museum in person. The V&A museum in London used 3D printing to reach one such group of people. In this case, young people receiving treatment at Great Ormond Street Hospital.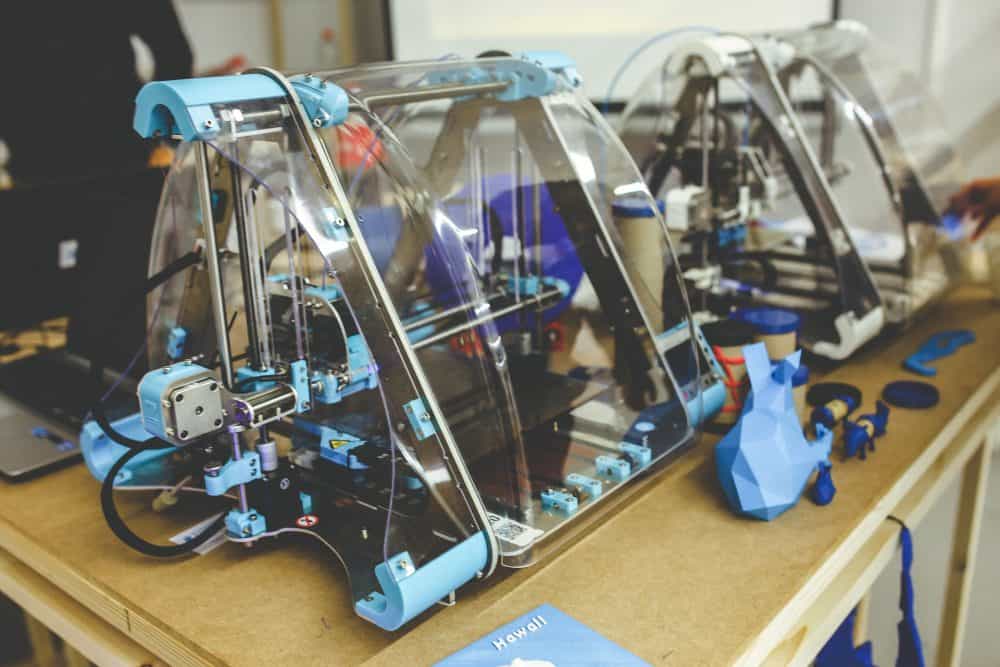 In 2018, a team of museum staff visited Great Ormond Street Hospital. They introduced young patients to 3D scans and prints of pieces from the collection. The participants learned about the objects and their background. They then used CAD software to interpret them into their own new designs.
The patients were being treated in isolation while undergoing bone marrow transplants. They have limited contact with staff, family and other patients. This can be a frustrating experience. This project allowed them to reconnect with the world beyond their hospital bed. Using 3D scans of some of the museum's sculptures, the museum invited patients to come up with new designs.
Accessible museums – 3D printing for the
visually
impaired
3D printing has several useful applications for the museum world. One is in helping visitors with a visual impairment to explore and enjoy collections. After all, the mantra of look but don't touch is no good for a blind or visually impaired visitor. In 2015, Madrid's Prado Museum used 3D printing to help these visitors to enjoy some of its key artworks.
The exhibition featured detailed 3D replicas of works by significant artists. The collection included A Nobleman With His Hand on His Chest by Goya and Apollo in the Forge of Vulcan by Velázquez. Visitors could also experience a contemporaneous copy of the Mona Lisa. In addition to this, the museum provided braille guides and audio commentaries alongside the pieces. These helped to guide visitors through what they could feel.
The museum created the reproductions by exploring a high-resolution image of the painting. It then identified which details to emphasise and how it would make the most sense for a visually impaired person's hand. The museum also had blind and partially sighted people on the team providing their input. The Prado Museum commented, "This project allows for the reality of the painting to be perceived in order to mentally recreate it as a whole and thus provide an emotional perception of the work." The exhibition, Touching the Prado was on display from January to October 2015.
Catering for deaf museum visitors
The Roald Dahl Museum and Story Centre in Buckinghamshire, UK, partnered with a new app called Signly. The museum also helped to develop it further. The Signly app gives deaf museum visitors information in British Sign Language. Visitors access it by pointing their mobile device at displays.
The Signly app makes it easy for deaf visitors to access information independently. The idea earned the Jodi Award in 2017. This award recognises to the best uses of digital technology to improve accessibility. It is open to museums, galleries and libraries.
Steve Gardam is the Director of the Roald Dahl Museum. He says, "We're delighted to have been the first venue to trial the Signly app, as we strive to make our museum more accessible for more people. We love how Signly allows you to look 'through' your smartphone and still see the museum on the other side. Roald Dahl's own inventiveness led to the creation of the Wade-Dahl-Till valve to help people with hydrocephalus. Signly is entirely in this spirit of working together to find creative and practical solutions".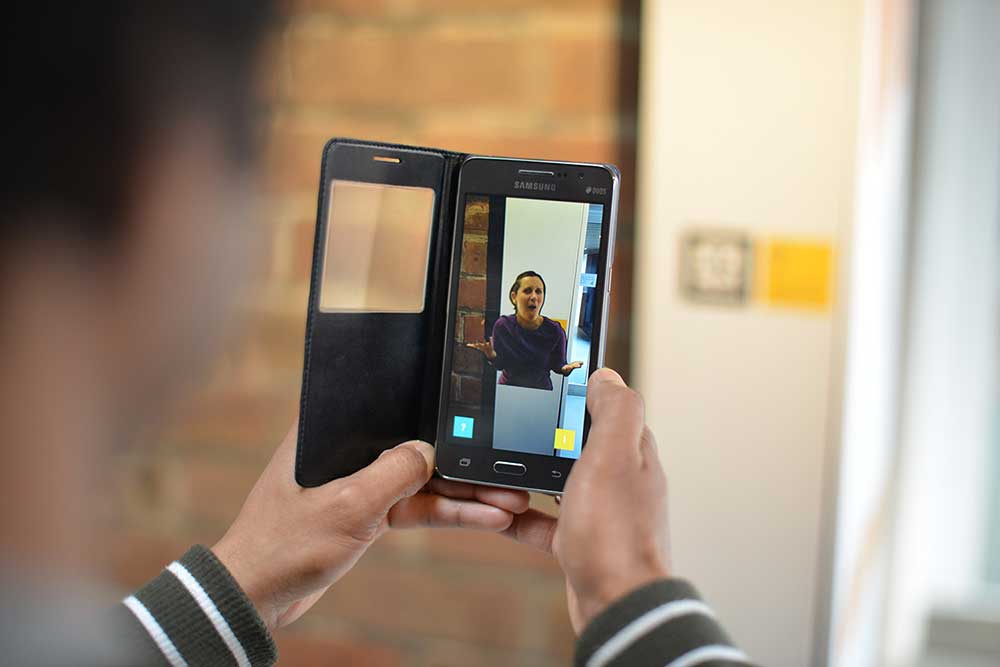 Accessible museums and inclusive design
Inclusive design underpins everything at The Canadian Museum for Human Rights. It aims to set a global example for accessibility, from the layout of the building to the way it presents exhibits. One innovative way that the museum is using technology to do this is through its mobile app.
The app makes it simple for visitors to navigate the museum. It also allows them to get information independently. Visitors can download the app before their visit. This lets them take a virtual tour and learn about the space. It is available in English, French, American Sign Language (ASL) and Quebec Sign Language (LSQ).
It features an audio guide which describes each gallery. It also provides highlights, as well as text-based transcripts. In addition to this, it includes extra sign-language content for several exhibitions. The app's 'Near Me' mode connects visitors devices to over 120 Universal Access Points (UAPs) throughout the Museum. This purpose of this feature is to assist visitors who are blind or have low vision. However, all museum visitors can use the app to learn more about the exhibitions.
Using technology to welcome people with autism
For a person with autism, a trip to the museum can present some challenges. Not all people with autism are the same. However, many find crowded or noisy spaces difficult. Sudden noises and lights, such as films that auto play or interactive displays can also be a problem. Many accessible museums run different schemes to help people with autism to enjoy a visit to the museum. This can be by putting on special events, quiet times and early opening scheme. Some museums in Chicago are taking a different approach by using technology to improve the experience.
Sensory-friendly apps
Chicago based company Infiniteach develops apps to help people with autism plan and navigate their way around venues. This includes museums, libraries and even airports. One of the museums that has been using this technology is the Field Museum in Chicago. Its 'Field For All' app allows visitors to personalise their visit to the museum. It features a sensory-friendly map and exhibition previews. It also includes an interactive schedule. This helps families and individuals to plan their visit ahead of time.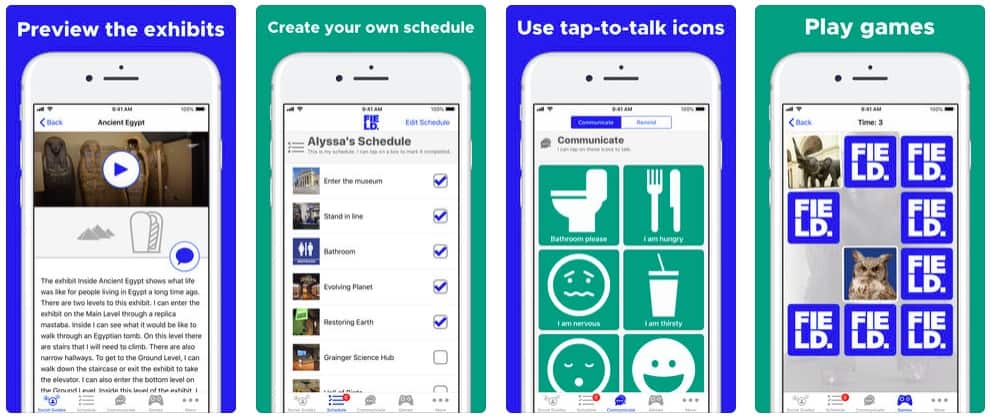 The app tells visitors what facilities are available and how to find them. The sensory map highlights which parts of the museum have different light and sound levels. Communication tools are also built in, such as tap to talk buttons. These let the users ask questions and talk about the experience together. It also allows them to communicate their needs.
In 2017, Chicago's Field Museum received a Diversity, Equity, Accessibility and Inclusion award. This was awarded by the American Alliance of Museums. It recognised the work the museum did, alongside Infiniteach, to improve their accessibility.
Museum projects for people with dementia
Worldwide, almost 50 million people have dementia. There are many accessible museums developing projects to cater to this audience. One UK museum network has been using technology to provide a service for people with dementia.
National Museums Liverpool has created an app called House of Memories. It is free to download on Android and Apple devices. The app lets users explore objects from the past. It can be used together by people living with dementia and their carers. It allows them to share memories and spark conversations. Within the app is a library of objects. These are also brought to life with images, music sound and descriptions. These items cover several decades and include everyday objects. For instance, users can explore items such as cinema tickets, old money, as well as a Singer sewing machine.
The app provides a simple way for people with dementia and their carers to reminisce. It helps them to find objects that strike a chord or trigger a memory. It also groups the items into different themes. For example, work, school, maritime and leisure. Users can save their favourite objects to come back to again, in a digital memory tree. The app also allows people to add their own photos. This allows people with dementia and their carers to share personal memories together.
Using technology to make a difference
These accessible museums are using technology to make a real difference. They can give people the opportunity to fully interact with and enjoy a museum. With some small changes and technological innovations, everyone can have a complete museum experience.