If any experience design duo could be described as mould-breaking, then surely it's those irrepressible 'jellymongers', Bompas & Parr.
Variously described as culinary pornographers and architectural foodsmiths, Sam Bompas and Harry Parr's often outrageous blend of art, food and sensual expression has proved a recipe for success.
"The road of excess leads to the palace of wisdom" – william blake
There is a delightful decadence about their work in a time of austerity. But, while their lavish creations radiate fun and irreverence, the pair are increasingly looking to provoke a deeper, more reflective response, too with ambitions to create a British Museum of Food.
Jelly tots
Sam Bompas and Harry Parr have backgrounds in marketing and architecture respectively, and were at school together.
They first came to prominence through their jelly creations at the tender age of 23.
"Harry and I have known each other for almost 20 years," says Bompas, speaking to Blooloop.
"Over 10 years ago, we decided we wanted to do something entertaining for the weekend. We thought what we could do is get a jelly stall at Borough Market. Sadly, we totally failed in that regard. But, we very quickly moved into full catering, and then into full events, and then into large-scale event design."
Having reimagined jelly by creating new flavours; setting the SS Great Britain in 55,000 litres of lime green jelly; and co-opting eminent architects to design jelly moulds of buildings for the Architectural Jelly Banquet at the 2008 Festival of Architecture (which included a soundtrack of a jelly wobbling), the duo moved on into a wider culinary world.
"We describe ourselves as experience designers," says Bompas.
"We do everything from cooking lava, creating gin and tonic clouds that intoxicate through your lungs and eyeballs, to doing very big commercial projects with the likes of Westfield. We've just built a futuristic forest installation, including a 40m zip line, throughout the Westfield Centre."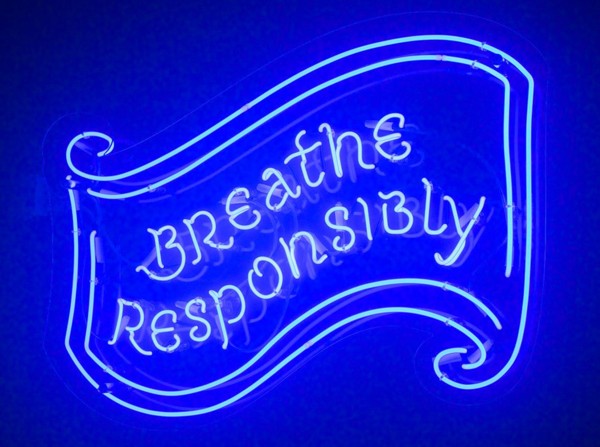 On the other hand, he explains, the duo also do a lot of self-initiated projects:
"Some of them are artistic; at the moment we've got a live retrospective of our work at the MAM Sao Paulo Museum of Modern Art; but at the same time, we do catering."
Decadence and spectacle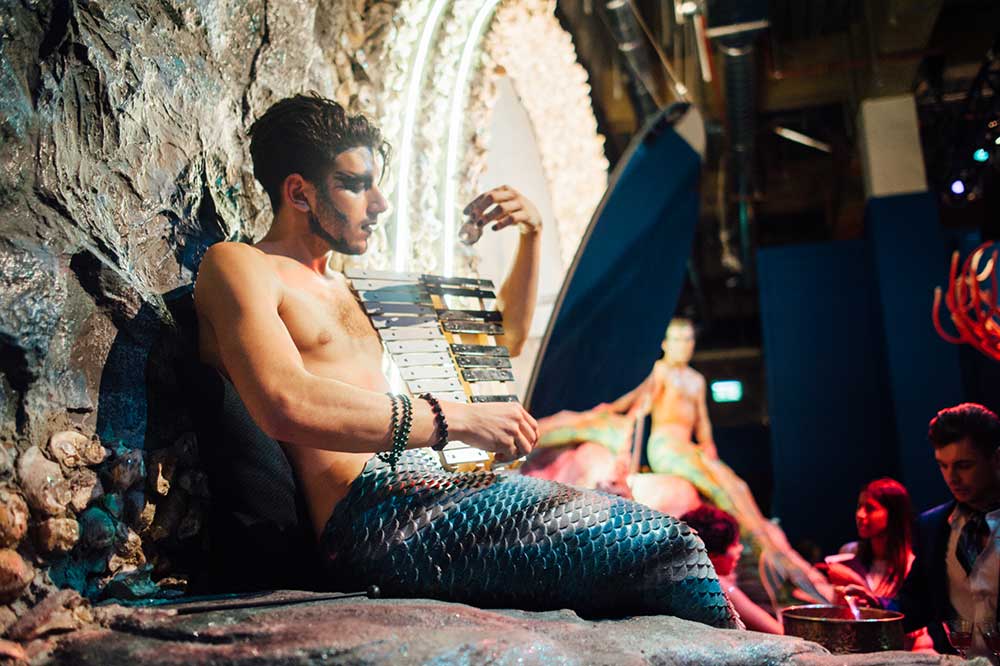 Coming up with Bompas & Parr's often outrageous concepts has always been a collaborative process.
"Now, of course, the studio has 21 people full-time, so it's much more than just the two of us. Everyone is able to chip in with ideas, and it's often a battle, with the best idea winning. It makes it quite nice and competitive, which is always good."
Of course, every idea is flavoured with the duo's trademark seasoning: joyful excess.
"We developed a real expertise in the senses; food addresses such a bodily sense, and that has eventually taken our work into other things that are axiomatic to human existence – but that you can potentially do better in a more luxurious fashion."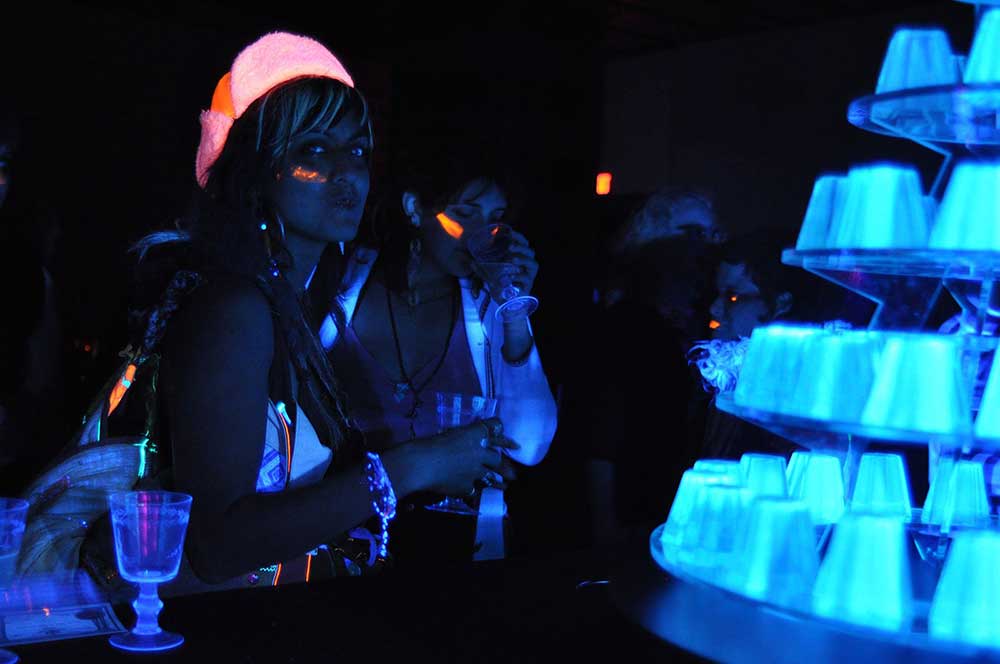 Nobody, he agrees, really needs a hundred-course tasting menu:
"But, it does allow you to explore interesting and, as yet unexplored, moments in food and drink. Besides, it's quite decadent, and there is still a place for that decadence and spectacle."
The Voice of God
Since broadening their remit, Bompas & Parr experiences have encompassed everything from sleep, death and sex, to superstition and music.
"These are all things that humans experience. But, we look at how they can be done in a way that perhaps hasn't been done before," says Bompas.
Projects exploring the supernatural include The Voice of God, and Sausage Séance.
The Voice of God, a project from 2016, aimed to 'connect you with the supernatural' by looking at the very limits of scientists' understanding:
"It is beyond that, that you are able to expose the wonder of the human brain, by just showing how little we know," says Bompas.
Exploring how infrasound impacts on the perception, inducing paranormal manifestations for some people, the installation made some of the volunteer staff members actually feel sick.
"That was deemed a triumph," he says. "Normally, when you come from a food & drink background and someone announces they're about to be sick, you've done something pretty appalling."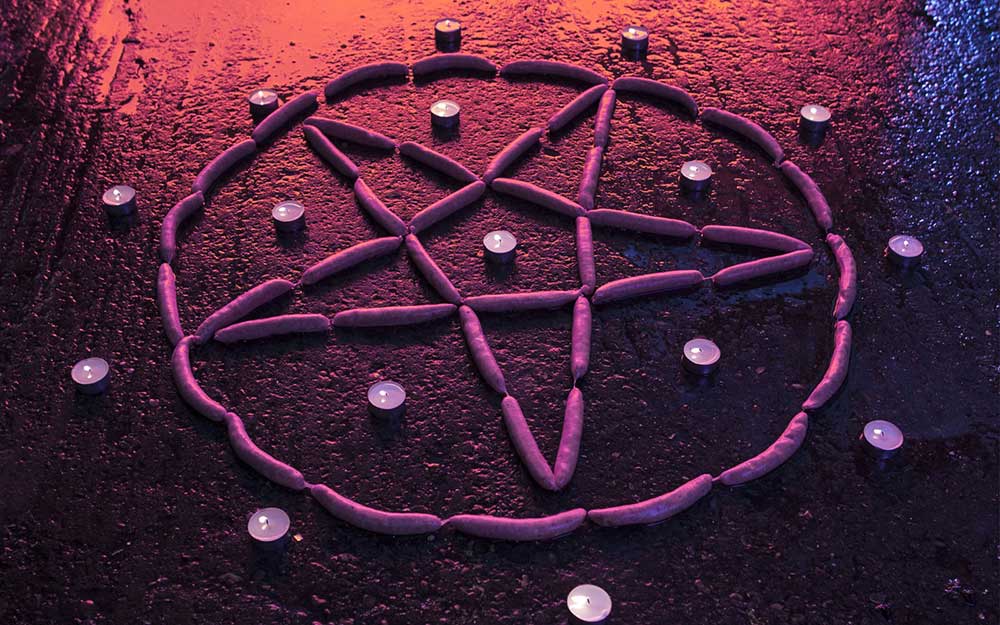 Sausage Séance – billed as 'It was the best of times, it was the wurst of times' – was less science-based and more of a sausage-making master class. This was followed by a spirit-summoning workshop 'designed to celebrate the joys of encased meats.'
It was the best of times, it was the wurst of times
Erotica gleefully replaced ectoplasm for the Cake Holes and Funland projects.
Cake Holes explored the interface of indulgence between cakes and eroticism, with a series of naked people photographed sitting on their patisserie of choice.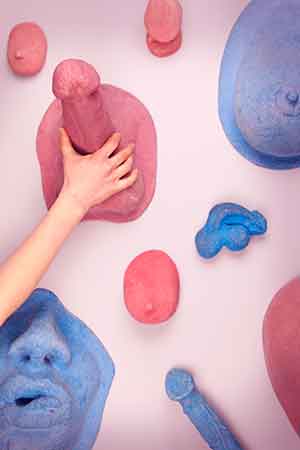 Funland was an erotic fairground project Bompas & Parr created for MoSex, New York's Museum of Sex.
"It's a serious museum, with a lot of conventional exhibits that are largely visual, but sometimes moving image-based. They asked us to come up with an exhibition for them."
What Bompas and Parr contrived to do was to tap into the frisson many were likely to experience when visiting a museum of sex. According to Bompas, this natural reaction was currently being suppressed because people were 'in that normal museum mode'.
"We worked with Professor Vanessa Toulmin (Director of the UK National Fairground Archive), and channelled what happens in a fairground, which is a space of transgression anyway, to give people this quite physical museum experience."
This encompassed everything from Grope Mountain, an orifice and appendage climbing wall, to Jump for Joy, their breast bouncy castle.
"It was fun. It broke down barriers in the museum, so people might actually talk to a stranger, rather than issuing covert glances at them as they sidled up to the artwork."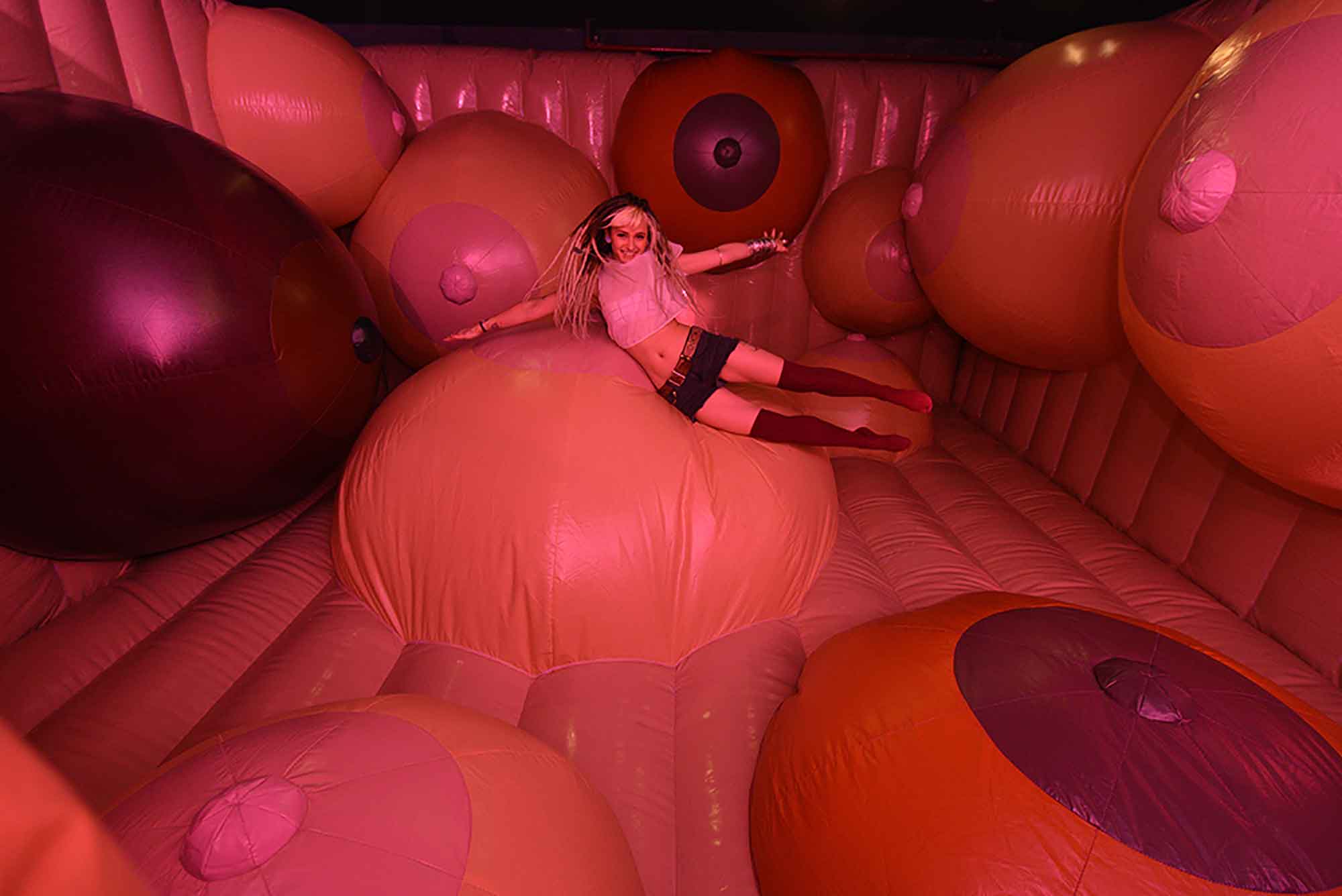 The concept proved so popular that the Jump for Joy bouncy breast creation has been retained as this year's permanent installation, and Bompas & Parr are working on further projects for MoSex.
Beyond the Waterfall
At Christmas, the Westfield Centre asked Bompas & Parr to create an installation that would reclaim the fun and wonder of Christmas for adults, enabling them to revisit the excitement they might have felt in childhood.
"We were aiming at people who wouldn't necessarily go into Westfield for the retail experience. We were after a particular demographic: female millennials, to a little bit older."
The result was Beyond the Waterfall in the heart of London's luxury precinct, The Village, where 4000 shoppers took a journey across an undersea lagoon to a mythical land, culminating in a cocktail bar staffed by mermen.
Mermaids are having a big moment, in the way that unicorns once did
"That was interesting," remarks Bompas. "Mermaids are having a big moment, in the way that unicorns once did. And, it was a lot of fun to do. We did the whole thing in something like five weeks."
Food for thought
The latest project for the Westfield Centre is Future Forest, a playground themed around urban reforestation. While full of fun, it also has a serious message at its core.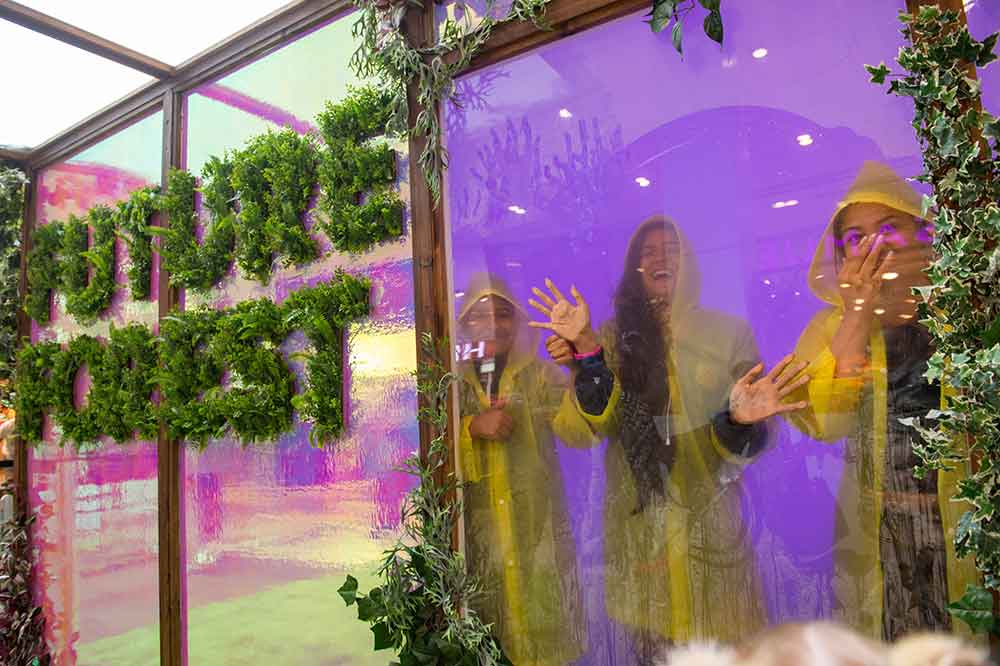 "It's really good mainstream family fun – you can come along with your family, go down the zip line, you can go into a fruity cloud with different fruit weather. At the same time, we have done a lot of research with a lot of different thinkers, artists and collaborators, looking at the future implication of nature and man's relationship with nature, and what will have to happen in the future for it to remain significant.
"I think it's possible to combine something delightful, that everyone enjoys, and can get something out of, with having some more sophistication and a carefully considered message."
A Darwinian Evolution at Bompas & Parr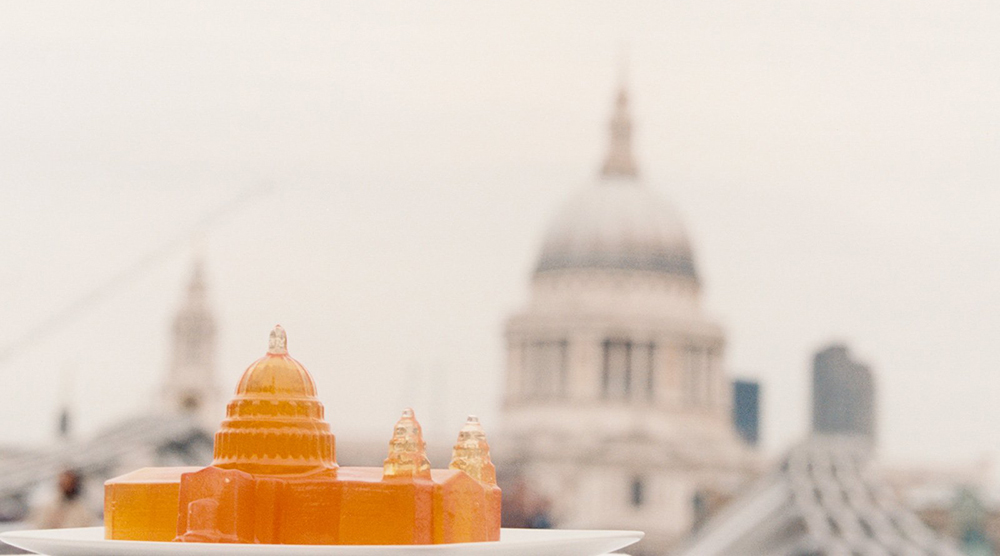 There has clearly been a conceptual evolution at Bompas & Parr over the years.
Bompas agrees:
"There is a quote by William Blake that is a cornerstone of what we're doing: The road of excess leads to the palace of wisdom.
"The key is, firstly, to push your discipline quite hard. But, then, the second half is reflecting on it and learning from what you're doing. As we go along, we have increasingly sophisticated techniques to create certain emotions. We always think of it as a theoretical toolbox we can get out in order to solve challenges in terms of an experience.
"The other thing is that the average age of the studio is increasing, and also broadening. Initially, it was us and some kids. And now, the average age is probably around 30, but there are people who are much older, people who are much younger.
"We now reflect a much wider range of interests, and we try and do some things that are a bit more sophisticated."
Advocates of the amateur
So, are they also looking to provoke a different response from their audiences?
Bompas considers this.
"Initially, we wanted to evoke pure and simple joy," he says. "But, that has changed a little bit now. We love that sense of joy, but also it's nice if there is some reflection, and a moment of education, as well. And finally, inspiration.
"A lot of the stuff we do takes a lot of time and effort, but we are real advocates of the amateur. We had no formal culinary training, we didn't have any training in big agencies delivering big experiences, we just set out to do it, and managed to, just by getting out a drill, building some stuff, getting cooking. We hope that people who come along to our installations and projects leave inspired to realise their own projects, whatever they are.
"We got this when I was lecturing years ago about jelly, and there'd be 2000 people listening. I quickly realised that they weren't really interested in what we'd done with jelly, they were interested in the fact that if you're really passionate about something, you can do something wonderful with it, something that is an adventure.
"That's also reflective of the fact our studio is growing up. We still want to give people that fun experience, but with a more serious component as well."
The next course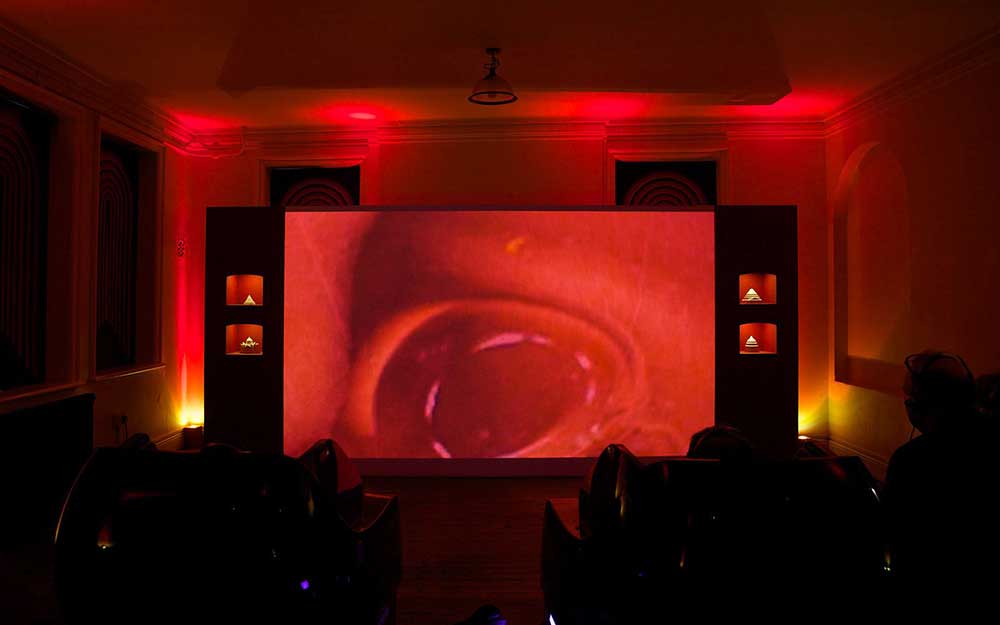 So what does the future hold for Bombas & Parr?
Our big ongoing project at the moment is a British Museum of Food
"On a micro level, we have lots of really interesting projects coming out. Everything from working with the Petrie Museum to do an exhibition on curses, which I think will be really interesting, to doing design-based spa treatments in the Mondrian, in a project called Touched by Design. You have the most intimate contact possible with design objects that are used to massage, exfoliate and caress you."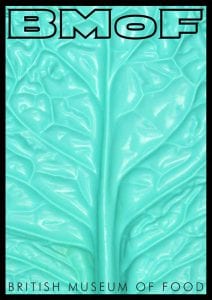 And at the other, more serious, end of the scale:
"We're officially working globally now on events and brand consultancy with some of the world's biggest brands. And, then, launching some of our own products as well."
Bompas & Parr also have an ongoing, completely serious, passion project.  They created a temporary British Museum of Food in London in 2016.  Exhibits included:
Be the Bolus – the Peristalsis Experience, a 4D journey that follows the path of food from the mouth through the stomach and intestines
Choco-Phonica, a sonic wonderland focused on chocolate, sponsored by Hotel Chocolat
The British Menu Archive, a selection of historical and beautiful menus that bring to life 300 years of nutritional delight
The Butterfly Effect, the story of the unsung heroes of pollination involved a walk-through tropical butterfly zone
Atelier of Flavour, a gallery showcase of food as art
"Our big ongoing project at the moment is [to establish] a British Museum of Food, to start a new cultural institution that is all about food, in the same way that the Design Museum was set up. After all, we didn't know we needed a Design Museum, until it was in the galleries at the V&A. Now, it would be almost inconceivable not to have one."
For a company founded on jelly, Bompass & Parr's vision seems remarkably unshakeable.
Images and video: All Bompas and Parr.  Header image: Cake Holes – Pink Cotton Candy Cake, by JoDuck
blooloopLIVE UK
Sam Bompas will be speaking at blooloopLIVE UK on October 6th in London.  Find our more and book tickets here.