The Guinness Storehouse's famous rooftop Gravity Bar, which boasts 360 degree views over Dublin, is undergoing a €16 million renovation.
Blooloop discussed the continuing evolution of the Guinness Storehouse with Paul Carty, who has been Managing Director since it opened in 1999, and Brent Raynor, Digital and Content Manager at the Storehouse.
Carty (below) initially trained to be a chef, however his background is predominantly in hotel management. He graduated from Shannon College of Hotel Management in 1980 and spent twenty years managing hotels in the UK, Ireland, Asia and the Middle East. The
majority of his career was spent with Trusthouse Forte and Le Méridien Hotels.
In 1999, he joined Diageo, one of the world's largest producers of spirits and a key producer of beers, including the iconic Guinness brand. Just before joining Diageo, he had been in charge of an alcohol-free hotel in Saudi Arabia.
The irony wasn't lost on him. "You can't sell alcohol in Saudi Arabia," says Carty. "And I left there to join the largest alcoholic beverage company in the world, Diageo, so it was a case of from one extreme to the other."
Carty was in from the start at the Storehouse
At this time, Guinness was planning on opening its new brand experience – the Guinness Storehouse – and Carty was headhunted to lead the project. "I was fortunate enough to be in time to get involved with the architects and the creatives; to put a bit of shape to it," he says.
Carty brought many skills to the table, not least his expertise in the hospitality industry. He was well-versed in the hospitality business model, with its emphasis on a good food and beverage offering attached to the attraction.
"I had opened hotels, but I had never opened an international global brand experience," he says. "I thought, I'm going to run this just like a five-star hotel without the bedrooms. This approach helped enormously. It put a shape and discipline around the whole thing. It also helped in the sense that it had a commercial purpose as well as a brand purpose. There was a proper P&L and a balance sheet attached to it."
Ireland's most popular paid attraction
The Guinness Storehouse is Ireland's most popular paid visitor attraction. It opened in 2000 and attracted 300,000 visitors that year. "This year we will finish with 1.75 million, not far off 1.8 million visitors, which is going to be an incredible year for us," says Carty. "So the business has grown substantially."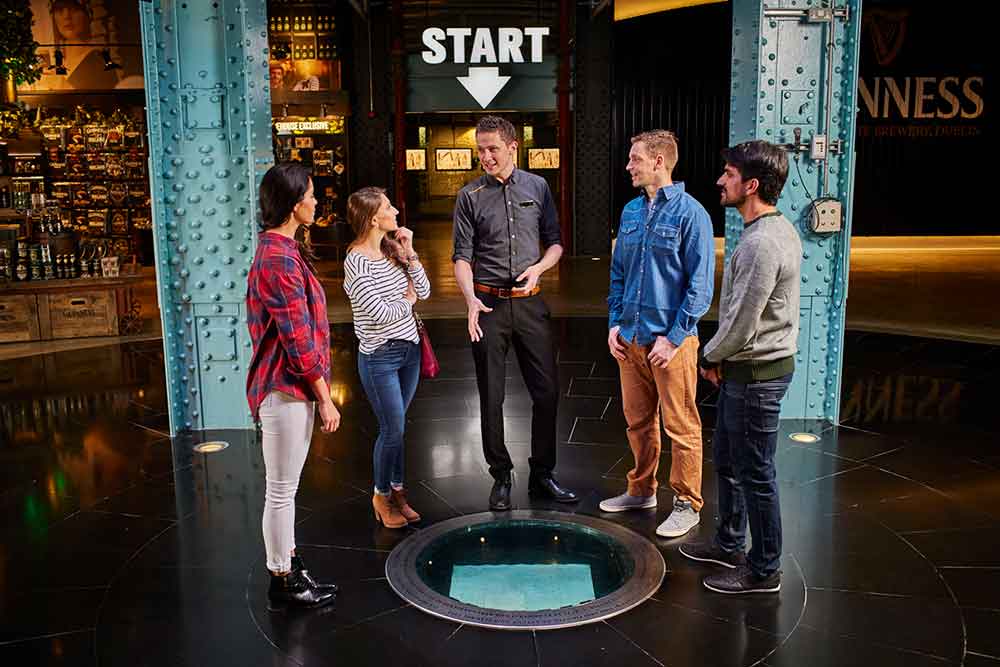 The sleek contemporary Storehouse was set up to make people think differently about Guinness and to attract a younger following. Although it was successful from the start, it gained a further boost in 2010 when it was themed with a storyline by experience design and production agency, BRC Imagination Arts.
The brief to BRC was to create a future vision for the visitor experience. Above all, it needed to bring the Guinness story to life.
The new tour 'emotionalised' the guest's visit with a better sequenced and story-driven journey. It also provided a multi-sensory experience socialised with widely accessible technology. Existing exhibits were refreshed both to communicate the Guinness brand values and, at the same time, to entertain guests more efficiently.
Subtle changes, intelligent reinvestment and a meaningful narrative lifted visitor numbers and overall productivity to a new level.
Visitor engagement combined with profitability
"There are seven floors in the Guinness storehouse," explains Carty. "Each is themed but there's a common thread running through. When the visitor leaves, they understand what it's about. They've had fun, they've engaged with the brand, and they got the messages we were trying to get across, in an engaging and entertaining way."
The main point of the exercise was to provide an outstanding brand experience. However, the attraction became unashamedly profitable. "It washes its own face," says Carty. "We spent €42 million opening the Storehouse. Since then we've spent a further €26 million on it. And now we're about to spend another €16 million on top of that again. All of this money is generated by the free cash flow of the Guinness Storehouse."
Constant change is key to success
The Storehouse was Ireland's most visited attraction in 2016. "I think the key element in our success is that we are constantly refreshing and keeping the experience up-to-date," says Carty. "Since we've opened, we've changed so much."
One of those changes involves the introduction of the Guinness Academy. "In fact, we have two academies now, where we teach people to pour the perfect pint of Guinness," says Carty. "They get their own certificate, and a picture that they can send to their friends around the world."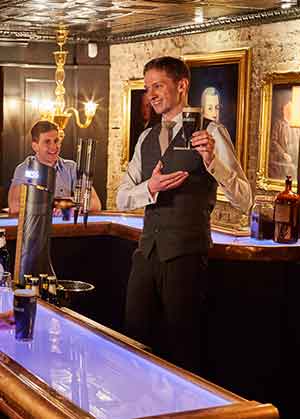 Pouring a pint is not as simple as it sounds. "One of the biggest barriers to our growth worldwide is that Guinness is a two-part pour," Carty explains. "When you pour a pint of Guinness, you have to let it settle for 119.5 seconds, almost two minutes. When it goes black, you have to top it up, and you get the lovely black with the white head. Guinness is a very beautiful product, but if you don't serve it or pour it correctly, it can influence the sales."
Around 40 percent of visitors to the Storehouse take the opportunity to learn how to pour the perfect pint.
"That's 40 percent of 1.7 million every year," says Carty. "These people will then go round the world and, when they go into bars, they'll say to the barmen: 'You need to let it settle. I've been shown how to pour it perfectly'. So they become our advocates and ambassadors around the world."
Other Storehouse innovations include the Connoisseur bar ("the first and most exclusive beer tasting experience in the world" according to Carty). Meanwhile the new Tasting Rooms teach visitors how to taste – and how best to enjoy – the unique, idiosyncratic taste of Guinness.
Doubling the size of the Gravity Bar
"We have just spent €1 million on upgrading our Brewing Floor," says Carty. "And, of course, we are about to invest €16 million in upgrading our jewel in the crown, our Gravity Bar, doubling its size."
The bar is Dublin's tallest drinking spot. It offers panoramic views over the Irish capital.
Gravity can currently hold up to 250 people at any one time. Its expansion will increase its capacity to hold 500 to 550 people comfortably.
"On a busy day here, such as a Saturday, we can have up to 8000 visitors throughout the day, spread out from 9 o'clock in the morning to 6 o'clock in the evening.
Everybody goes to Gravity Bar at some stage to get their reward, the perfect pint of Guinness. So we need to make it more comfortable."
As Blooloop reported last month, the work is scheduled to start early next year and will reach completion in 2019, just ahead of the attraction's 20th anniversary.
The bar will remain open throughout the expansion work.
Social media driving brand engagement
Technology has made a sizeable impact on the Storehouse. "We had a carousel on the fourth floor of the Storehouse," says Carty. "People put up postcards describing how they felt about Guinness, and what their visit to the Home of Guinness meant to them."
Now the Storehouse has installed a 10m x 4m Instagram wall that pulls in user-generated content using hashtags, via a bespoke CMS. The wall drives brand engagement.
There are numerous touchpoints throughout the visitor's journey where they can see their image. Consumers can engage directly with the content on the 4th floor wall as they can swipe through content via Leap Motion technology. "Since the installation of Guinness Storehouse's Instagram page, there has been an increase of 30k followers," says Carty.
"People, particularly the millennials, a key demographic, are all constantly on their handheld devices. So they can recommend the experience to their friends around the world instantly. 'Here I am in the home of Guinness having a great time! When you come to Dublin you have to come here, it's just fantastic.' People don't read guides any more, or paid advertising. They only believe what like-minded people say about an attraction. That's the true barometer now, and it's hugely important. Personal recommendations from friends and family is what drives our business, keeps driving numbers."
Marketing shifts to digital
Digital marketing has transformed the way the brand is advertised. "When I started here back in 1999 – 2000, I'd say 100 percent of our marketing budget was traditional advertising," says Carty. "Now, over 45 percent of our marketing budget is digital."
He applauds the work of Brent Raynor (right), Digital and Content Manager at the Storehouse.
"Brent has done some incredible digital promotions. We did a recent one with Airbnb, for example. One lucky couple from anywhere in the world would win a prize where they'd be flown over to Dublin. They'd be picked up at the airport and have dinner cooked for them by our chef. Then (in conjunction with Airbnb), they would stay overnight in our rooftop Gravity Bar, converted into a penthouse for the occasion.
"We had 44,000 applicants for that promotion, and 1.4 billion media impressions as a result. It was a phenomenal success. It gives you an example of the scope of this next-generation digital marketing."
A virtual sommelier on the cards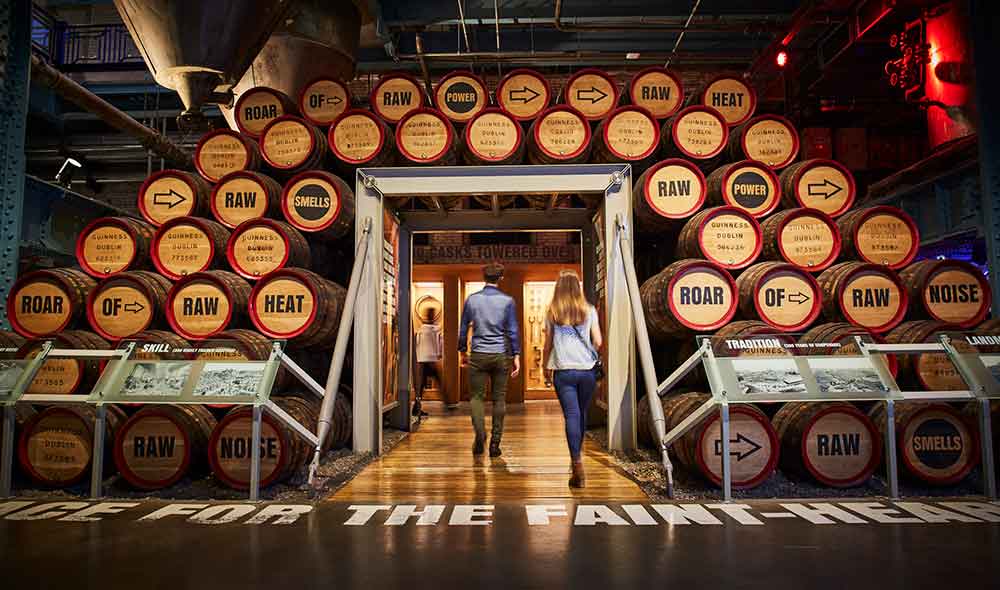 The Tasting Rooms on the second floor already provide an "emotional journey" for visitors. They heighten the senses, familiarising visitors with the aromas and flavour profiles of Guinness. This allows visitors fully to appreciate the distinctive taste of the famous stout.
Up on the fifth floor visitors can enjoy matching Guinness with food. Brewers' Dining Hall features an open kitchen and a menu of classic Guinness dishes. Meanwhile the 1837 Bar & Brasserie celebrates the famous pairing of Guinness with oysters.
Now Raynor is looking into introducing a virtual sommelier. "We have other beers besides the iconic Guinness here," he says. "The idea is that visitors will engage with a screen, then match up the type of beer that they like with the various foods that we serve on the fifth floor.
"People want that interaction. I think if you don't provide that level of interactivity and innovation and technology, you'll slip behind."
iBeacon technology smooths logistics
Technology is also helping the attraction cope with visitor numbers and capacity. At one stage the Storehouse had a regular bottleneck between 11am and 4pm. This was when the majority of visitors tended to visit, creating a crowded, uncomfortable experience. Raynor instituted various dynamic pricing solutions, incentivising a range of visiting times. The result is that bookings are now spread throughout the course of the day.
Brent Raynor also plans to incorporate iBeacon technology to create enhanced end-to-end experiences through customers' smartphones. "We have plans to utilise Passbook – an e-ticket platform – with iBeacons," he says. "Consumers can save their tickets on their mobile devices instead of printing them.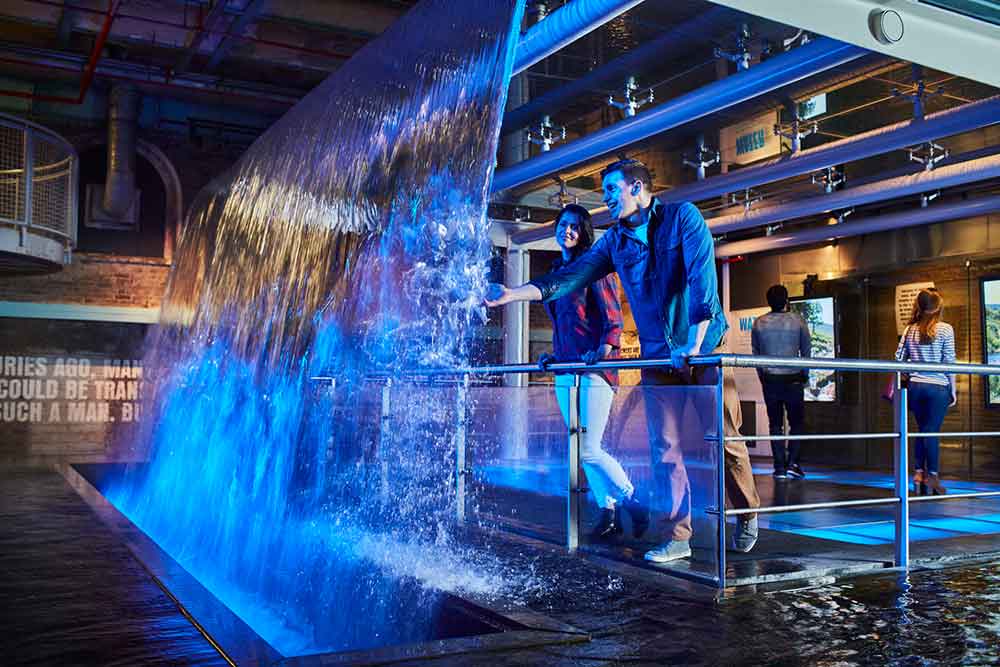 "iBeacons will be installed throughout Guinness Storehouse where we can communicate additional nuggets of brand communications to the consumer. We may also use the beacons to upsell engraved glasses, second pint consumption, food specials, and retail offers/flash sales. We could also use it as a people management tool, encouraging people to check out our entertainment on certain floors, for example.
"The hope is that this tech will open the conversation with the customers before they arrive. We would then continue it during their tour, and keep the connection going after they leave, keeping the brand to the forefront with the consumer."
It is hoped this will go live within the next month.
25 to 45 year olds are the key demographic
"We are currently scoping out virtual reality," says Raynor. "However it is difficult to utilise such technology with such high numbers through the door."
In terms of demographics, 57 percent of the Storehouse's business comes from the UK and Europe. 25 percent comes from the USA. Ireland stands at eight percent and China is currently at around two percent.
"However that number is growing rapidly," says Raynor. "And a Chinese airline is now planning a direct flight between Beijing and Dublin from October, which will make a big difference. Australia and New Zealand are both rapidly developing markets.
Carty is realistic about attracting repeat business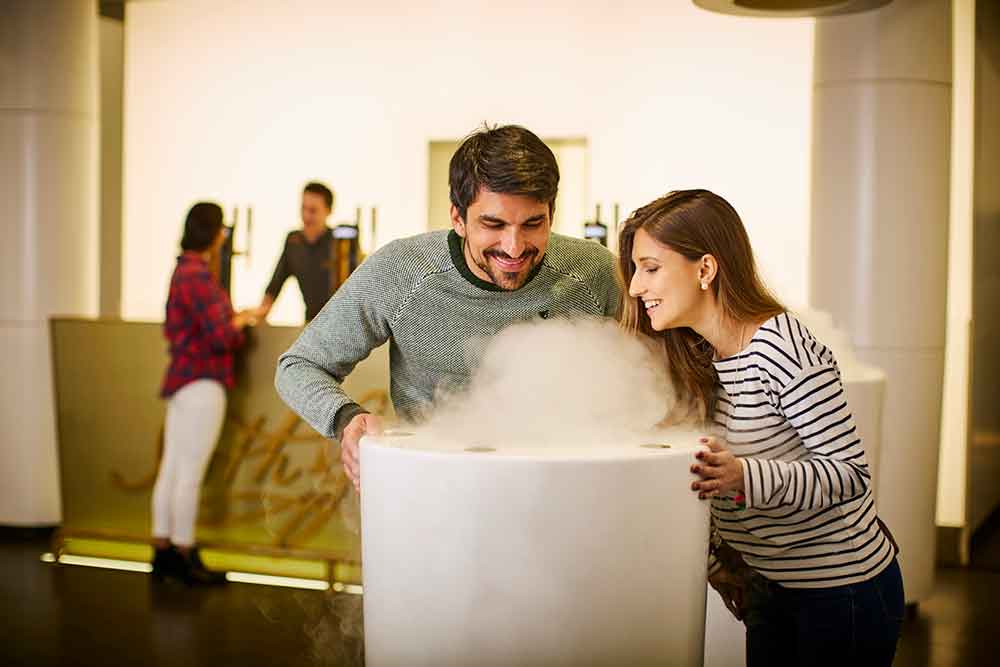 The Guinness Storehouse is certainly an iconic, must-do attraction. However time-poor visitors see it as a tick in a box. Repeat business is only in the region of eight percent. Carty certainly plans to address this but is realistic that most visitors only have a finite amount of time in the city.
"We are working on a plan to get more repeat business, which means putting on something people will have to come back for," he says. "We have constantly changed and refreshed our product over the years. All that refurbishment and refreshment does help to deliver repeat business. But ultimately, if you went to Paris and did the Louvre this time, you're unlikely to go back. You'd do the Eiffel Tower or something else next time. People only have a limited amount of time in Dublin, most are here for two to three days, trying to fit in as much as possible in that short break. So I'm glad we're an iconic 'must do'."
The extended Gravity Bar will incorporate seating and elements built off-site and dropped in by cranes.