The Design Museum's decision to relocate to the former Commonwealth Institute building in Kensington has had some unexpected consequences.
Traditionally a museum with an unusually young visitor profile, it is suddenly attracting the 50+ age group both as visitors and volunteers.
"It is fantastic to see people come here who would traditionally have gone to the V&A, " says Paul Gibbons, Head of Visitor Experience.
He spoke to Blooloop about reaching new audiences and the challenges and rewards of reimagining the museum's visitor experience in a new, dynamic space.
A Passion for Working with the Public
The first thing that strikes one about Gibbons is his enthusiasm. While working in casual jobs to support his law studies, he discovered 'a passion for working with the public'.
"When I took up law as my profession, I realised something huge was missing, " he says.
"So, I turned on my heels one day in the office, left and sought out a training contract with a music venue operator."
A last minute application secured Gibbons a place on a one year training scheme with Live Nation.
"It exposed me to every aspect of running a venue – all the front of house scheme from the bars, to the stewards and the box office, all the management aspects, the finance, the HR.
"Every six months I was moved to another venue which meant up sticks, move house and off – Liverpool, London, Sheffield, bouncing around the country.
"This was how I discovered my love for running venues, attractions – it didn't matter to me what it was, it could be an arena for 30,000 people or a theatre for 1000 people."
Tate Liverpool – All About People
Gibbons was promoted to Live Nation's flagship theatre venue in London where he worked for two and a half years.
"I'd had enough by then, " he says. "I couldn't get to grips with what really mattered to me, which was – how can we make this experience the very best it can be? It dawned on me that maybe an art gallery would offer that. So, I went to work for Tate Liverpool. I took to it like a duck to water because it's all about people. The people who work there and deliver it and the people they are welcoming and engaging with.
"Tate Liverpool has a very strong reputation for the level in which staff engage with visitors on the objects, the exhibitions and the curatorial stories that are being told.
"They understood that to open a gallery of art in the docklands in the 80s, they had to do something to get people through those doors. What they did was recruit local people. They allowed them time to research and get to know the art and the stories behind it. And, then, give them the skills to impart that to their peers, their friends and families literally in some cases. That's how Tate Liverpool got itself established.
"I thought, that's exactly how to do it. You build it, you put the art on display and then you've got to make it live every day."
Gibbons believes that the seeds of what we know today as 'the visitor experience' were sown there.
"Up until that time, the original Tate (which is now Tate Britain) was staffed by police employed to invigilate."
Modern Audiences are Less Specialist 
From the Tate, Gibbons moved to the Barbican in London which had just had its first exhibition ever to attract 100,000 visitors.
"Their next big exhibition was called Rain Room. When you walked in, it was raining and the rain stopped where you were. There were sensors, it was run by computer. You could interact with it and play with it. That installation ran for six months and we had five, six, seven hour queues every single day. I had bankers ringing me from the City saying I want to come down, I'll buy out the day. It was crazy. We led on delivering volumes of people through this space, managing queues and the experience of queuing. I could do a PhD in it."
Why does Gibbons believe these major art installations are drawing crowds like never before?
"People are looking for a cultural experience that will be something that's new to them. The people who are visiting galleries are less and less specialist and knowledgeable and more and more generalist and families and socialites and must-do's."
The Instagram Culture
Social media is clearly a huge factor in all this. People are looking for a photo opportunity and something to talk about on Facebook.
"That whole Instagram culture has grown up around these kinds of exhibitions.
"Working there, I understood that we are a cultural institution with a programme that is vital, we are drawing in visitors who need a bit of engagement around it. They don't necessarily understand it, they've not studied art, it's not their background. They're coming for an experience. How can we make that happen? How can we make it so they don't walk around mystified, not really engaging with what we're trying to say?
"That's what we really considered at the Design Museum when I started here two and a half years ago."
Celebrating the Ideas Behind the Designs
The Design Museum
was founded by Sir Terence Conran in 1989 in a former banana warehouse in London's Shad Thames. For nearly thirty years, it has been celebrating design in all its forms and the people responsible – from obscure architects to major fashion designers.
One of the key differences between the Design Museum and other museums is that most of the objects on display can be bought. But, whereas many design centres are effectively a company-sponsored shop window, the Design Museum evolved to be an independent institution.
"We are displaying these objects because of their intrinsic design value, the processes that have gone behind them, the reasons they were designed, " explains Gibbons.
"Over the years, we've shown all kinds of designs around healthcare and the developing world, for instance, laptops that were really cheap to make for children in Africa to use. We've got a display at the moment in which one of those objects is a 3D-printed, make-shift operating theatre which basically pops out of a suitcase. It's for refugee camps or for disaster zones. It's a 3D printed, make-shift pop-up operating theatre.
"These designs are not commercial, they are developments to help people solve problems in their lives. We're not just here to show the objects, we're much more about the ideas and reasons behind those objects existing at all."
One reason for moving to the new building was to share those stories with a much wider audience. The parkland site, conference facilities and retail store fronting one of West London's major shopping streets all offer opportunities that simply weren't available at the old site.
A Surge in Visitors Aged 50+
"Traditionally, 60% of our visitors are under 34, " says Gibbons. "That is very, very unusual for a museum.  Usually, it's more like 40%. So, we always understood that we had a very young audience compared to a typical museum. But, that gives us plenty of room to develop an audience of the upper age ranges as well."
Although the museum has only been open for a couple of months, that diversification is already happening.
"We have seen this huge audience of 50+ visitors, " says Gibbons. "It has surprised us all because we just didn't get that at the old museum."
Part of that, Gibbons believes, is purely down to geography and reflects Kensington's demographic.
A Thread of Nostalgia
"We've spent a lot of time getting to know the communities here so we've not just suddenly landed in a completely different borough. We are relatively close to the major national museums in South Kensington (The Science Museum, the V&A, the Natural History Museum) but we're not a quick walk. People are making their way here as a destination, and we have got buildings and an estate that are worthy of coming to see."
There is also a thread of nostalgia that the museum appears to be tapping into.
"We're not big on design history here. The majority of what we show is contemporary. But, we do have in our collections amazing designs through the years. We've got a hall of technology which goes way back to the first televisions, the Walkman.
"The idea that a classic design in the 60s has now come back into fashion in another way has really engaged that audience. That strand barely existed in the old museum.
"We've got an interactive, full height TV screen that looks like mirror. You stand in front of it and wear different clothes through the ages. And, you find out that what you thought was up-to-date is connected to something everyone was wearing in the 60s. It's a real talking point."
The Design Museum is Family Friendly
Families is another group that the old site failed to cater for effectively. The new location with its parkland setting immediately makes it more child-friendly.
"The old building wasn't family-friendly, " says Gibbons. "It was very difficult to move around the space if you had a pram and children. Here, we've got a great common room where families can dump their stuff and have lunch."
The flurry of press activity that surrounded the museum's opening has obviously been a welcome source of free advertising. Another route to market is the museum's excellent website. Ahead of its time, it seemed out of step with the old site which was being run down in preparation for the move. Not anymore.
"Our digital following for the Design Museum is absolutely enormous, " says Gibbons.  "Now we're here, we're absolutely reaping the benefits of a fantastic website. We have a huge overseas visitorship. Many of those people have followed the museum online and, when they come to London, it's a destination they must come to."
Visitor experience was seen as vital for the new museum from the outset:
"My role was newly created within the organisation to professionalise the visitor experience function – to be a department in its own right, " says Gibbons. "It was absolutely recognised by the directors and the trustees that it was essential to provide not just a safe, well run facility but an engaging and welcoming space."
Older Volunteers Bring a New Approach
To achieve this, Gibbons relies on his permanent team and an army of highly-trained volunteers. Again, since the move, he has seen a complete change in the age of those offering their services.
"When we did some volunteer piloting at the old museum, we were really struggling to get older people to volunteer with us. We got a lot of students who were studying design, who wanted to become curators and who were very knowledgeable. Almost the opposite is true here. We've got so many older people who have come and worked with us. They've brought a completely different approach with how to welcome the visitor and how to engage them and we're only just beginning. Those really big changes are exactly what we moved for."
Gibbons says providing sufficient visitor engagement without compromising safety and security is a balancing act.
"The staff that I manage in the galleries need to be engaging and welcoming and talking to visitors. But, they are also working in the galleries to make sure visitors are safe and that the objects are safe. To try to develop an engagement with the visitor can at times put at risk how safely we're managing the space. We have a limited staff resource.
"A big part of the exhibition design is trying to keep the spaces open and friendly as possible. We don't want objects in cases, but sometimes they have to be behind a barrier, they have to be on a plinth. Otherwise, the staff are even more bound to being 'security' than they are to being 'engagement'."
Technology Has to be More Than a Gimmick
Gibbons and his team have trialled various technologies as another way to provide a more in-depth experience. These include devices that allow visitors to access further information about particular objects once they're back at home.
"But, our research has shown that the take up on that kind of post-visit research isn't very high, " says Gibbons. "It is much more about visiting the Design Museum for the experience rather than gathering up lots of detail to carry home and read later.
"People want to see the objects as close up as possible, displayed as dynamically as possible and they want the staff, ideally, if not to engage them directly, to certainly encourage them to feel welcome in the spaces."
It's all very well, he says, to access images online but it's not the same.
"You want to see the physical thing and appreciate it in the space.
"We do have a digital team and I'm on that and we do look at all these things. But, we don't have a huge budget to begin with and, also, is it genuinely going to add to the visit? Is it really going to help us tell these stories better than if we focus on creating fantastic exhibitions and training the staff to have the confidence to talk to visitors about these objects?"
"I think you have to choose technology very carefully, otherwise it's just a gimmick."
Education in Action
The need to see collections at first hand is particularly true of the Design Museum where many objects are intended to perform specific functions. Currently, a working 3D printer is proving a big draw.
"It's really popular. Our team engages with visitors every day and they love it. They can see things being printed. It's a vase or it's a tool box or it's a Christmas bauble and that's real life design in the space.
"Although a lot of people have heard of these 3D printers, they don't know exactly what they are or how they work and haven't seen one before. To have one here that's used in industry to make actual products and to see it working while the staff explain it to them – that's exactly the reason we exist."
The educational value of such exhibits speaks for itself.
"An entire floor of the Design Museum is dedicated to our education function. That's one of the reasons why we moved, because our education and learning spaces were extremely limited in the old museum. Here, we've got huge beautiful learning spaces. We have a library and research facility. We have a 200-seat auditorium for public talks. And, we're only scratching the surface now.
"60,000 visitors for the learning programme alone is our target."
Retail is Vital
Retail is a vital revenue stream and an easy fit with the Design Museum.
"We have a tag line that says we're one of the few museums where you can buy the collection, " says Gibbons.
"The model of the museum is that a third of our income comes from fundraising and trusts, foundation, sponsors and public funding (which is a very, very small amount). Another third comes from exhibition ticket sales – that's my area – donation, Gift Aid etc. The other third comes from retail and commercial events – hiring the building out.
"So, retail is a big portion of our business model, of our survival. We've got fantastic retail spaces here. We've got two shops, one on the high street in a separate building and one in the building itself.
"Our top three selling products in the shop since we opened have been the catalogues of the exhibitions. Our book 'The Story of the Design Museum' has sold many, many more copies than we expected, too.
"The success of the shops is about keeping a balance between the very well-known designers and emerging talent.
"The retail team is very strong and vitally important to our existence and our business."
80,000 Visitors Within 3 Weeks of Opening
A week before Christmas, the Design Museum welcomed its 80, 000th visitor since opening on 24th November 2016.
"We're about 20,000 up on our predictions, " says Gibbons.
"The last few months have been incredible. The feedback we've had on our visitor experience team has been exactly what I wrote in the strategy two and half years ago: that people would feel welcome in the museum and they would be helped around the space and they would have a bit of knowledge about what was on today and where to go. And, we've had nothing but positive feedback about the staff we've got on the floor.
"They're all brand new they were all recruited brand new. None of my team were at the old Design Museum. We trained them in three days and they can step out there and feel confident. There's already a very strong ethos. Everyone is brand new to the building. Yet, you could walk in and think we've been open for five years," he says.
"I've had the time of my life on this project."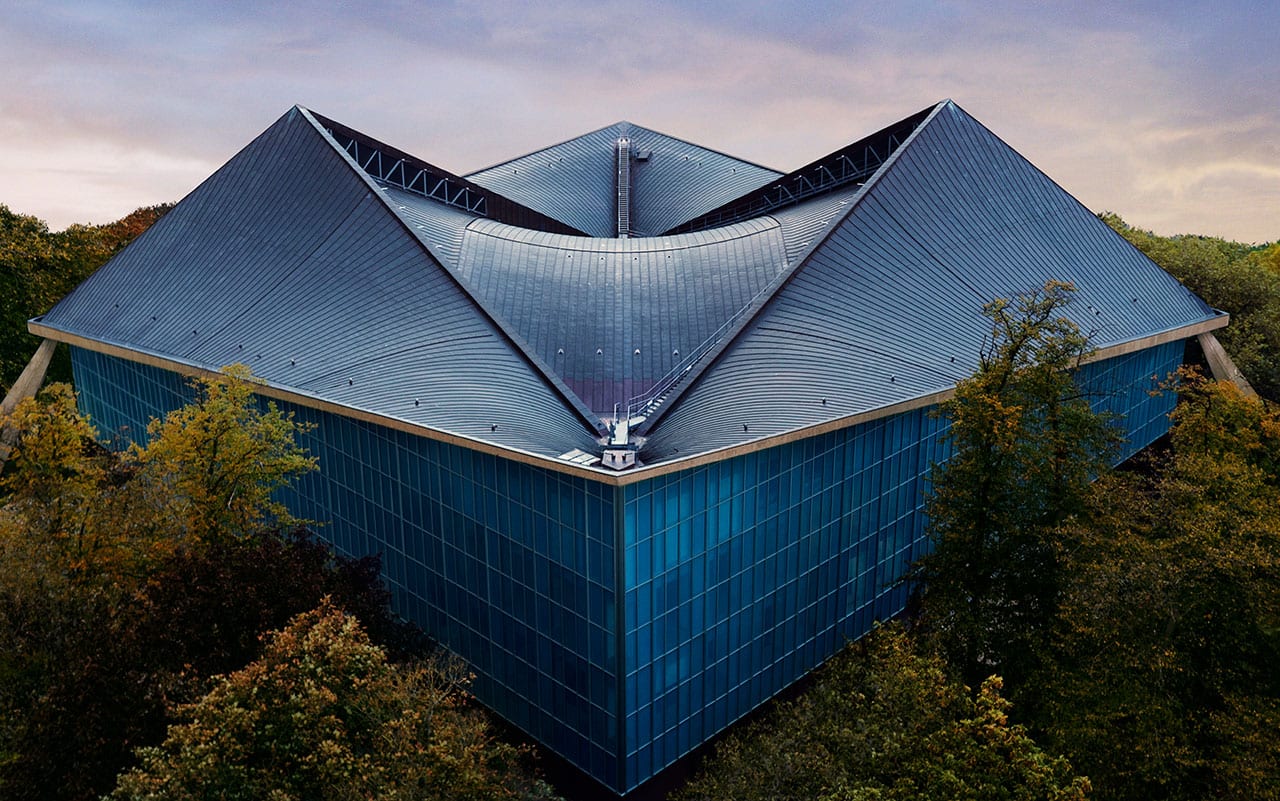 Images Courtesy of the Design Museum, Random International, Tate Liverpool, Gravity Road, Gareth Gardner, Hufton + Crow, and Luke Hayes.