Marylebone Cricket Club (MCC) owns Lord's cricket ground in London NW8 and it is custodian of the laws of cricket. The ground is home to the MCC Museum.
The MCC Museum is one of the oldest sporting museums in the world. It comprises decorative and contemporary British art. It also houses an unparalleled library and film/paper archive.
Charlotte Goodhew (right) is Collections Officer for the Marylebone Cricket Club. She is responsible for all aspects of collections' management and care – she also curates displays, collects artefacts and commissions artists.
From golf to the MCC Museum
Blooloop spoke to her about the collections, the museum's evolution and its latest exhibition, A Century of Cricket Games. She also explained how she hopes to help support smaller museums.
Goodhew studied art history at St Andrews. She played golf while there and became interested in the art and history of the sport. While studying, she worked part-time at the British Golf Museum. Eventually she took a postgraduate degree in Museum Studies, while working at the Royal Scottish Academy in Edinburgh.
A memorial to cricketers who died in conflict
The MCC museum was opened in 1953 by HRH the Duke of Edinburgh. Its original purpose was to act as a memorial to cricketers who died in conflict. "The museum used to be an old racquets court," says Charlotte Goodhew. "It was created to commemorate the lives of people lost during the war. It opened as a war memorial gallery, which became a museum from the 50s onwards."
The building itself has gone through a number of refurbishments. "It used to be just a picture gallery," says Goodhew. "Now we have many different types of exhibitions."
The museum underwent a refurbishment about five years ago. "We now have an open storage system, acting as half display, half storage," says Goodhew. "It offers us a really nice flexible display solution."
Flexibility is key for repeat visits
The MCC Museum has an active exhibitions programme. This keeps the experience fresh, and optimises repeatability. "This year alone we have seven new exhibitions on display," says Goodhew. "So there is always something new for visitors to come and see. We have a lot of repeat visitors, and a lot of specialist tours, both public and private. Often you find that people come back each year, bringing new guests with them. We refresh the displays as much as possible, and this new refurbishment means we have our own dedicated picture storeroom."
Storage needs to replicate museum conditions
There are around 3000 pictures in the collection. The picture store makes caring for them much easier. "Many of these pictures aren't in frames any more, unless they are going to be part of an exhibition," says Goodhew.
"Our main picture gallery is in the main pavilion. All of those large oil paintings are framed, many with their original frames. However, in some instances, we remove pictures from their frames for storage purposes. We need to store them in museum conditions. This means having the right temperature, and the correct levels of light and humidity."
The building itself, the old racquets court, is Victorian. It needed to be modified to comply with museum standards. "It's a lovely building with a beautiful glass ceiling," says Goodhew. "In order to bring it up to museum standards we have had electric roller blinds installed. These blocked out all the UV rays. We have, though, maintained the character of the building. That was a challenge."
From eclectic foundations to focused acquisitions
"The foundations of the collection are eclectic," says Goodnew. "Around 1870, the secretary at the time was Sir Spencer Ponsonby-Fane [the English cricketer and civil servant]. He invited members to donate items to decorate this newly refurbished Lord's pavilion. As a result, people gave all sorts of things, including furnishings. Some are cricket-related memorabilia, but many are simply objects of interest. For example, we have an iron cannonball from Sebastopol.
"Sir Ponsonby-Fane also ransacked all the art dealer shops in London, looking for cricket prints and cricket paintings. He really started to build up our picture collection."
Goodhew says the acquisitions policy these days is far more focused. "We have analysed the collection, and we know where the gaps are," she says. The MCC Museum collects via donations and commissions. It accepts any gifts that fit with the acquisitions policy.
Not all bats are created equal
Inevitably there are bats – but the museum is highly selective. "We have historical bats, tracing the development of the cricket bat over the years," says Goodhew. "We don't collect autographed bats. They have to be bats that have been used by significant players in significant matches. Everything is related to Lord's or MCC or cricket internationally. We test the laws of cricket here, and sometimes we have prototype pieces of equipment in the museum.
"We have a massive collection of textiles," she continues. "These include blazers, ties, caps, badges, textile samples. There are also cricket outfits, often worn by prolific players, or manufacturers' samples. And today, if there is a manufacturer making MCC ties, they will come and look back over the history of what has been made before. The textile collection is actively used both by the club, and externally, for research purposes.
"And then we have ceramics. In that bracket I would include the Ashes urn. It is made of fine porcelain, and a symbol of the game."
The Ashes urn – beautiful and surprisingly light
The precise origin and purpose of the Ashes urn is uncertain. It is made of dark red glazed porcelain, and probably contains the ashes of a ball. It was an impromptu gift to the Hon. Ivo Bligh (afterwards Lord Darnley) from some ladies of Melbourne during Bligh's England team's tour of Australia in 1882-1883.
In August 1882, Australia defeated England at the Kennington Oval. It was the first time they had been defeated on English soil, in a match England should have won. A few days later a mock obituary appeared in the Sporting Times. It announced the death of English cricket and claimed the body would be cremated and the ashes taken to Australia. The Hon. Ivo Bligh, about to captain an English team to tour Australia, declared he would win back the ashes. And thus the legend of the Ashes began… as a joke.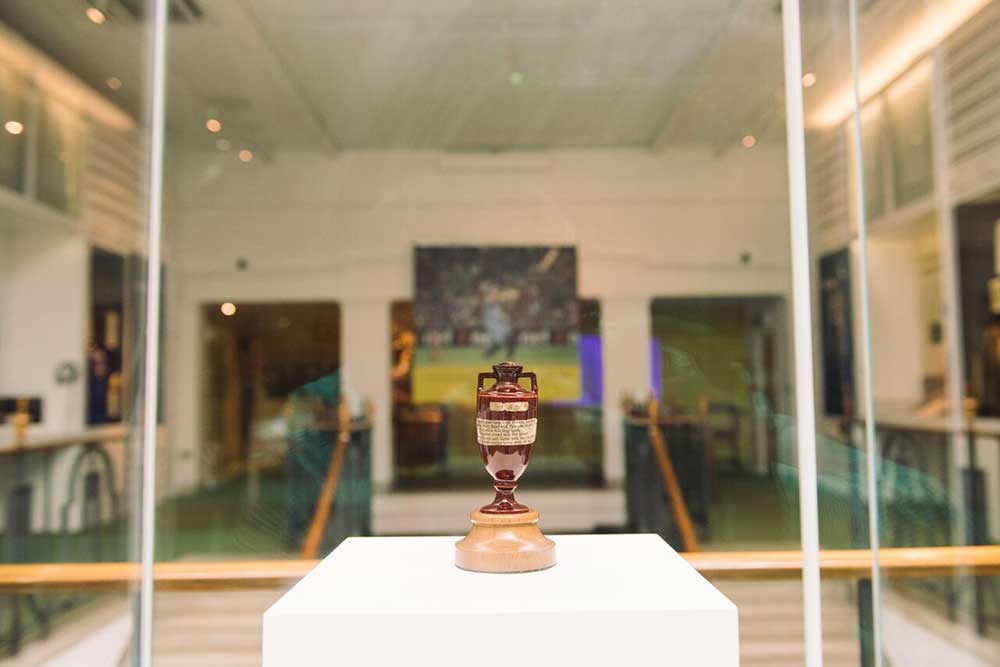 "The urn is very beautiful," says Goodhew. "It's made of very fine bone china. In the 1960s it was mounted on a wooden plinth."
Goodhew is one of only three people who have moved the urn. "I can tell you it is really light," she says. "It's feather light, delicate. The glazing on it is really beautiful. It has enormous significance as the symbol of the game. But it's also a beautiful item in its own right. It was donated by Ivo Bligh's widow."
From club collection to accredited museum
"When I arrived, I asked 'What do we have in the collection?'" says Goodhew. "I was told that was a really good question. They literally didn't know how many items they had, or what they were. The collection was all spread out. We had a large, off site storeroom in Battersea."
The aim was to set up the MCC Museum as a professionally run accredited museum. "Before that, I would describe it as a club collection rather than a museum.
"These days, we are working to accreditation standards, and working with national museums. We have loans in and loans out from places like the British Museum. The V&A have got a loan with us at the moment. It's really exciting to be able to work with these international museums."
Talking to a wide audience
The interpretation of such a diverse and eclectic collection is complex. "But it is a challenge that I really enjoy," says Goodhew. "One of my big projects when I joined was to build up a bank of information about the collection. None of our pictures, for example, had any label captions, apart from certain ones which had been used for research.
"In terms of interpretation, it is fun to write about, for example, art to a cricket audience. You have to draw them in and make it accessible to them."
The audience is mixed. "We are constantly trying to reach out. When we plan exhibitions we think about the target audience. We also think about attracting new audiences."
The audience at the moment comprises the large MCC membership, members' guests, and the public on match days.
Reaching out to the community
"We have a huge community programme that is just growing and growing," says Goodhew. "We have a large number of schoolchildren coming through the doors to do a variety of workshops. There is a special 'Howzart' workshop programme aimed at schoolchildren. About 15 different schools this year took part in our art competition."
The museum runs an art competition themed around a current event in the world of cricket, or around an exhibition at the museum.
"For example, we had the women's World Cup coming in July, and they played the World Cup final here at Lord's. So this year's Howzart programme is linked to that. 'Women in Cricket' and, more generally, 'Women in Sport', was the theme for the pictures.
"We have a women's World Cup display on the history of cricket," Goodhew continues. "As part of this new museum refurbishment we were able to develop a flexible display classroom area so we are able to have classes in there."
There is also a 'dementia café', and a number of different community groups come in on a regular basis. "There is a big American population in St John's Wood," says Goodhew. "We really thought about how we might get some of them through the door. They don't really play cricket so widely, although, of course, there are some cricket clubs in America, such as the Hollywood Cricket Club.
"So, about seven years ago, we had a baseball and cricket exhibition. That was to try to bring in our local American audience, and any Japanese baseball fans."
Working closely with the Sports Heritage Network
Perhaps surprisingly, the MCC Museum isn't just about cricket. "When we staged archery as part of the Olympics, we had an archery exhibition," says Goodhew. "We collaborated with different collections. The National Gallery of Scotland lent some archery paintings to us. Some private collectors lent to us, as well. We work really closely with the Sports Heritage Network."
There are around 20 sports museums up and down the country. These include Wimbledon and Henley River and Rowing Museums. "We also have a tennis collection. We have had a tennis racket on loan to Wimbledon for the last seven years. I went there recently, to check on it."
Traditional displays alongside interactivity
These days, people expect a certain amount of interactivity in museums. "We're really trying to strike this nice balance between traditional elements and up-to-date, contemporary elements and technology," says Goodhew. "I guess some of our displays are really quite traditional. However we do have a number of screens, and we show footage and audio-visual material.
Goodhew recently put together "A Century of Cricket Games". The exhibition opened earlier this year and traces a hundred years of cricket games from 1900 to 2000. "We started having interactives for the first time," she says. "As part of the exhibition I've included early computer games. For example, the very first examples of cricket being played on a computer, from makers like Spectrum and Omega. We have some of the earliest games, from 1980. Some of them are prototypes. I had them converted so that you can play the games via a Raspberry Pi, on retro hardware, on a flatscreen TV in the exhibition. They have proved really popular."
ThrowMotion brings 3-D ball dynamics to the table
The other interactive is the ThrowMotion Cricket Live! web-connected cricket table game. Created by California-based technology start-up ThrowMotion, Inc, it brings cricket to the table-top in a physical format with full 3-dimensional ball dynamics.
"The inventor of the game [Aditya Dayal, founder of ThrowMotion, pictured below with with award-winning journalist and presenter Alison Mitchell] saw some publicity around my exhibition," says Goodhew. "He got in touch, and I went to see the ThrowMotion game at the Google offices.
"He is a huge cricket fan, and we had a fantastic chat. The game really came to life for me, and I thought there would be lots of interest in it. As part of the exhibition, I really wanted to reach out to a new audience. I wanted to get game designers interested in coming to Lord's. Also I wanted to create a space in the museum that was kind of fun and interactive. I think it works really nicely, complementing the other, more serious stuff that interests cricket researchers, for example.
"It has been a really nice family space, and people of all ages have been interacting there together. The ThrowMotion game has been really popular."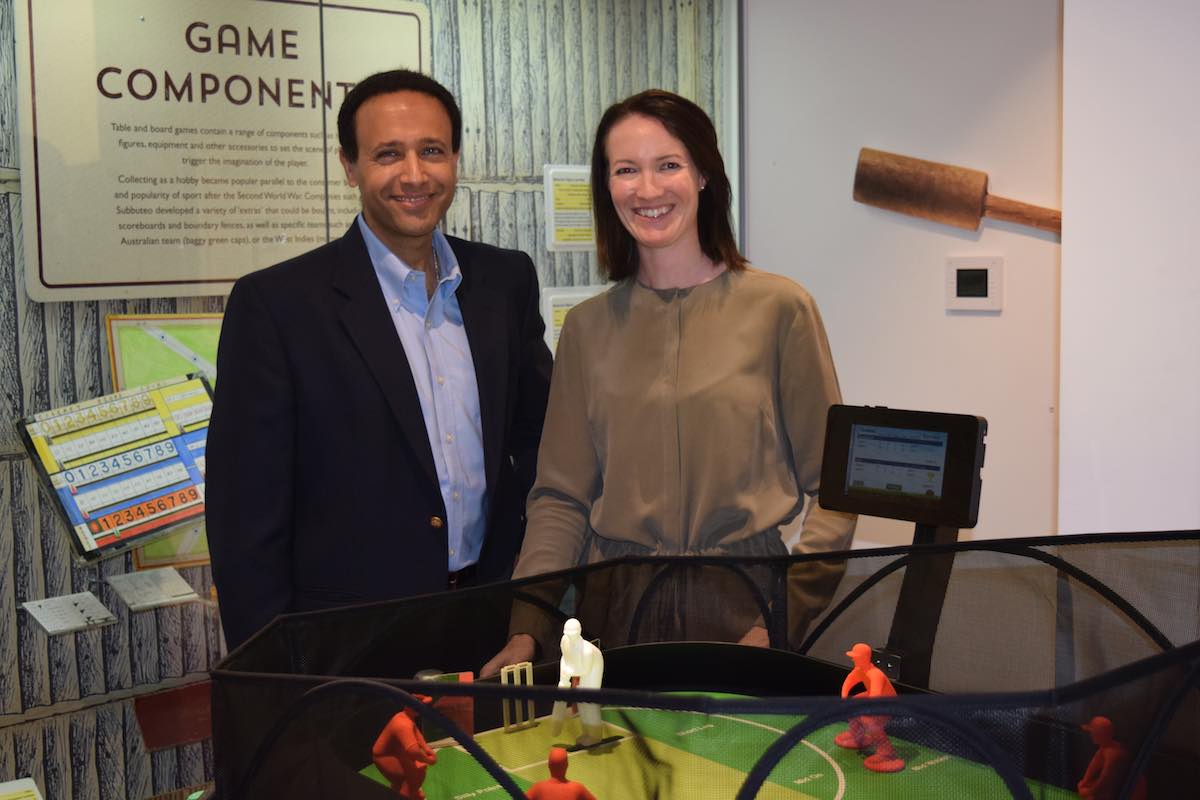 Digitalising the archive
Goodhew has overseen a major digitisation initiative at the MCC Museum. "We have a massive online catalogue which is fully searchable and integrated into our website," she says. "We have digitised all other old architectural plans. Part of our remit is looking after our own archive. Therefore we've got architectural plans of the grounds dating way back. The estates department was finding that a lot of their plans were going missing, or they were being damaged by contractual architects. So we have digitised them, and stored them in the museum."
Having everything digitalised has been hugely helpful. "It's great," says Goodhew. "If the designer wants a copy, we can just print it off, or they can search through the system. And they can annotate the copy, rather than the original. We have nearly 4000 architectural plans done."
Emphasising historical significance
The collection at the MCC Museum continues to grow and evolve. "We have plans to take the collection beyond the restraints of the museum into other aspects of the grounds" says Goodhew. She says they will be looking at heritage, historic links, and reinforcing the historic significance of different areas.
"For example, we have emphasised the fact that a lot of cricket writers and journalists have used the writing room in the pavilion. So there are portraits of them, and examples of their work, and any recordings that these journalists have made.
"Around the grounds, we will be emphasising the historical significance of particular areas. For example there's the coach mound: people used to watch cricket from their coaches there."
Enthusiasm for an active lending program
As far as collaborating with other museums goes, the MCC Museum is very open to new partnerships. Its lending program is active. The team try, where possible, to lend. Usually this happens with accredited museums. However they will always go the extra mile to help, support, encourage, and train staff.
Programmes such as the Archivists' Network aim to help smaller museums with advice and support. "We find a lot of county museums have their own archives," says Goodhew. "So we can give advice on how to look after them. We are always looking to collaborate with museums and galleries, even if they're not cricket–related.
"For example, we recently had the curator of the Dorking Museum & Heritage Centre in. She was looking at one of our pictures and hoping to borrow it. They're working to accreditation standard so that they can start to have major loans."
Goodhew firmly believes that the established, accredited museums have a responsibility to support and encourage those aspiring to those standards. Now that really is playing ball.
'A Century of Cricket Games', is on display until 1 February 2018. It includes loans from the V&A Museum as well as rare retro computer games, which can be played on original hardware.