Gamification, the practice of using gaming techniques and games such as Minecraft to increase consumer engagement, has long proved its worth in the retail sector.
Now, the world of museums is increasingly waking up to its potential to immerse audiences, create loyalty and deliver a new way of learning.
An early adopter in this sector was Tate who launched Tate Worlds in 2015. The application used the popular Minecraft gaming platform to create a series of 3D maps based on a number of key artworks owned by the Tate. Users can explore these 'worlds' while learning about the works and the artists in a dynamic, involving way.
Inspired by the success of Tate Worlds, the Museum of London launched its Great Fire 1666 project last year which recreates the City of London in 3D as it was before and during the fire. A third map about rebuilding the city after the fire is due to be released in February.
In this, the first of two Blooloop articles on gamifying museums, we spoke to Adam Clarke, Lead Artist and Project Manager on Tate Worlds and Josh Blair, The Museum of London's Digital Learning Coordinator.
101 Ideas for Minecraft Learners
Adam Clarke,  well-known to Minecrafters as Wizard Keen, is a digital artist who saw Minecraft's potential for education years before he became involved with the Tate project.
"I had started a YouTube channel, creating a series of videos called 101 Ideas for Minecraft Learners, " he says. "It was really to fill a space that I felt wasn't being filled: parents and teachers and young people needed ideas and legitimacy. I had, and continue to have, so many ideas about how Minecraft can be used for education."
Experimenting with map-making, Clarke had created a map of Cumbria using real satellite data. He then imported it into another programme and painted on the historic monument, Hadrian's Wall. This led to a Museums at Night project at Tullie House in Carlisle, a museum close to Hadrian's Wall.
With a major museum project under his belt, he now qualified for entry to the Tate's annual IK Prize competition.
"My wife (the poet Victoria Bennett) said: This IK prize – are you going to go for it? I said: I don't know. When is it for? She said: Tomorrow.
"This was at dinner time. So, we put our son to bed and we wrote down a proposal."
Walking Into Artworks
Clarke knew exactly what he wanted to create:
"It would be about walking into artworks, using Minecraft as a tool to create immersive art history projects that can be experienced. We'd use the engagement of Minecraft, which seems to be a place where young people are confident. It speaks directly to them about worlds they're super-familiar with. Minecraft continues, unlike Facebook, to be a place where Mum and Dad tend (only tend – I play it every day) to shy away from."
Clarke then forgot about the IK prize so, when he was short-listed, it came as something of a surprise.
"We were the only proposal in the North of England to be chosen. We weren't 'professionals', it was me and my wife – just artists thinking and being curious about how this stuff could be used – round a kitchen table. And, we had a seven-year-old who plays Minecraft quite a lot."
Tate Worlds
Although Clarke and his wife didn't win, their idea had created a spark at Tate.
"Two weeks later, the Tate got back in touch. They had some money, and thought our idea was really great and would like to produce it in some form or other. How, they wondered, could we do that?"
Thus Tate Worlds was born.
"We've produced several maps for Tate Britain, and have another two maps to produce, " he says.
Tate Worlds proves, as Clarke knew it would, that Minecraft could be used by museums and galleries as a highly compelling, interactive, educational tool.
Players are encouraged to enter and explore the virtual worlds inspired by particular artworks, learning art history by problem-solving.
"In terms of engaging new audiences, and young people who find it difficult to get a foothold in cultural events or information, what the Tate did was to legitimise Minecraft for that audience."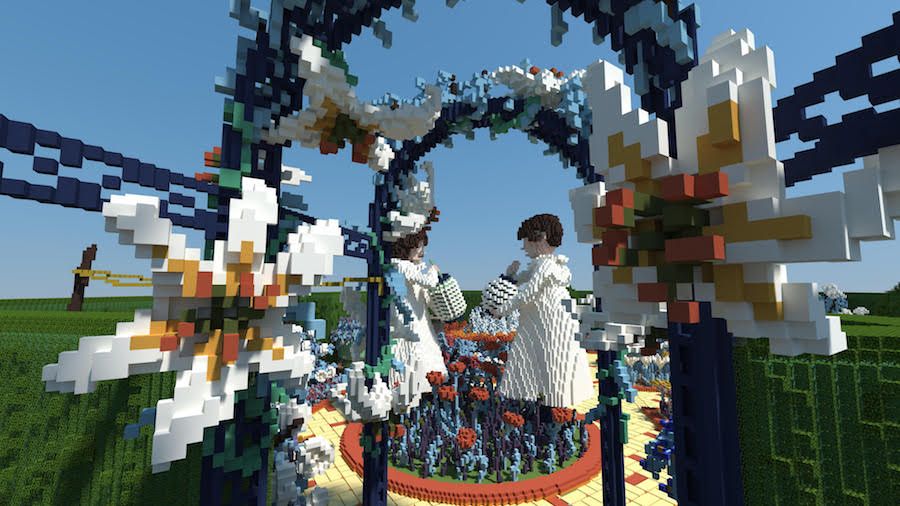 Project-Based Learning
Clarke is an enthusiastic advocate of the way Minecraft allows children to learn actively, without being 'taught' in a conventional sense.
"I come from an art background, and from an arts practice way of looking at things. How do we solve a problem? We gather information, we do research, we put it all together and we might use a design process – we can produce a range of outcomes, and then be selective about those outcomes.
"This is about project-based learning, project-based solutions."
Clarke and his wife have chosen to home educate their son.
"Minecraft has been a key component of his own learning, and his sense of how to solve problems and collaborate with other people, " he says.
"The way Wonder Quest is made is very much in that collaborative spirit."
Wonder Quest
Wonder Quest is a children's edutainment show developed by Joseph Garrett in partnership with Disney's Maker Studios. It features Clarke in the persona of Wizard Keen and Garrett in his guise as YouTube megastar Stampy Cat.
"I get on a Skype call at 4pm with Stampy, and with the two writers and producers in Los Angeles, and together we might get in touch with Dragnoz who is a guy based in Spain, " explains Clarke.
"We have these different people all over the world coming together in a Minecraft server, using lots of different bits of technology to create an entertaining little show.
"We're all connected to a Minecraft server, plus we might be using Skype, plus we'll probably be using Dropbox at the same time to share skins and content that we need to have instantly. And, a person who's sitting at a desk in Los Angeles is typing up something I'm able to read instantly, and we're both working in a Minecraft environment.
"There's a three-dimensionality; an environmental space that we're working in, almost like a TV studio or a set – it's a theatrical space."
With the advent of shows such as Wonder Quest and the Minecraft Education Edition, the game is now finding its way into the classroom. Exactly where it should be, according to Clarke.
"I'm interested in how we might use technology in the future – what do we learn from video games, and the skill-sets we've acquired – how might that affect the future of the quality of the communication that we give to each other?"
At the end of last year, he was in Canada and the US at a number of museum conferences, including Museum Next, talking about the role of engagement in Minecraft.
Interactive Clay
One gets the sense that what Clarke has created so far is just the tip of the iceberg:
"Minecraft continues, for me, to be one of the most exciting spaces to work in. I don't see it as a video game, but more as a platform where I, as a creative artist, can still find new things to play with. Some people say it's digital Lego. I say it's much more like interactive clay, and I use it as an artistic medium. It's a new digital space that I've been seeking for a long time.
"I think kids like it because it's so unintimidating. They have full access to something that is easy to use from the very beginning. Unlike adults who are completely intimidated by it, kids can just pick it up and use it in moments, and get a huge amount of pleasure out of it, and feel like they own it, as well. Nobody's telling them what to do; nobody's telling them how to do it. They have to discover it for themselves.
"There are very few places where all those things come together; where kids get autonomy and to be creatively playful at the same time.
"Kids are turning to video games to find it, and Minecraft is ideal."
Museum of London's Great Fire 1666
Having seen Tate Worlds, Josh Blair and his team were quick to see the potential of Minecraft for the Museum of London's Great Fire 1666 project.
Clarke, who had been talking about doing the Great Fire of London for a couple of years, was more than a little pleased when Blair approached him.
"I bit his hand off, " says Clarke.
"We're completing that project at the moment: there's a third part that's going to come out in February 2017 which is the rebuilding of London, so we're working closely with  the School of British Architects as well, who have all the historical stuff and original plans from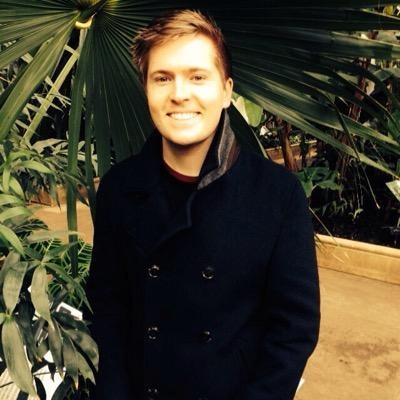 the 17th Century. It's fascinating."
Josh Blair, Digital Learning Coordinator at the Museum of London, was the project leader on the Great Fire 1666. Part of a team of three that work within the learning department, he is in charge of the digital learning that happens on site at the Museum of London, and at the Museum's other two sites, Museum of London Docklands and the Archaeological Archive.
"We have a series of learning sessions that use digital technologies. Within that, we harness the power of digital as well as our collections and the stories we tell. We use this tool to help learning and to create different experiences.
"So, we primarily use iPads, use different apps – we have things with green screens, we use photography, we use animation, we use mind mapping apps across all our programmes. Now,  we're looking to use digital not as a magic bullet, nor as a quick sell to get kids interested, but as a tool that helps us tell the story."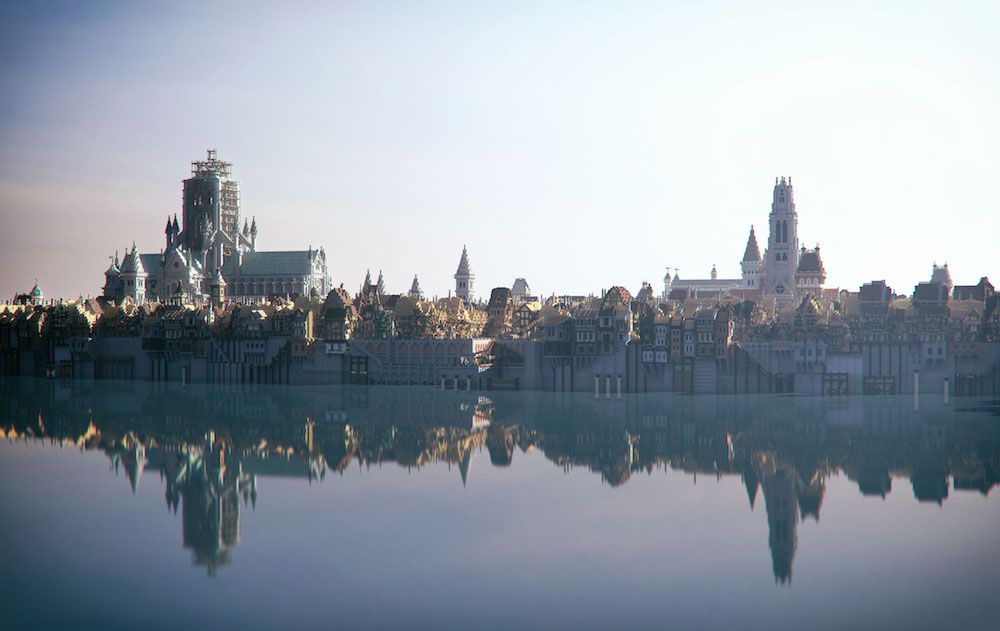 A Platform Children Automatically Understand
The Great Fire 1666 recreates the City of London in Minecraft before the fire, during the fire and after the city is rebuilt.
"It's been an amazing project to be part of, " says Blair.
"Minecraft is an incredible game that captivates and inspires users of all ages around the world. Its reach and versatility offers museums a fantastic platform to share our knowledge and collections, and to create engaging experiences."
He had been using Minecraft as a teaching tool before the project's inception:
"We used Minecraft within our learning sessions, on tablets, and we used it in our archive as part of whole day of sessions. We had children rebuild certain landmarks in London using Minecraft in teams, looking at foundations, looking at archaeology, looking at realistic resources. It's a platform that children automatically understand, have a passion for and are excited by. They were doing things that were just fantastic using Minecraft, so we saw that this was an amazing learning tool that we could use to engage people."
A Tool for Telling Stories
Last September was the 350th anniversary of the Great Fire so the museum was already busy creating a new exhibit and a brand new website dedicated to the Fire.
"We also thought that the work we had done with Minecraft so far really lent itself to this story. It lent itself to the idea of building a city, playing through the story, understanding the story, being able to spread our message and give children a learning experience. And, also, trying to engage and have as many people as possible experience the collections, sharing the knowledge that we have here.
"With the Great Fire story we create an immersive experience which is primarily fun – it's interesting, you're exploring and seeing the city like you've never seen it before. We haven't just put dry information everywhere and said, this is what this looked like. Actually seeing it, they'll understand it far better than if we explained it through text. It gave us this ability to be able to show people what London was like in 1666.
"The people we worked with were incredibly creative and managed to recreate it pretty much as it would have been."
For the project, Clarke assembled the same team he had worked with on Tate Worlds: the professional Minecraft building team at Blockworks, and the game designer, Dragnoz.
Blair: "We had seen, when researching the project, what museums were doing. We thought what had been done with the Tate was fantastic.
A Fully Explorable, Fully Playable New World
"Adam was really excited about the prospect of this project. We were able to team up our collections, knowledge and the historical artefacts we have within the museum with his Minecraft expertise and standing, to create this fully explorable, fully playable new world."
Children played a key role in the development process of the learning sessions at the museum.
"Lots of the learning we had early on in the smaller sessions with Minecraft came from what children told us they enjoyed as they were feeding back on our sessions.
They were suggesting, 'We could do this – why don't we link up into servers? If you gave us 45 minutes instead of 30 we could do this. If you said we couldn't use certain things, certain resources, it would be more interesting'. They were really leading our learning, and getting to educate us, which was fantastic."
From the outset, there was a certain lack of understanding within the museum itself.
"It was quite difficult to educate the museum about what we were doing. They'd heard about this phenomenon, but didn't quite know what it was. There were a lot of conversations and a lot of translations from the Minecraft side of things into museum language.
"It was a fascinating conversation to have, and now most of the museum knows what Minecraft is and have played it, and love it."
Historically Accurate Minecraft Maps
The Museum of London's Great Fire 1666 project is in three parts.
"We sat down with Adam and with James Delaney from Blockworks who were mapping out what this could be. There were a million different iterations we could have created, but we thought as the current exhibition, Fire Fire, is split up into three sections, and the website Rhiannon (Looseley, Digital Learning Project Manager) was building was in three sections,  tackling the story in three parts felt quite natural: before, during and after the fire."
The three Minecraft maps are very different.
"The first is the recreation of the city as it was in the 17th century. Blockworks built it for us to be as historically accurate as possible. They used maps from our archive so they could map each road exactly as it was in 1666.
"We selected notable landmark buildings which we would then recreate, including the old St. Paul's Cathedral, the Tower of London, London Bridge and the Royal Exchange. Then, they created this huge city that is fully explorable."
The first map is that exploration: players look around the city, discovering what it looked like in 1666:
"The houses were made of wood; they were quite close together; there were lots of open flames everywhere. This map is about understanding the kind of factors that influenced the fire then, and why it was such a terrible disaster.
"Within that, we had Adam and Stampy record audio facts for us about the fire.
"We also put some paintings and items from our collections into Minecraft form, hiding them around so people can find and collect them. This encourages people to look round the city as much as possible."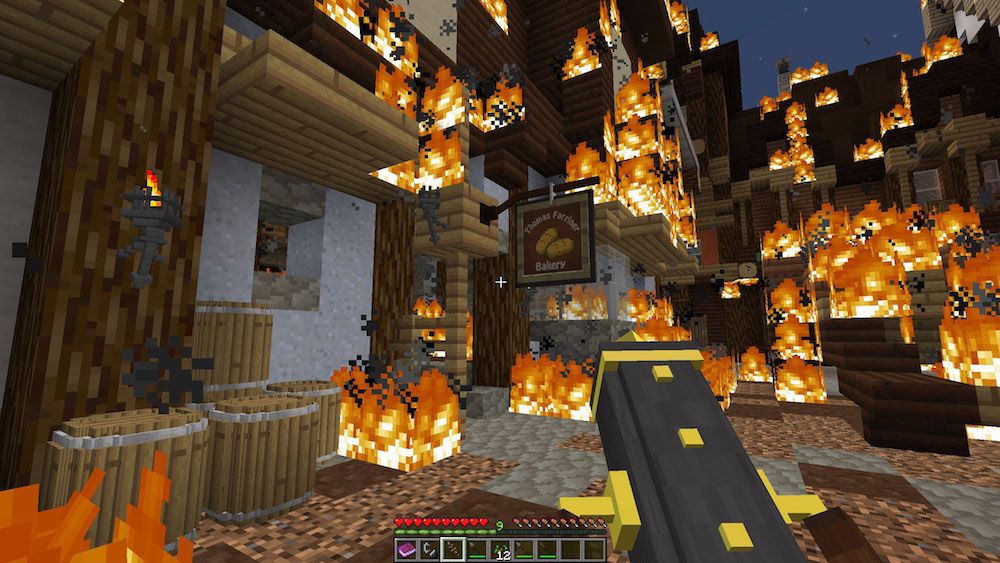 A Learning Resource
The second map, released in September 2016, records the actual fire.
"You play through mini games explaining what happened in the fire. So, you wake up in Pudding Lane and have to escape the fire; you meet Thomas Farriner and have to try to put the fire out. Dragnoz created brand new Minecraft models based on our collection's items from that era. He created fire squirts and buckets and an old fire engine. So, you can experience the tools they would have used to fight the fire at the time.
"There are games about saving people's possessions, blowing up houses to create fire breaks. One, which is much more involved and interactive, focuses on helping Samuel Pepys."
The third map, due to be released next month, will be about rebuilding the city.
"One of the cool features of Minecraft is building, so it really lends itself to this activity. We're going to use the sketches of Christopher Wren and John Evelyn and Robert Hooke, the architects of the time. There were lots of differing visions of what London could look like, as it rose from the ashes.  So, we're going to examine them. We'll look at the different ways that London could be, and help people rebuild the city as it was. Or, as a vision of what it could have been."
The first two maps are available for free download on Mac or PC for anyone with a Minecraft account.
Democratising Museums
"One of the things we wanted to do was to show how children could use Minecraft for learning, " explains Blair.
A key feature of previous projects has been to encourage parents and children to cooperatively build or explore.
"We wanted to show parents what Minecraft is. We wanted to show how important it is to children, how creative it is and how powerful it is.
"A lot of the feedback we got from parents early on simple. 'My God – this is Minecraft – this is what s/he does all the time!' Or, 'This is what my child does the moment s/he comes home – I've never really looked at it before'.'
"So, with the Great Fire 1666 project we wanted to create a learning resource. Something that visitors could use either before coming to our exhibition, or after. Or, independently from it at home or in a different country. We wanted to show everyone what's possible with it, and to encourage parents to understand that this is actually a very different kind of video game.
"Digital is part of the world now. Everyone has phones, tablets, lots of different digital devices. Museums have digital departments. People visit museums with their devices expecting free WiFi and museums are responding by providing digital experiences. There are trails and tours and augmented reality and virtual reality. This gives a lot more scope to open up the collections and give people experiences around the stories you have. There's a lot happening with museums and digital right now.
"All museums have millions of artefacts that aren't on show. This is a way of making them available, democratising museums and giving people access, whoever and wherever they are."