The US Census Bureau projects that less than 50% of the US population will be white by 2045. And yet, a 2010 study on museum attendance conducted by Reach Advisors found that US museum audiences were 89% white. Many museums have already identified and begun to tackle this issue, however. Modern museums realise that they need to attract a diverse audience in order to stay relevant. It is important that they find ways to speak to and represent a multicultural audience.
There are several institutions working on increasing museum attendance in non-white audiences.
The High Museum, Atlanta
Atlanta's High Museum tripled its non-white audience over a three year period. It did this by focusing on its content and changing its marketing strategy. It also looked at its admission fee structure, as well as working with more diverse staff and volunteers.
The museum attendance figures show a rise in the number of people of colour visiting the museum, from 15% to 45%. To put this into context, the population of the local area is around 51% non-white. So, the museum attendance figures are now much closer to the community's demographic make-up.
The High Museum previously worked with the Louvre to bring in high-profile works of art. But Rand Suffolk, who took over as director in 2015, wanted to try a new approach. The museum's curators are now tailoring shows in house, using their knowledge of the local audience. Exhibitions have showcased artists of colour, such as Magdalene Odundo and Hale Woodruff.
The museum also revamped its marketing strategy, with a new slogan. The slogan, "Here for you" implies the museum is there to serve the community. The museum also cut the price of admission, as well as introducing one free day per month.
As well as changing the museum attendance figures, these measures have also had an impact on the volunteer docents working at the High. In 2014, 11% of docents at the museum were people of colour, this figure rose to 33% in 2017. This shows an increased willingness in the local community to get involved with the museum. Seeing faces of colour inside the museum can go some way towards making people feel more welcome. Yet the museum has some way to go in terms of diversifying its paid staff.
The Los Angeles County Museum of Art
Los Angeles County Museum of Art takes this approach. The museum is aiming to encourage more professional staff of colour. For an institution to appeal to a wide audience and be more representative, it helps to have a more diverse team of staff.
LACMA announced a partnership with the Herberger Institute for Design and the Arts at Arizona State University in 2018. Together they have established a three-year programme of academic training and work experience. This aims to create a new, more diverse generation of curators, directors and other professional staff.
"Both ASU and LACMA are laser-focused on creating new educational opportunities, encouraging broader public engagement and advancing knowledge," said Michael Crow, president of ASU. "We are both seeking a more powerful role for arts and culture in public life and in our democracy. We are both committed to disrupting old models…to increase equity and inclusion and engage new perspectives, cultures and backgrounds. This program expands our ability to introduce new ideas and pursue new answers to serve a changing America."
Encouraging a new generation of professionals
"Too many talented students from diverse backgrounds get stuck or delayed in finding their place as curators in art museums due to the lack of resources or the difficulty of pursuing the very long road to earning a graduate degree and accumulating enough work experience to advance in our field and make a difference," said Michael Govan, LACMA CEO and Wallis Annenberg Director. "This partnership and program will help open the pipeline for more talent and diverse ideas to feed the art museums of the near future."
The LACMA-ASU Master's Fellowship in Art History combines academia with on-the-job work experience. It also features plenty of mentorship opportunities between students, curators, and faculty.
The Museum of Fine Arts, Boston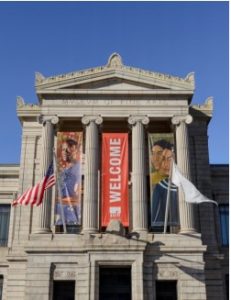 The MFA in Boston has made diversity a key part of its strategic plan, MFA 2020. It is working towards becoming more inclusive, open and engaging. In 2015, according to the MFA, 79%of the museum's audience identified as Caucasian. The strategic plan sets out over 50 new initiatives to change museum attendance. Projects include film showings in the museum's grounds and late-night events. They also feature free family memberships for newly naturalised US citizens.
"We believe in the power of art and commit to fully realizing our role as a meeting place of world cultures and a destination for convening, reflection and ideas," said Matthew Teitelbaum, Ann and Graham Gund Director. "We will celebrate artists across time, honour all visitors and invite many voices to participate. MFA 2020 envisions a future with art in which we are known for our spirit of collaboration and ability to welcome and deeply engage a wide variety of audiences in the life of the Museum."
In addition to this, the MFA 2020 sets out five pillars that show how the museum intends to respond to new ideas, link cultures and cultivate a range of voices. These are: Collaborate Generously, Invite Boldly, Welcome Warmly, Engage Deeply and Collect Purposefully.
The Santa Cruz Museum of Art and History
The MAH is more like a cultural hub than a traditional museum. It hosts a vibrant, community-driven programme of events. Faced with near closure in 2008, the museum implemented a new business model. Due to this, museum attendance here has risen from just 17,000 visitors in 2011 to 148,000 in 2018. Behind this is another interesting statistic; in 2011 the museum hosted 25 events. In 2018 it hosted 800.
Central to the MAH's strategy for increasing museum attendance is its events schedule. The museum doesn't just host events around its collection and exhibitions. Instead, it curates an event schedule that connects with local people and the local area. It views events as a way of communicating and supporting the community.
For example, it held a series of events celebrating Latinx families and traditions in autumn 2018. This also included a Día de Los Muertos festival. The museum works with partners within the community to ensure these events are representative. For the Día de Los Muertos festival it worked with local organisation Senderos. This is an organisation which works to keep native traditions, cultures, and languages alive.
"Since its turnaround in 2011, the MAH has become a museum of, by, and for Santa Cruz County because of powerful partnerships like these," said the museum's press release for the event. "Over 30% of Santa Cruz County identifies as Latinx. To centre these voices at the heart of our events, exhibitions, and programming this fall is just one way we hope to make the museum more accessible to all."
See also: Curating the Community: Bringing Museums to the People, an interview with the MAH's Nina Simon.
The National Museum of African American History and Culture
The National Museum of African American History And Culture opened in Washington DC in 2016. It is the newest museum of the Smithsonian Institution. It gathers stories and art from African-American communities from around the world.
NMAAHC has four key goals. First of all, it provides space for those interested in African American culture to explore this further. It hosts a wide range of interactive exhibitions. Secondly, it is aimed at all Americans. It aims to show them how their story, history and culture is shaped by global influences.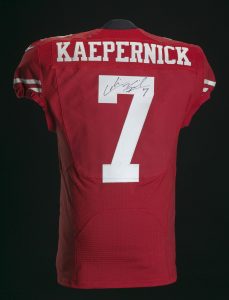 Furthermore, the museum looks at what it means to be American. It explores how traditional American values such as like are reflected in African American history and culture. Finally, it serves as a place of collaboration. It works to reach new audiences and institutions and preserve African American history.
As the Founding Director, Lonnie G. Bunch III says, "This Museum will tell the American story through the lens of African American history and culture. This is America's Story and this museum is for all Americans."
The museum also held a popular blockbuster exhibition in 2018. It focused on the famous media-mogul and cultural icon, Oprah Winfrey. The temporary show explored her inspirational story and how America shaped her, but also how she shaped America. The curators worked with academics from the fields of sociology, African American studies, religion and gender studies.
The Andy Warhol Museum
The way that museums are communicating with their audiences is changing. Many are learning to listen more to what their communities have to say, rather than dictating to them. One such example is the Andy Warhol Museum in Pittsburgh.
After an advert campaign was criticized by local activists, the museum could have jumped to a defensive position. Instead, it joined forces with them. It listened to their views and then gave them a platform to create something new.
In 2014, the museum ran a marketing campaign around the city. The ads featured pictures of rich white people with lyrics from local rappers over the top. It was intended to poke fun at fine arts patrons. Local African American activists and artists said the images ignored the issues that the rappers were trying to bring to the fore.
The museum met with the activists to listen to their point of view. The collaboration resulted in a new series of murals, which highlighted real issues of importance to the community.
In addition to this, the museum runs a diverse series of youth and community programmes. For example, the yearly Youth Invasion. It is also working to increase the diversity of its own staff.
Berlin Museums
Diversity and museum attendance is not only an American issue. Migration is a hot topic in Europe too. Several museums have been looking at ways of connecting with refugee audiences in their local communities. Four Berlin museums teamed up in 2015 to train and employ refugees as tour guides.
The Museum of Islamic Art, The Museum of the Ancient Near East, The Sculpture Collection and Museum of Byzantine Art and The German Historical Museum collaborated on a programme called Multaka: Museum as Meeting Point. This award-winning scheme recruits and trains refugees to work as guides.
Germany's ministry of culture sponsors the initiative. It helps newly arrived people make a connection between Germany and their home country. Tours are provided in their native language and are free of charge.
Similar schemes are being considered in other countries. Trial schemes have been taking place in the UK and some big names such as the Louvre have also spoken with project leaders. The name of the project, Multaka, is an Arabic word meaning "meeting point".
Representative museums
A recent study found that around 85% of the artists represented in US museums are white. Therefore, there is still some way to go to ensure a diverse audience is properly represented. Change needs to come from within and museums must commit to it as a priority. People need to feel like they have a connection with an institution, in order for museum attendance to change with the times.
Top image: visitors in front of a work by Anish Kapoor. Photo courtesy of the High Museum of Art