The National Comedy Center was recently named the best new museum in the country by USA Today. We talk to its executive director Journey Gunderson.
Humour is something Gunderson takes very seriously. For starters, she has to entertain the National Comedy Center's (NCC) daily visitors in Jamestown, New York. She must also please its 19 state, federal and philanthropic backers, who between them contributed $50 million to the nonprofit cultural institution. But arguably the toughest crowd of all to keep on side is the comedy community itself.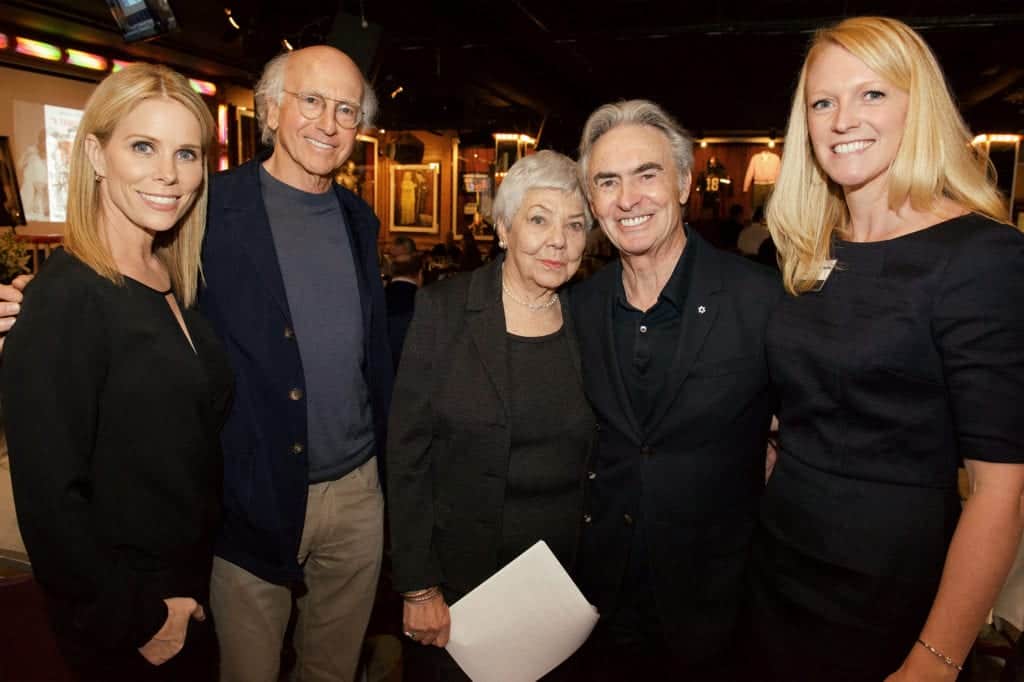 More than 150 comedians and comedy professionals, including directors and producers, were interviewed for the museum's many immersive exhibits. Meanwhile a 22-person industry advisory board was appointed to guide the NCC's content. Early indications are they've done a good job.
In January, the National Comedy Center was ranked second in a list of 20 best new US attractions by USA Today. It was also crowned top museum as well as top ticketed attraction. Furthermore, Condé Nast Traveler magazine has named the NCC "one of the best museums in the country". The visiting public, which includes guests from all 50 US states and nine countries to date, loves it too. And the TripAdvisor reviews prove it.
"From the beginning, we set out to appeal to everyone," says Gunderson. "From the most fervent comedy nerd and the artists themselves to Joe tourist. This is about telling the story of comedy in a way that you can attach relevance to the present."
"We want to connect the dots between Mort Sahl and Stephen Colbert, between Rusty Warren and Ali Wong, and make sure that people understand that without Lenny Bruce there might not be a Dave Chappelle. A lot of the story of comedy is also a story of the First Amendment, and being able to say or do in comedy what effectively holds up the mirror to society and otherwise powerful or sacred institutions."
Funny business
No one has ever created a national comedy museum before. Either in the US or, to Gunderson's knowledge, anywhere else in the world. But why?
"Now that we've built one, I can say that's because it's hard," says its executive director. "It's a broad subject matter with a long history and a cynical audience that is good at making fun at things. It's a daunting crowd, and authenticity was paramount. But we took on the challenge. I'm relieved to say the reviews have been good, from comedians and the general public."
Opened on August 1 of last year, the National Comedy Center celebrates US comedy's great minds and unique voices. With its exclusive collections and interactive experiences, the museum gives comedy fans an unprecedented behind-the-scenes look at the creative processes that have elevated this form of entertainment into an art.
Complete planning, exhibit design and project management of the 37,000 square feet (3,435 sq m) museum was provided by leading attraction design firm JRA. Working alongside JRA, Cortina Productions created 30 interactive experiences. Exhibits were fabricated by Adirondack Studios. AV Integration was by Electrosonic, with video content from Herzog & Co, which also provided graphic design.
Personalised content
Over 50 immersive experiences take visitors on a journey through comedy history at the NCC, from early vaudeville acts to the latest viral memes. That journey varies for each visitor, according to a 'humor profile' created on entry and stored on an RFID wristband called a 'Laugh Band'. Content is then presented according to individual tastes, from broad slapstick to edgy satire.
Along with educational games and competitions, guests can step into the shoes of comedy pros. They can try their hand at cartooning, comedy writing, live stand-up and faux pie fights. The intention is that visitors leave the NCC with a profound appreciation of comedy icons and innovators. Furthermore, they can come away with an understanding of the tremendous influence of humour on how we think, live, and of course laugh.
"It's much more of an experience than a static, traditional artefacts based museum," Gunderson says. "One highlight for me is the Comedy Continuum, which is a giant 60-feet-wide touchscreen wall that an unlimited number of visitors can engage with at once. The content explores a whole web of connections. If you're familiar with the game Six Degrees of Kevin Bacon, you'll know that we're all connected somehow. It's a great entry point to the museum, and you can then go off an explore in different directions."
Diverse content, technology and visitors
Other experiences at the NCC include Laugh Battle, which invites participants to face-off and see who can make their opponent laugh first. Facial recognition software auto-detects the laugh and scores the point.
Prop Stars is an interactive table that recognises a collection of physical props and explores how they have been used in comedy across the generations. Make a Meme allows guests to do just that, then of course share it on social media.
"As you walk through the National Comedy Center, you are engaging with some of the most innovative, interactive technology in the world," says Gunderson. "But right next to that, you may find a display case with Charlie Chaplin's cane in it. It's a pretty remarkable juxtaposition of media."
Comedy of course is always evolving as an art form. And so the content inside the museum will be updated over time, to keep it relevant to guests of all ages.
The visitor demographic to date has been wide-ranging, says Gunderson. "In the day we get retirees and bus groups, and families at weekends. Because of the subject matter, the museum lends itself well to evening entertainment. We have late hours Friday and Saturdays, and see people on date nights having a beer as they go through. We've had school groups in too."
Controversial content at the National Comedy Center
A Friday night crowd clearly has different sensibilities to a group of school kids. So how does the NCC cater for this?
"We have a healthy amount of warning about some of the more extreme content," says Gunderson. "We allow visitors, particularly parents, to decide if they are happy with their children being exposed to the subject matter."
Yet ultimately there is no censorship inside the museum. "We decided pretty early on that to do justice to the subject matter, we could not be censoring the very thing we are celebrating. So even some content of the main floor will be considered controversial. The lower floor is called the Blue Room. This is a completely uncensored experience. It talks about freedom of speech and features some of the most controversial comedy of all time."
Gunderson's journey – from ball to Ball
Prior to joining the National Comedy Center, Journey Gunderson worked in media production for the Women's Sports Foundation. "Sports and comedy might not sound immediately related," she says. "But both are both things in our culture that enrich our lives and there is a case to be made for supporting them."
Part of the NCC team since its early development stages back in 2011, she has simultaneously served as executive director of the Lucille Ball Desi Arnaz Museum. Located just a few blocks from the NCC, the latter has traded since 1996.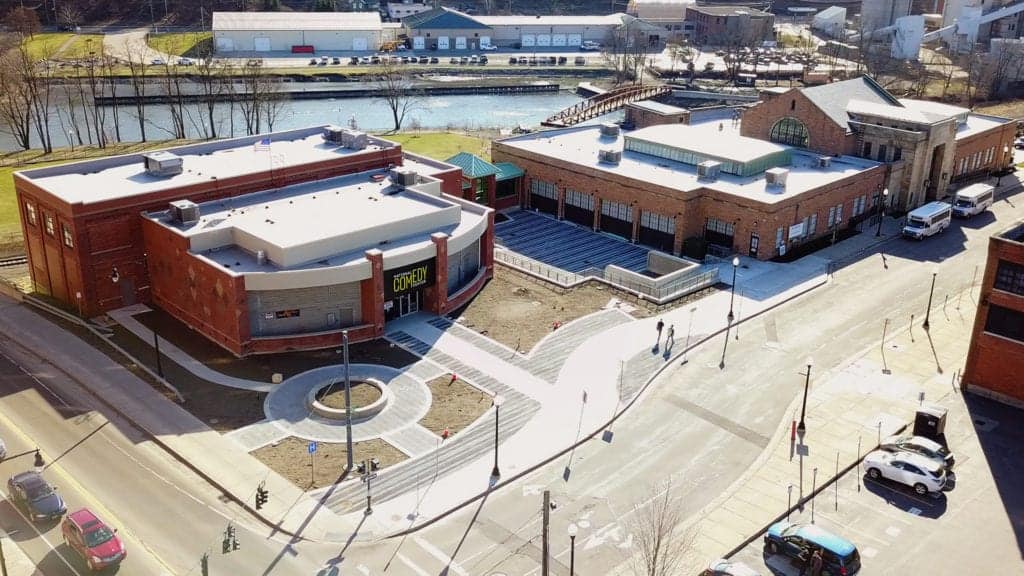 Jamestown was Ball's hometown. The TV star and entertainment executive had long harboured a dream of turning it into a crucible of the comedic arts. Now, at the Lucy Desi Museum and National Comedy Center, that is becoming a reality.
The potential economic and cultural impact of the complex has been deemed significant. So much so that the US Senate and House of Representatives has just passed a bill designating it America's official cultural institution for comedy. This now awaits the president's signature, in order to be signed into law.
Serious fundraising
The NCC's initial investors included various philanthropic foundations and individuals in the comedy community. In addition to a federal commerce grant of $2 million, New York State Governor Andrew Cuomo invested more than $9 million.
"Right now we are hoping to cover majority of expenses with operational revenue," says Gunderson. "However, we are also building an endowment fund, which will help with long term sustainability. We need to keep our finger on the pulse of comedy. The fund is critical to that and allowing us to make updates."
Early feasibility studies identified the need for ongoing programming in order to encourage repeat visitation. That includes evening events both inside the museum and at nearby venues. The attraction is already on track to meet its 114,000 annual visitor target.
Regular adult admission is priced at $25.50. "For the experience one is getting, that is rather cheap," says Gunderson. Secondary spend is encouraging, she says. "We feel good about revenue per head in the gift shop. Membership has also been a big thing for us. Once people realise that a membership [$50] pays for their second visit, it's not hard to convert them to members."

5-star reviews
In addition to recognition from USA Today and Condé Nast Traveler, the NCC has attained an average 5-star rating on TripAdvisor. There's something of a theme emerging in many of the reviews:
"What a blast! Wish we had more hours to stay!"
"Three hours is not enough time to see it all."
"You could spend a week here and not see everything!"
"We feel good about the ratings and word of mouth," says Gunderson. "Clearly there is going to be a need for repeat visitation because there is so much to see. That's great from a sustainability standpoint. The most important thing is the product is good. The experience is truly world-class and being lauded by everybody who has visited. So it's now just about making sure that we optimise the marketing and operations."
Wouldn't it be great, we suggest to Gunderson, if you could assess a person's sense of humour in real life the way the NCC does when its surveys its visitors on arrival?
"Maybe this will grow to become a thing," she says. "So that people are handing out their humor profiles from the National Comedy Center on a first date!"
Images courtesy National Comedy Center and Jay Rosenblatt Photography