As the city of Sharjah in the UAE returns to tentative normality, Manal Ataya, Director General of Sharjah Museums speaks to blooloop about the importance of engaging with a wide audience.
Manal Ataya started working for Sharjah Museums in 2005 when she was appointed as the Deputy Director. Two years later, she was promoted to Director General, which has been her role for 12 years.
"My background is in the arts," she says. "I studied art, art history, communication studies and studio art, then did my graduate study in Museum Studies. So I had always intended to work in the cultural sector, curatorially or in a research position. I ended up managing museums, people and projects, and have been doing that for the last 15 years."
The Sharjah Museums Authority
The Sharjah Museums Authority, established in 2006, aims to promote the Emirate's legacy of arts, heritage and culture. There are 16 museums under its management.
"Sharjah itself actually has 20 museums," Ataya says. "Two of the others are, respectively, a botanic museum and a natural history museum. The other two are museums/visitor centres, though they are so good that they pretty much function as museums on their own. They're under different management."
"The 16 museums that we look after cover a wide range of different topics: archaeology, history and heritage, maritime history, Islamic civilisation, calligraphy, and much more. We have special interests like classic cars, and an aviation museum, because Sharjah had the first airport in the UAE in 1932."
The structure is still standing and was converted into a museum many years ago.
The organisation's mission
Explaining the mission of Sharjah Museums, Ataya says: "It is straightforward. We want to be a place where families and school children can come to learn and to enjoy learning. Our exhibitions, activities, and programming engage people in a way where they can not only learn, but enjoy themselves in the process of learning.
"We also aim to ensure that we encourage people to make coming to museums part of their regular activity, in that they plan to come every month or every few months; that they appreciate culture, that they appreciate history, that they learn about other people, other cultures."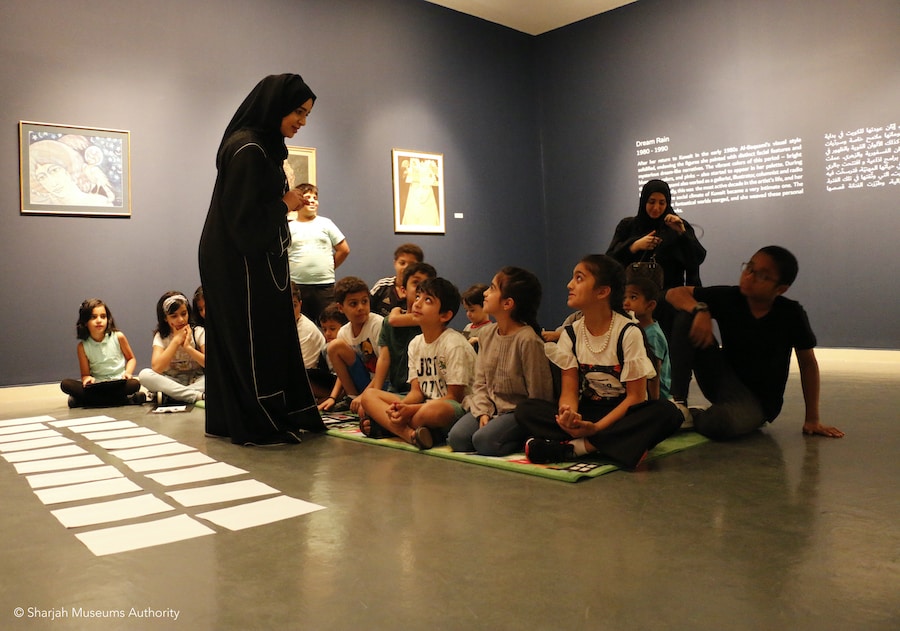 "A lot of what we have in our museums focuses on Sharjah. But it also focuses on the wider region and globally, on how we connect to all these different geographical locations, history, civilizations."
It is important, Ataya says, that young people, in particular, have a wider perspective:
"They need to understand where they fit in. In terms of identity, but also in terms of how the narrative of the region relates to alternative narratives and perspectives. We are all part of a universal history, which is not always written about or taught. We're trying to give the wider picture as much as possible."
Reaching wider audiences
There are, she says, challenges in terms of reaching wider audiences:
"Whenever you're looking at audiences with a view to developing them. You need to think about who are you not reaching, and why you're not reaching them.
"One way in which COVID has been positive is that it has enabled us to reach people we wouldn't have reached otherwise. Because we became a lot more digitally savvy and we've put a lot more of our collections and our exhibitions online."
One way in which COVID has been positive is that it has enabled us to reach people we wouldn't have reached otherwise
The result has been a surge in online visitation from countries from outside the UAE, both from other parts of the Arab world and internationally.
"These are people who would not physically visit the museum, and who would not otherwise have seen the exhibition; now, they have been able to see the virtual tour and to access information."
Locally, she works to reach groups that are not physically able, for whatever reason, to come to the museums. She says:
"It is something that I am passionate about, and that I advocate for. I have always been a believer in the power of culture. I think that everyone should have opportunities to participate in culture and that there should not be barriers to access.
Outreach programmes at Sharjah Museums
Over the past decade, Ataya says, museums have been increasingly proactive in trying to diversify audiences. For Sharjah Museums, this means a number of strategies, from offering a range of languages to increase accessibility, to social responsibility initiatives:
"We offer audio tours in Chinese and Russian, for example, for people who are coming as tourists. And we reach out to groups who can't come to the museums. We have a program for young cancer patients, we come to the hospital when their condition allows, and conduct workshops on-site with their families. Promoting wellbeing is central to a lot of our activities."
"Enhancing our diversity and our audience is connected to social responsibility. If we only wanted to take care of collections, in the purest and most boring definition of a museum, it would mean we weren't concerned with who comes in, or what they want or need. That's absolutely not what we think our museums should be."
Museums for the community
To Ataya, museums should be community centres:
"They should be places where a community should be able to come and feel safe. A space that it is, to some degree, theirs. Somewhere that they can use for other activities that are not necessarily museum-related.
"We provide space for book clubs, for instance, for poetry readings, and for people from the community who want to use the space.
"In terms of social responsibility," she adds. "I think everyone in any community has a responsibility towards it. For Sharjah Museums, as of 10 years ago, we implemented a campaign or initiative called Because We Care. Underneath that umbrella initiative was everything we could do to be more connected and more relevant to the community around us."
"One programme is working with cancer patients. Another is working with inmates at correctional facilities. There is an autism initiative as well as programmes for people with impaired hearing. Another example is the Museums Express. This is a project we launched about a year ago for bringing the museum experience to schools which otherwise would not be able to visit a museum."
The Museums Express
The Museums Express bus initiative enables school students in remote areas, to access museums across Sharjah. Ataya instituted the initiative when she realised there were schools prohibited from visiting the museums by the length of the journey.
She says: "I thought. 'How are we going to make this work? We can't bring them here. Maybe we can bring the museum to them.' And that's how the Museums Express was born. It's a coach that has been fitted out as an exhibition."
"The name Express refers to the bus, and to the fact it is a quick experience. It gives the kids an idea of what it's like to look at objects, to read panels, and have someone explain to them the importance of this ship model, or that particular compass, or this Islamic pottery."
Working with education specialists
As well as being a mobile exhibition, the bus serves as an onsite workshop conducted by education specialists.
"We often invite well-known artists from the UAE who volunteer their time to engage with the students, help them understand the importance of the topic, whether it's a particular art form, abstract art, or maybe it's about understanding something to do with Islamic history."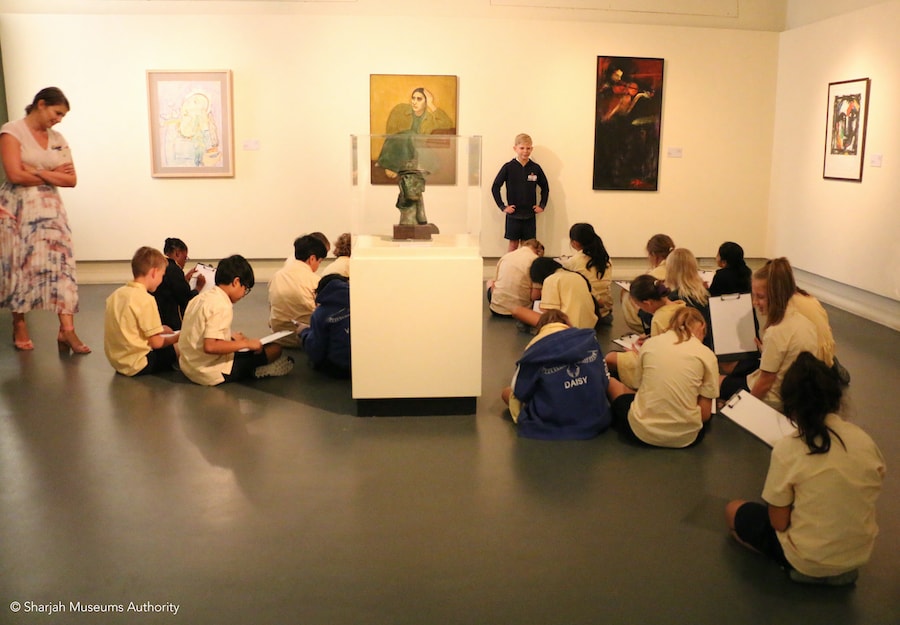 Objects with a common thread are selected for the bus from across the diverse collections.
"At the moment," says Ataya, "for this particular bus, the topic is innovation. In maritime history, for instance, this might be the invention of the navigational compass; in art, it might be a new art movement. We hope, firstly, that the exhibition and the workshop will be a great experience for the students.
"Then we hope that it will encourage them to go home to their family and say, 'I really loved what I saw on the bus. I really love, for example, the archaeological material. Can we plan to go to the archaeology museum one weekend?'
"Thirdly, the Express is about planting the idea of innovation and creative thinking."
Innovation and creative thinking
No innovation, says Ataya, comes without the foundation of creative thinking:
"To think that way means to think outside the box, to think differently about what you see. Learning from so many diverse topics allows you to be more creative. Because you have all these different kind of ideas and perspectives and knowledge to build from."
We had always been quite open to putting things on digitally
During the coronavirus lockdown, a wider audience was able to access the museums in the digital space. This is something that Ataya envisages will continue.
"We had always been quite open to putting things on digitally. I think we're one of the best museum entities, in terms of having a user-friendly website, and being very active across social media.
"We also had an initiative which we ran over five years ago where we had collections from one of our museums, The Sharjah Museum of Islamic Civilisation, online on the Museum With No Frontiers (MWNF) website. It was curated with other museum collections around the world."
Sharjah Museums go virtual
The Sharjah Museums Authority has always worked to optimise its visibility, says Ataya.
"Where we can, we have always had any publications and our exhibitions available to see, but never in the way of a virtual tour, so to speak. So, in a way, this situation of COVID really helped us move forward because we realised it wasn't that difficult to go ahead and do that. And we did.
The permanent collection of Arab art is now accessible online as a virtual tour. One collection under the Sharjah Museums aegis is a long-term loan from the Barjeel Foundation.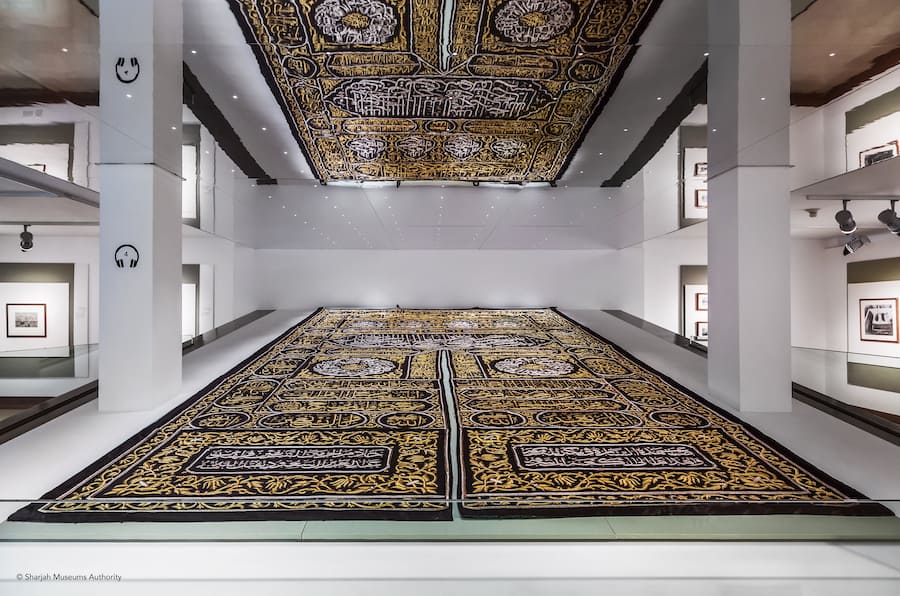 When the Sharjah-based Barjeel Art Foundation closed its gallery space in the Maraya Art Center in 2018, it sent over 100 modern works by Middle Eastern artists, one of the best collections of Arab modern art in the world, to the Sharjah Art Museum.
"We're lucky to have that collection of over a hundred paintings and sculptures now available as a virtual tour. The exhibition that we opened in February, unfortunately just as the COVID pandemic struck, is also now available virtually. The exhibition is Homebound, the work of an Ethiopian photographer, Aïda Muluneh: a wonderful work, covering themes of gender and race."
Fairytales come true
Those who live locally and can access the museums physically can see the exhibitions in person. They can also enjoy the new Hans Christian Andersen exhibition that also opened in February.
"It is called FAIRYTALES COME TRUE," says Ataya. "It's a really lovely exhibition, very immersive, that is primarily geared towards younger audiences. It's really beautiful."
View this post on Instagram
Organized by the UAE Board on Books for Young People (UAEBBY) in partnership with Sharjah Museums Authority, it is the first Hans Christian Andersen exhibition in the Arab region and runs until April 2021.
A series of display rooms mix analogue and digital, showcasing famous and lesser-known stories. These are presented through interactive items, props, technological solutions as well as replicas of Andersen's drawings and papercuts.
Visitors return to Sharjah Museums
Since reopening, Sharjah Museums has seen a surge of visitors.
Ataya says: "Of course we are limiting numbers, but we're confident. People feel safe to come back, because the country, in general, has handled the crisis well.
"There have been double-digit thousands of tests done daily. We have all the provisions in place, and medical care is really good. We were fortunate that our government reacted very quickly to the situation, resulting in much lower numbers of infections than has been the case elsewhere."
Things are beginning to return to normal, as far as possible. Ataya outlines the situation:
"Some kids are going back to school; others are continuing to learn online. We've been able to open the museums, though we aren't holding workshops, as yet. We are continuing to be able to provide resources online, including webinars, which are a new offering."
The virtual and the physical
Events that would formerly have been held in the digital space are now online. For instance, virtual lectures, virtual webinars, panel discussions and more. This, Ataya says, is something that will continue:
"COVID opened our eyes to the possibilities of what was already there to be utilised. We hadn't, because we had the physical space."
Losing that physical space, albeit temporarily, made exploring the digital space a virtue of necessity.
However:
"I think we all know," she adds, "That being somewhere physically is always more meaningful. You could send me a virtual tour of somewhere beautiful, Crete, for example, and it might be amazing. But I think I'd want to be there. I think I'd want to feel the water and walk on the beach. There are certain things that the virtual realm cannot replicate.
"It's great to have the option of looking at beautiful photos and video, of course. Especially for all of us who can't travel now. I find it brings me comfort, but I know that one day, when I get the chance, travelling there physically will be such a wonderful experience.
"We will continue to offer online resources and experiences. Not as a replacement for the real thing, but as an addition."