The family-friendly, hands-on science and technology centre in San Jose welcomes half a million visitors a year.
Under the leadership of President and CEO, Tim Ritchie, The Tech Interactive is renowned for the creation of immersive STEAM [Science, Technology, Engineering, the Arts and Mathematics] education.
The institution is dedicated to the development of the next generation of problem-solvers. It does this through several different programmes. For example, its annual team design competition for youth, The Tech Challenge. It also has programmes such as The Tech for Global Good, which celebrates those doing work to benefit humanity.
In 2015 The Tech was awarded the National Medal for Museum and Library Service. This is the highest honour a United States museum, science centre or cultural institution can achieve.
A career switch
Tim Ritchie earned his bachelor's degree from Davidson College and his law degree from Duke Law School. He then went on to get his master's in public administration from Harvard University. Ritchie joined The Tech in 2011 from the McWane Science Center in Birmingham, Alabama, where he was the president and CEO.
Prior to leading science centres, he practised law and led education programs in a large public housing community. He also led an organization that creates employment opportunities for adults with disabilities. He says:
"I was practising law in Birmingham, Alabama. Then I left my law practice to work in a large public housing community.
"I worked with a lot of kids and saw how good they were at technology, and how good they were at informal learning. Despite the fact that the formal educational system didn't always serve them well. If there was something technological on a phone or another device, it very much engaged them."
Next to that housing community, the new science centre for Birmingham was under construction.
Working with the community
"I got to know their leadership pretty well and talked with them about creating a school, the Birmingham Urban School. One that would be connected with this museum."
While this school didn't work out, after Ritchie finished graduate school, he then spent six years working with adults with disabilities. In this role, he helped them to access community-based opportunities.
After this, he was recruited to go back to Birmingham to run the science centre, and then to The Tech.
"There is a common denominator through all this," says Ritchie. "And that is the power of informal education to enable people to fulfil their potential, whatever that happens to be. For example, people with disabilities, or for those kids born into poverty. Many have a lot of talent; education gave them an opportunity.
"That, briefly, has been my career path."
Tim Ritchie and The Tech Interactive
Since joining The Tech Interactive in 2011, Ritchie has contrived to make it into a vital community resource that engages people. The centre works to encourage visitors to discover their own problem-solving capacity. Under his leadership, The Tech has developed partnerships with schools and created teacher training programs. It has also focused on equipping girls and low-income students to engage positively with STEAM subjects.
Outlining The Tech Interactive's origins, he says:
"The Tech was created through the advocacy and determination of a small group of people from the Junior League of Palo Alto, California. They had seen what the Museum of Science and Industry of Chicago had done for that part of the country. And they wanted something similar for here.
"So they pushed and got some of the most notable people in Silicon Valley at that time to agree to lend their credibility to the idea of building a tech museum here. These were Bill Hewlett, Dave Packard, Gordon Moore, Bob Noyce and Bob Swanson.
"So that's one part of the story: the creative leadership of a group of very smart women from Palo Alto, beginning in 1978."
The origins of The Tech Interactive
The Tech, he says, did not actually begin as a museum:
"It began as a science competition and its first program was The Tech Challenge. That is very important, because, deep in our DNA the purpose of The Tech has always been problem-solving, right from the beginning."
"Fast forward to 1998, and The Tech put on the clothes, so to speak, of a traditional science centre in this beautiful building in downtown San Jose. Even though on the inside it was really a problem-solving space.
"When I got here in 2011, my mission was to revive The Tech. I realised that the way to do that was to embrace that early notion of this being a space where people had open-ended problem-solving experiences."
Partnerships with schools
Developing partnerships with schools has been key, as Tim Ritchie explains.
"I think it is important for museums to understand how limited their impact can actually be. And, conversely, how big that impact can be if it's part of a collective effort. The biggest way to impact kids is through schools: that's where they are."
There are over 100,000 children in school in the districts immediately surrounding The Tech Interactive.
"We realised early on that the most obvious way for us to have a significant impact on kids was through teachers. And the biggest way we could have an impact on teachers was not through the subject matter. Instead, it's through this basic notion of helping them construct a class that enables kids to discover their problem-solving powers.
"That's actually what we're pretty good at. It is what we started with The Tech Challenge. We have a whole program designed to help kids discover their problem-solving power. Then we did a bit more of that within The Tech itself with our exhibits.
"By expanding that to the classroom, we were able to raise about 10 million dollars. This enabled us to create a program called The Tech Academies. Through this, we partnered with the 10 districts around The Tech to train as many teachers as possible.
"Our vision is that in the next 20 years we will have trained every teacher to bring problem-solving pedagogy into every classroom. Not just math and science, but into humanities as well."
Engaging girls with science
Engaging girls with science subjects is another focus. "Remarkably, girls were more engaged with science, computer science in particular, in the seventies and eighties than they are now," says Ritchie.
"Something has happened. There are many reasons you could point to. However, there is positive change happening now. The most recent tests show that girls are actually eclipsing boys in computer science and in other sciences. So, it's clearly not an ability thing. It is a problem that's being rectified pretty quickly at the school level.
"Where it's not being rectified, though, is in the workplace. It's also not being solved culturally, which is a whole separate set of issues.
A collective impact, Ritchie maintains, is important because no single institution, even the school, can adequately address the issue of the difficulties facing children from low-income families.
A global problem
"It's an issue that in the Bay Area is getting worse because of the cost of housing. The future so much belongs to people who can use science and technology. If you don't get that early, then you will have a very difficult time succeeding in a technology-driven world. That's just a fact."
"It is a global problem," says Ritchie. "This is a community that is quickly moving more towards private gain rather than public good. It's a profound societal issue, and it is spilling over into the rest of the country, and globally, too.
"People really don't think that the wellbeing of their neighbour is their responsibility, and that is not going to bode well. We have seen in history what that attitude leads to."
Solving issues with science and technology
Tim Ritchie identifies something that needs tackling before a concerted effort can be made to address the challenges – climate change, pollution and so forth – facing the world.
"The environment question, strangely, is easier to answer. Because it is the environment. It is not like education, or closing the opportunity gap, or having people care about their neighbours. That is a much bigger question. If people don't care about their neighbour, if they don't care about the earth, it will be too late."
"If we do, however, see it as our collective and individual responsibility to care for each other, to care for the earth, to live humanely, to live sustainably? Then science centres can play some big roles.
"This could be giving people hope that technology can help us address climate change. Or hope that an AI future does not have to mean a loss of employment.
"There are a lot of things we can do related to hope, but we have to be tagged into a larger collective impact effort.
"We can be catalytic. But no institution on its own can address the giant issue of helping people to learn to care for each other and care for the earth. We can play a role in that, but it is a discrete role."
Turning things around
Tim Ritchie does not feel it is beyond question that humanity will be able to transcend selfish tunnel-vision in time to save the world.
"I drove across the country a few weeks ago," he says. "I spent a lot of time in places like the Grand Canyon and Bryce Canyon. Places where you can see deep geological time made visible."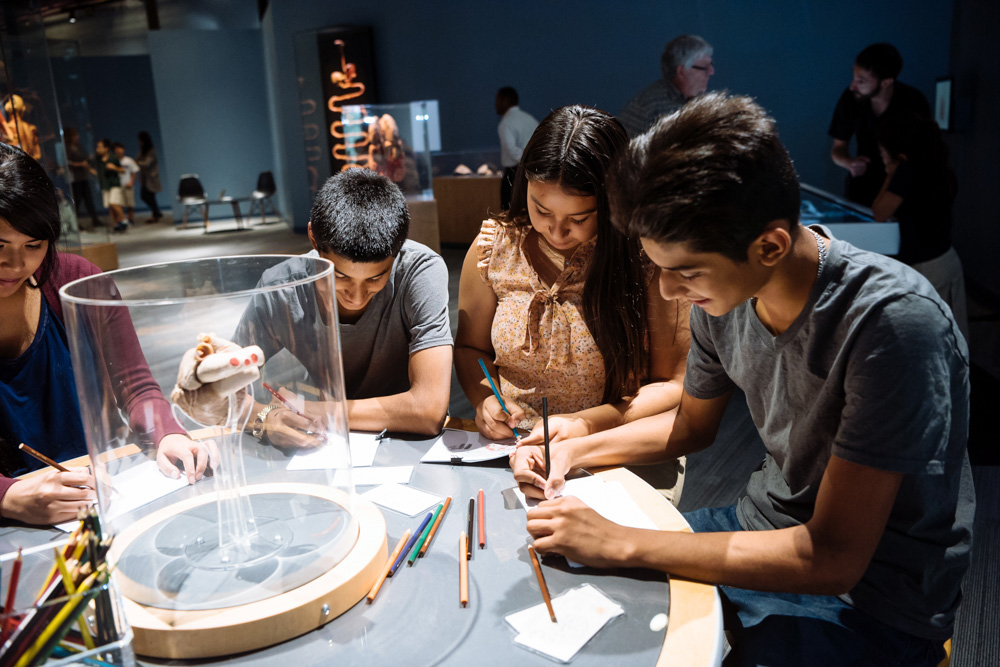 "You can see a billion years' worth of time in the Grand Canyon. Then you realise how short the Anthropocene era is: 100,000 years, which is nothing: a blip on the screen. The evidence suggests that we will destroy ourselves without a fundamental evolutionary change.
"Martin Luther King Jr. once said, 'Let us realize the arc of the moral universe is long, but it bends toward justice.'
"To change that a little, I would say that the arc of human societies bends toward creating a good society. If we had 100,000 years to work on it, I think we'd probably be okay; we could learn. I do think we bend more towards goodness than we do badness.
"But we may not have 100,000 years; we may have only 50. The question is whether we can face up to what is really at stake, and do enough self-sacrifice to care for each other, and for the earth."
Tim Ritchie on the importance of science centres
Can a science centre like The Tech Interactive help encourage that spirit of selflessness?
"To answer that, I'll explain how I think people should feel when they leave a science centre," says Tim Ritchie.
"I think they should come, and they should experience something like awe. We want them to go 'Oh, my goodness: I had no idea'. The second thing that people should feel is a sense of belonging or connection."
"Then you get to the real opportunity: the third element is confidence. 'So humanity can solve these problems!'
"For instance, we are doing an exhibit on technology and sustainability in the near future. We focus on how there is no question: we can solve this problem. People will leave feeling that not only can humanity solve this problem, but they can play a role in that on an individual basis.
"The fourth and final element is that sense of agency: 'I can do something about it.' Whether that concerns the future of work, the future of the environment, healthcare, education.
"A cultural institution generally, and a science centre in particular, should have those elements. So, when a person leaves they feel more hopeful and have a vision of a better life and a better community."
All images kind courtesy of The Tech Interactive