Technically Creative, the immersive experience expert, is a new company on the attractions scene, based in York in the United Kingdom.
Technically Creative launched in July 2019 and has already completed several successful projects for clients within the attractions industry. It is the creation of Marc Broadbent, Managing Director, who began the company when he spotted a gap in the market.
Marc Broadbent has over 30 years of experience in the fields of electronics, programming, AV and laser animation projections. In addition to this, he also brings more than 12 years' experience with interactives to his new venture.
Technically Creative offers everything in-house. This is thanks to its team of electronic programmers, electricians, software developers, network engineers, AV engineers and technicians.
The company aims to be a one-stop-shop for attraction experiences, providing a wide range of services. This includes concept design, R&D, programming, animation, workshop building, electrical & lighting, AV, Special FX, show control and installations.
Blooloop spoke to Marc Broadbent to find out more about his career to date as well as the inspiration behind this new company. He also spoke about some of the projects that his team has completed over its first year of operation.
Marc Broadbent and Technically Creative
From an early age, Marc Broadbent has had an interest in electronics and laser technology.
"From the age of 12, I have been involved with electronics and I owned my first laser at the age of 14," he says. "I later had an apprenticeship with a laser display company. Then, by the age of 19, I purchased that company and ran it myself for 15 years."
"At that point, I started work for Paragon Creative, first as an electronic and installation engineer. I then progressed up to technology manager, where I expanded the department's service offering and built a reliable team.
"Upon the fall of Paragon Creative, I had only one very easy choice! And so Technically Creative was formed."
Seizing a gap in the market
Talking about the launch of Technically Creative, Marc Broadbent explains more about the aims of his new company:
"My goal was to create a truly one-stop-shop for all attraction requirements, meaning we keep a tight grasp of the creative delivery.
"I am proud to say that my vision has now been achieved thanks to a wonderful trusted team of industry experts. Only this week we had a major brand client and their team visit our headquarters for a project progress inspection."
My goal was to create a truly one-stop-shop for all attraction requirements, meaning we keep a tight grasp of the creative delivery
"They were delighted with the results of our creative and technical interpretations. We strive, with all our projects, to exceed the expectations of our clients. A pristine reputation is key in our business developments going forward.
"Technically Creative is committed to providing the visitor attractions and destinations market with state of the art creative technical services and creative products. We are also helping to advance the perception of immersive entertainment and experiences across many traditional and new advancing fields.
"Our clients range from theme park and FEC operators to point of sale and marketing features. Our services include product development, interactive software and immersive multi-media technology, lighting and electrical, show control, AV design programming and installation, animation and film production, props, scenic theming and fit-out.
"Furthermore, this is all created and project managed in house."
A carefully chosen team of experts
When he began the process of setting up Technically Creative last year, Marc Broadbent put a lot of effort into finding the best possible team for his new venture.
In fact, between them, the Technically Creative team has who between them have over 115 years of combined experience in the attractions industry. Marc Broadbent's staff have worked on a diverse range of projects before joining the company, including Kidzania in London and Abu Dhabi, Walking Dead at Thorpe Park and the IOC Olympic Museum in Lausanne.
"Our team have been cherry-picked by myself for being the leaders in their fields," he says. "From electricians to technicians, project managers to network experts, 3D modelling, conceptual artists and experienced industry leaders, I believe my team is the best in the industry.
"Not to mention that all of the team share one important quality. They all share my creative vision, from technical benchwork to possessing visionary project management."
Early successes for Technically Creative
One of the company's biggest projects to date was with Xplore, a ground-breaking FEC in Athens, Greece. This is a unique attraction on the outskirts of the Greek capital which provides fun and educational experiences for guests of all ages.
Here, Technically Creative was hired to add its creative flair to three of the FEC's sections, the "Exploratorium", "Adventureland" and the "Aquarium".
One of the new products that the company designed and created for this project is the Virtual Village. Here, visitors can use various transport types, such as boats, planes, trains and cars, as physical hands-on models. When they place these on the sensing internal projection table, it can tell what type of transport has been placed and where. Then, it uses live rendering software to build a virtual village in real-time.
Visitors to Xplore can now enjoy over 14 new interactives as the result of the project. Plus, in addition to providing exciting new exhibits, Technically Creative also provided the lighting, show control, electrical control system, audio and PA systems throughout the centre.
Projects that run smoothly
Thanks to the company's one-stop-shop business model, projects such as this are able to run smoothly without requiring extra subcontractors.
On the work done with Xplore, Marc Broadbent says, "From inception, through design and with great input from the client team I'm very proud for the company and my team to have played a major part in delivering this magnificent project."
"We like to think that a happy client is a successful project well delivered," he adds. "To date, this has been the case every time and without fail, whether our clients are based in the UK or internationally."
A new range of products
Last month, Technically Creative also launched three innovative off the shelf products. These are designed to give operators an opportunity to add some magic to their attractions.
These three new products are Step and Play, a giant interactive keyboard; the Town Planner, an interactive VR landscape creator; and the Magic Sand Pit, which brings imaginative landscapes to life.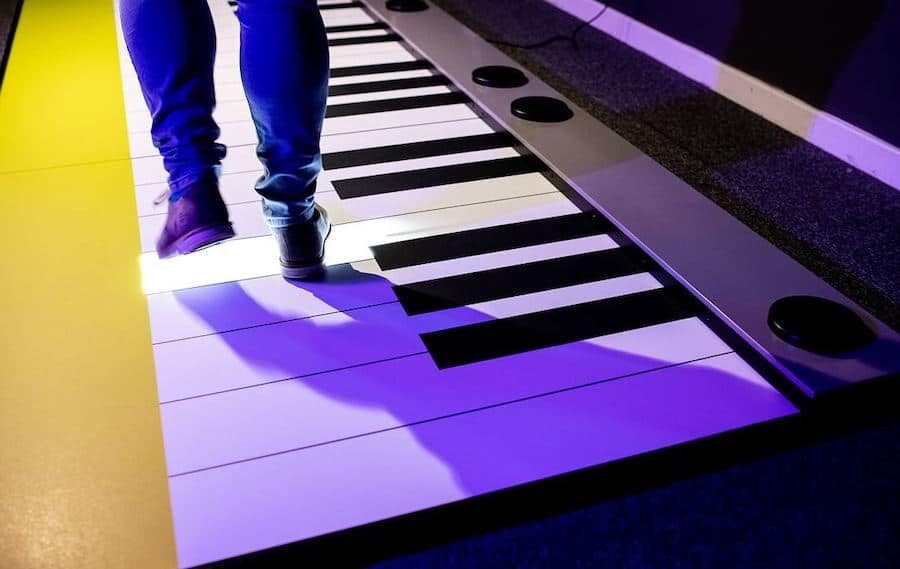 Step and Play is a standalone, plug and play attraction. This is convenient for many different types of attractions from FECs and museums to retail locations. Visitors will enjoy stepping onto the giant keyboard and seeing the keys light up where they stand. They can also follow note guides to play engaging music, or even make it up as they go, embracing creativity.
Encouraging creative play
Meanwhile, the Town Planner is an interactive VR landscape creator. This uses the latest sensory technology as guests build their own virtual town. They are able to place different types of blocks to create roads, paths, rivers and more. Once complete, they can watch it come to life on the feature landscape screen above. Each user will be able to design something truly unique.
The final new product, the Magic Sand Pit, lets visitors dig and sculpt sand. Meanwhile, a projector turns their work into reality. Then, before their eyes, volcanoes will erupt and rivers will flow. They can even see dinosaurs exploring the terrain they create.
Marc Broadbent says the team is proud of these latest products:
"We aim to pioneer magical interactive and immersive experiences. These are inspired by what we can make possible, against what is not currently out there. Through our expertise and creative flair, we make fun features come to life!"
The impact of COVID-19
On the impact of COVID-19 on the company, Marc Broadbent says Technically Creative is in a strong position.
"Luckily, we were in a great position, with work scheduled up until the second half of 2021. The visitor attractions and theme park industries are working hard to address the social distancing issues. And we are able to play a big part in this as partners for them."
"Conversely, unfortunately, the more specific museum industry is seeing downturn as a result of the pandemic. This partly down to current restrictions and self-care precautions, understandably."
The future of Technically Creative
Having been in business for just over one year, Technically Creative has certainly hit the ground running. It also seems well placed to weather the current storms. The team has plenty of exciting projects in the pipeline going forward, as Marc Broadbent explains:
"We are branching out! Technically Creative is collaborating with other major creatives to create a truly one-stop-shop. We are also utilising many different techniques and skills, from film, scenic and props to web and event shows. All these services add up to create an immersive and entertaining wow factor."
"Technically Creative will continue to expand and grow," he adds. "Being a private company, we are in full control of our destiny. I will never allow the company to grow out of control. The business needs to be built on solid foundations, which cannot be taught.
"Thanks to our work as well as our collaborations with our industry partners, the easter egg for me is to deliver exceptional installations. Ones which will not be watered down by rapid growth."
Progressing the immersive attractions industry
"We are a passionate and friendly company. We consider ourselves fortunate to be supporting the attractions and entertainment industry, which is so important to our cultural heritage. Especially in these restricted times."
What we are currently working on will not only set new industry standards but is guaranteed to showcase the most impressive facility of its kind worldwide
"We like being part of an industry family. It is a family that works so hard to help progress the immersive attractions industry. Alongside so many other talented providers and operators.
Finally, Marc Broadbent finishes by giving a tantalising glimpse into the company's future projects:
"What we are currently working on will not only set new industry standards but is guaranteed to showcase the most impressive facility of its kind worldwide, and that is a fact. While I cannot reveal details at this time, watch this space. I can guarantee that the results will be truly amazing!"