It holds collections on archaeology, ethnology, the natural and physical sciences and more.
Anne Fahy, Head of World Museum at National Museums Liverpool (NML), talked to Blooloop about her role, the museum, the forthcoming More Than Human AI exhibition, and coronavirus.
Fahy knew that she wanted to work in the museum sector when she was still at school:
"I discovered archaeology and went on digs in Chester and Liverpool," she says. "I must admit that I wasn't so keen on the digging itself, but I was really interested in the finds from the digs. They were tangible links to the people who had lived on the sites long ago."
Fahy also spent some time in Liverpool Museum (now World Museum) and knew then that she wanted to work as an archaeological curator. She took a degree in archaeology, and then worked on excavations in the UK and abroad
"I loved the idea of making the past available through displays. My friends who wanted to be accountants thought I was weird! Over the years, my interests have broadened. I moved away from archaeology and became interested in other collections, and how we look after and document them."
World Museum
Having worked at the Tate Gallery and Victoria and Albert Museum in London, and at the University of Leicester where she taught Museum Studies, she has worked at National Museums Liverpool for over 20 years. During this time, Fahy has held a variety of roles concerned with collections and their care.
"It has given me a wonderful overview of our amazing collections," she says. "Then last year, I became Head of World Museum. Our collections are really broad: botany, entomology, vertebrate zoology, geology, scientific instruments, clocks and watches, rockets, antiquities from Egypt, Britain and the Mediterranean, and material from cultures in Africa, Asia, Oceania and the Americas."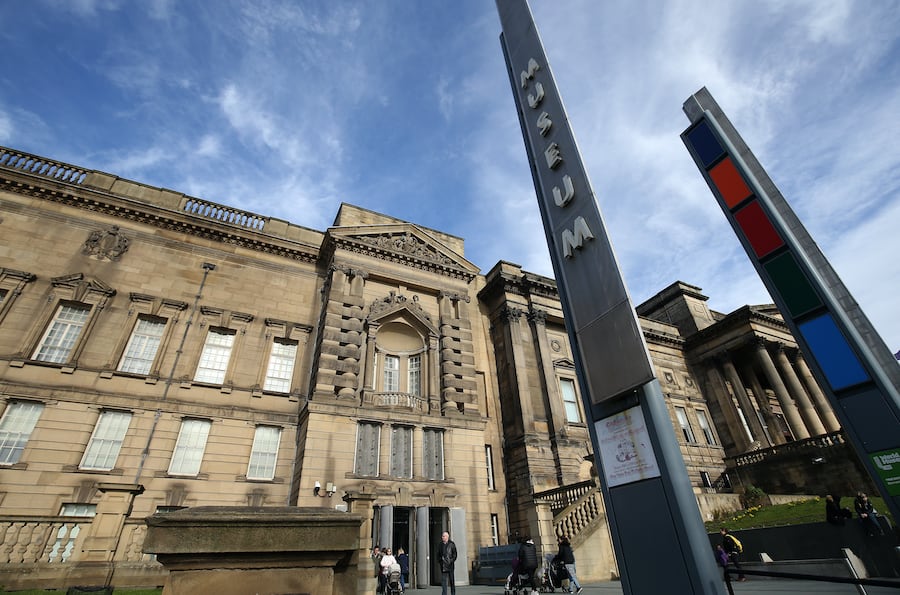 "I love the fact that every day I can see something different. I have learnt so much, and continue to do so."
World Museum is the oldest museum within the NML group:
"It has had different names in its time. But has been known as World Museum since 2005. Our founding collection came from the estate of the 13th Earl of Derby. When he died in 1851, Lord Derby left his collection of over 20,000 natural history specimens to Liverpool's City Council. On the condition that they found somewhere to house it and paid for its upkeep."
The evolution of a museum
Known originally as the Derby Museum, it opened in 1853:
"It was in this building in 1857 that the aquarium opened," says Fahy. "This was only the second public aquarium in the world (the first being the Fish House at Regent's Park Zoo in London which opened in 1853).
"From the first, it was clear that the Derby Museum in its current building wasn't big enough. So, in 1861, a new museum in its current location on William Brown Street opened to the public. The displays remained overwhelmingly natural history material, with an aquarium in the basement of the building."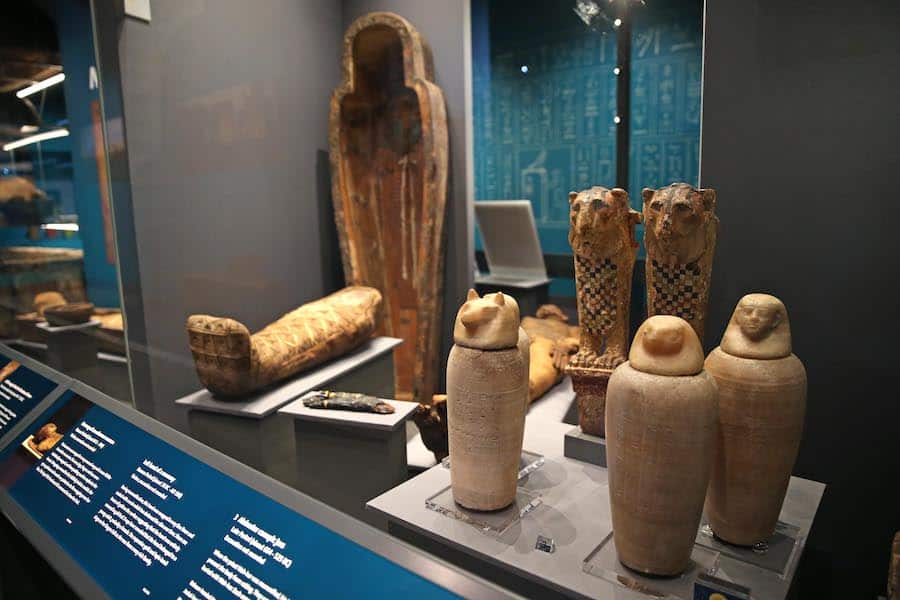 The second important collection to be acquired was that of local goldsmith and antiquities collector, Joseph Mayer:
"He was interested in Central America, Medieval European manuscripts, ivories, enamels and ancient Egypt. In 1851, Mayer opened his own museum in Liverpool, called The Egypt Museum, but it only displayed a small part of his collection. In 1867, he donated his fabulous collection of antiquities, ethnology and art to the Museum."
During World War II, Fahy explains, part of the Museum and collection were badly damaged and destroyed by fire when the Library next door was bombed in 1941.
"The Museum was closed until 1956 when a small part opened to the public; in 1970 the entire building reopened. It included a new Planetarium, which was claimed to be the first English public planetarium outside London."
National Museums Liverpool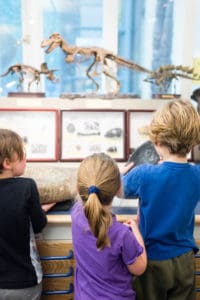 In 1986, the National Museums and Galleries on Merseyside was created (including World Museum) and became the only English national museum solely based outside London:
"The Natural History Centre opened to the public in 1989. It had 10,000 specimens from the natural history collections available for the public to see and included trained specialist demonstrators to interact with the public.
"Following a major architectural project completed in 2005, the World Museum is as it is now, under the umbrella of National Museums Liverpool.
"The Natural History centre was renamed and opened in a new and improved centre. The Clore Natural History Centre continues to focus on natural history and follows the same template as the Natural History Centre.
"At the same time, the Weston Discovery Centre opened, which covers human history.  Both of the centres provide hands-on experiences for the public and school groups and are extremely popular with visitors and school groups."
AI: More than Human at World Museum
The innovative exhibition AI: More than Human was due to open at World Museum in Liverpool this summer.  Following the pandemic, the exhibition will now take place from 22 January to 20 June 2021.
Through immersive artworks, scientific developments, and opportunities for visitors to interact, AI: More than Human explores the relationship between humans and technology, and what it means to be human.
"We are really excited to be bringing this exhibition to Liverpool," says Fahy. "We will be providing a programme of additional events for our visitors linked to the exhibition. This includes AI-related films for children during the school holidays.
"There will also be a series of specialist talks around AI themes and AI-linked activities for a range of audiences. We won't be changing the overall content of the exhibition, as we don't want to lose the overall message and creative vision of the exhibition creators, the Barbican Centre, London and The Forum in Groningen."
AI in everyday life
"However, to give it our own World Museum twist, we are going to provide some additional interpretation to help our visitors engage more fully with this very thought-provoking topic," says Fahy.
Eve, our photographer, for the night is stealing the show & giving guests a taste of what's in store at AI: More than Human at @World_Museum next summer 📷 #NML2020 https://t.co/eBOsT9FAe4 pic.twitter.com/7aNfr7U2Dk

— National Museums Liverpool (@NML_Muse) October 8, 2019
"One of the messages that we want to get across is how much AI is already a part of our everyday lives, without us knowing it. And that there are many facets to it. The good, bad and everything in between. It is moving very fast. In the last section of the exhibition, we explore the possibilities of AI through artworks."
Reaching new audiences at World Museum
In terms of the perennial question of engaging new audiences, Fahy feels the exhibition will be particularly valuable:
"Every museum wants to expand its audience base, and we are no exception. We have a very strong and loyal local and regional audience. This comprises of families and young children who visit World Museum several times in the year."
"There is so much in World Museum that it is impossible to see everything within the space of one visit. The challenge is always to find something that will appeal to new visitors. But also to retain that magic that brings back our regular visitors.
"I think that AI will do that. It has that appeal to bring in that younger demographic (16-24-year-olds). It has some really interesting items in the exhibition that you might not necessarily associate with the topic. For instance, references to graphic novels such as the Marvel comics, The Hulk, and clips from cult films such as Bladerunner.
"The last section of the exhibition looks at how AI might evolve. It has some exciting artworks produced in response to the theme. We also have a Young Ambassadors group. In addition to this, we have several industry-focused talks to go hand-hand with the topics that arise from the exhibition."
People and technology
Expanding on the relationship between people and technology, Fahy says:
"One of the things that attracted me into archaeology was how humans have developed ways of improving life and making tasks easier to complete through technological developments, and how those developments have changed the ways in which we live."
Digital technology has become so embedded in almost every aspect of our lives, that we take it for granted.
"I find it hard to remember what life was like before everyone had mobile phones and personal computers. One of the key elements to me is that there is so much information available and it is so immediate.
"On the one hand, this is fantastic. But it also makes it harder to discern which information is real from verifiable sources and which is not. The pace of life is much faster because communication is so much easier. While that can be good, it also means that we don't always take time to reflect on things and to make considered responses.
"In some respects, it has become an extension of ourselves. Thinking about platforms such as Facebook, it has given everyone the potential to express themselves, to make their views known and to link up with like-minded individuals across the world. Technology has made the world a much smaller and more immediate place."
World Museum in the 21st Century
Defining the function of a museum in the 21st Century, Fahy says:
"For me, it is to provide a safe space for visitors to have conversations and experiences which can be thought-provoking, challenging, educational and fun, too. World Museum is 160 years old, so our collections are historic as well as contemporary."
Like many museums in the UK, World Museum's collections reflect British history:
"We are part of a much bigger national conversation about the representation (and indeed ownership) of material acquired by museums in the 19th and early 20th century, especially through the British Empire.
"In the World Cultures Gallery redevelopment [#WMWhereNext], the curatorial team is working with different groups to bring new voices and perspectives into the gallery. We want to make explicit the hidden histories behind how the objects on display were acquired by the Museum."
"We are also a resource for anyone who is interested in what we have in our collections. It used to be difficult to make information about our collections available. But we now provide information online, which allows our collections to have a greater reach than ever before."
Supporting research
"Our important historic natural history collections are used to support research into current issues," says Fahy. "For example, changes in species distribution through climate change or land use, and DNA testing for species determination.
"We contribute data about our collections to large natural history open access aggregated databases, such as the Global Biodiversity Information Facility (GBIF). Researchers use this to inform species-based research, particularly in relation to world environmental issues."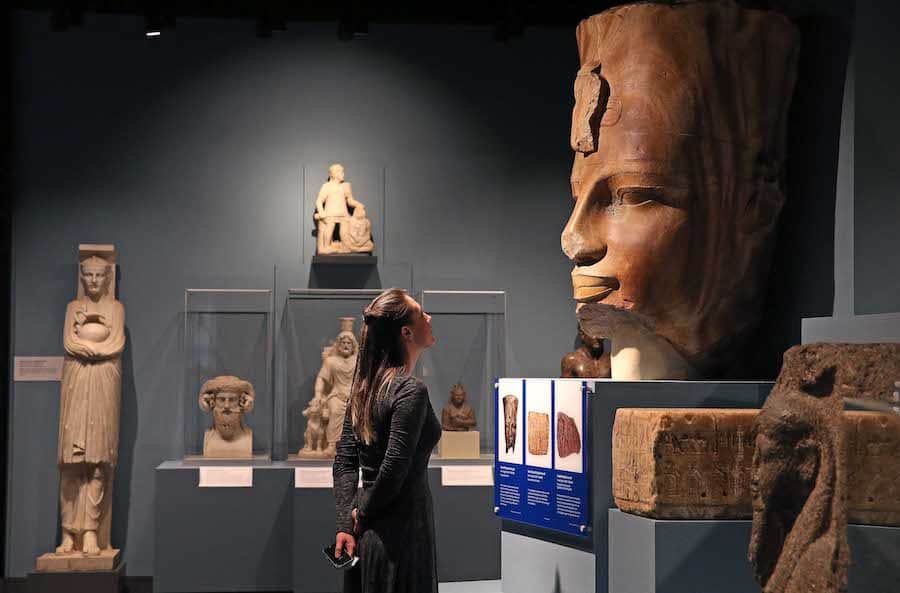 The antiquities collections are available to researchers through the website as well as in person.
"They are regularly used by researchers carrying out work into materials analysis.  As scientific analytical techniques develop, researchers are able to ask different kinds of questions. So, museum collections, especially the old historical ones are a great resource.
"On a local level, we work with schools and universities on species identification. We also provide resources for art projects and science projects, including DNA sequencing."
World Museum looks forward to reopening
Like all public institutions, World Museum has closed temporarily due to the coronavirus pandemic. It has now announced that it will open to the public once again from 15 July.
Fahy says: "Closing has been a great wrench for us; we love being open and meeting the public. We are continuing to look after our collections on display and in-store, and our fish and animals in the aquarium.
"Museums are long-term institutions, so our work doesn't stop. We are thinking about and planning projects that we can do online and when we re-open to the public."
Images kind courtesy of World Museum. Background image © Mark McNulty