AREA15 has announced that Wink World: Portals Into The Infinite will feature the Aliume 3D Psychedelic Art Gallery when it opens later in November.
Wink World is an immersive infinity room experience set across 1,500 square feet. It takes founder Chris Wink's fusion of whimsy, colour, art, technology and music to the next level.
Wink recruited rising star Alex Aliume to create a cosmic-inspired, 3D black light art gallery in the area that leads to the exhibit's first infinity mirror room.
Aliume worked with Wink to select 15 distinctive artworks that relate to the concept of infinity. Aliume's work also features within Wink World's sixth infinity mirror room, gift shop and façade.
Visitors to the Aliume 3D Psychedelic Art Gallery will receive ChromaDepth 3D glasses to make the colours seem like they are floating in separate planes.
Visitors will use ChromaDepth 3D glasses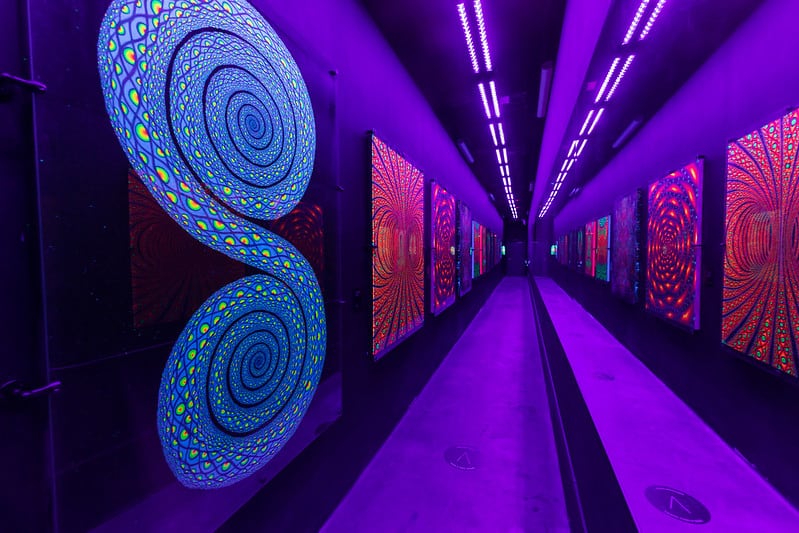 The ChromaDepth 3D glasses can be used to view sacred geometry designs by Aliume throughout AREA15, and are included in the ticket price to Wink World.
"This phenomenal effect makes you feel like you're literally going inside the art," said Wink. "Talk about immersive experiences – it doesn't get much more immersive than that!"
Wink World: Portals Into The Infinite is Wink's most ambitious art and entertainment project since he left Blue Man Group in 2017.
Aliume identifies as a mystic, visionary artist, lightworker and the creator of cosmic UV glow-in-the-dark, 3D psychedelic art.
"Feel like you're literally going inside the art"
AREA15 officially opened in September, before welcoming visitors to The Beast Pop-Up, a curated outdoor eatery by renowned chef and restaurateur Todd English.
Meanwhile, Meow Wolf has shared more details, as well as sneak-peek images and footage, about the mind-bending and thought-provoking experience that is Omega Mart.
Meow Wolf also confirmed that its second permanent location, Omega Mart, is on track to open in early 2021 as part of AREA15 in Las Vegas.
The opening date of the full Wink World experience will be announced soon. It is set to open in 2020.
Images: AREA15