The Australian Museum in Sydney is closing to the public soon in order to undertake a $57.5 million renovation called Project Discover.
The attraction is closing on August 19 to start work on improving the visitor experience, expanding public floor space, upgrading amenities, and adding new interactive education areas.
The renovation project, with a design lead by Cox Architects and Neeson Murcutt, received $50.5 million from the NSW Government. The Australian Museum (AM) still has $7 million to raise.
AM's Project Discover is scheduled to complete by early 2021 in time for the blockbuster exhibition, Tutankhamun: Treasures of the Golden Pharaoh.
Enhancing the visitor experience with more space
It will feature the most significant collection of objects and artefacts outside of Egypt and bills itself as the "largest and most impressive Tutankhamun exhibition to ever leave Egypt".
Project Discover will see the Australian Museum repurposing its existing storage space to expand the touring exhibition halls to 1,500 sqm across two levels.
The redevelopment will also add new education facilities, as well as a new museum shop, a second café, an expanded members' lounge, and more new amenities.
Accessibility will be enhanced, while circulation throughout the museum will be improved, with a new central staircase and new escalators.
Australian Museum's new interactive education areas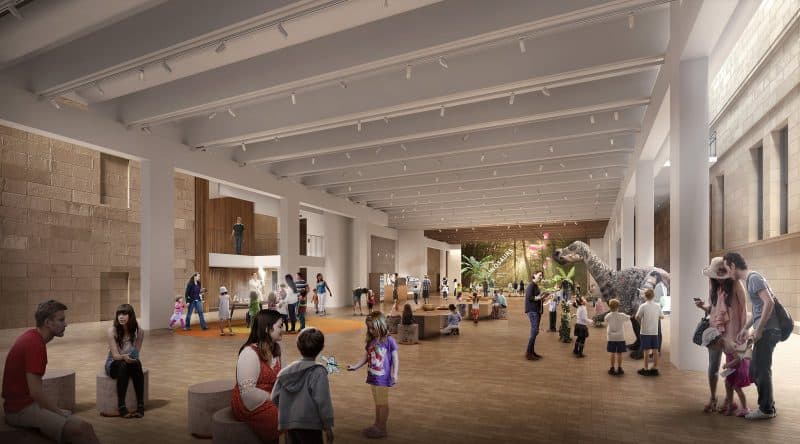 AM is also adding new interactive education areas for toddlers and children, and two new flexible education rooms that can be made into one big space.
The Australian Museum currently has 6,500 sqm of public space, making it hard for it to compete with other attractions, such as the Melbourne Museum, which has 40,000 sqm.
In more news, the Art Gallery of NSW's $344 million Sydney Modern expansion is paused as the hunt for a construction company is reopened. The expansion will double the gallery's size.
Images: Australia Museum