Silver Dollar City has announced a $23 million water raft ride, Mystic River Falls, which will be the highlight of a new themed area, Rivertown.
The theme park is investing a total of $27 million in the new land, which will also include the Rivertown Smokehouse – Silver Dollar City's largest dining investment ever.
Rivertown Smokehouse will serve the attraction's famous BBQ, and will have 450 viewing seats along the Mystic River.
The tallest drop in the Western Hemisphere
Mystic River Falls, an exhilarating, highly-themed attraction, will boast the tallest drop in the Western Hemisphere (45 feet) and is set to open in summer 2020.
The ride is themed to the history and legend of the Marvel Cave. At nearly a half-mile long, it includes hairpin turns, high tides, and a hidden mine shaft.
The five-minute rafting adventure also boasts an 82-foot-tall lift tower, with riders exposed to the open air as their rafts rotate during the climb.
Theme park investing a total of $27 million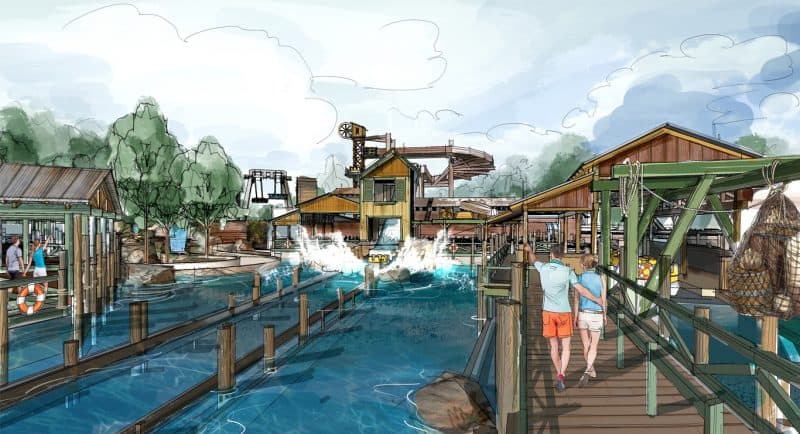 Rafts will connect to a 180-foot-long elevated river channel, suspended 66 feet in the air.
Ride stats for Silver Dollar City's Mystic River Falls
The tallest raft ride drop in the Western Hemisphere – 45 feet
Four-platform rotating elevator lift tower – 82 feet
Elevated river channel – 2,100 linear feet
Water capacity – maximum water flow 200,000 gallons per minute
Ride duration – approximately five minutes and 30 seconds
Vehicles – 18 eight-person rafts
Manufacturer – design and construction by Silver Dollar City in partnership with R.E.S., Barr Engineering and Herschend Family Entertainment Corporate Development.
The ride's storyline is set in the 1880s, with a fictional character called Pearl Brazen, an explorer taking guests on a quest to locate the headwaters of the Mystic River.
The new land and attraction are part of Silver Dollar City's 60th anniversary celebrations. The park is investing a total of $30 million in new offerings, which also include 'Pumpkin Nights' and 'An Old Time Christmas'.
Images: Silver Dollar City