Sysco Productions is bringing history to life through  engaging, interactive experiences at the stunning new Battle of Britain Bunker visitor centre and exhibition.
Located on the former RAF Uxbridge site, the exhibition reveals the pivotal role the Battle of Britain Bunker played in the defence of the United Kingdom throughout WW2.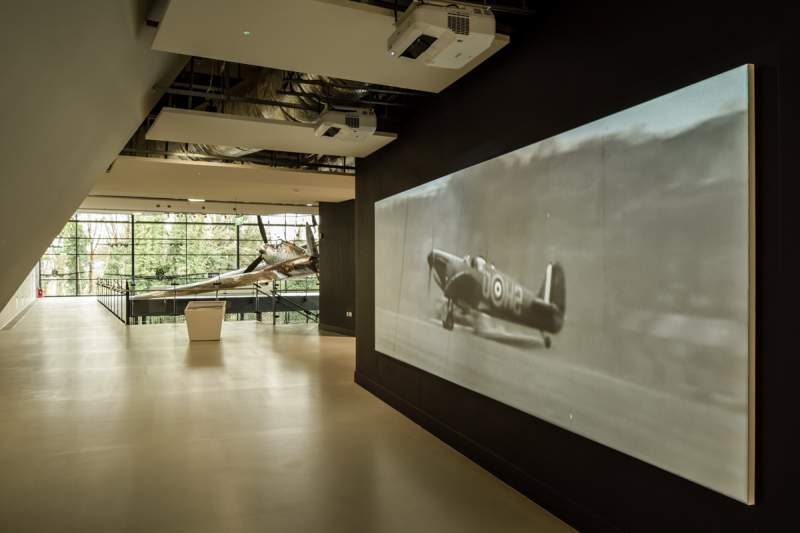 Housed on two levels, a combination of interactive displays, aircraft, machinery and archival material takes visitors on a journey through the development of the UK's innovative air defence system.
Visitors are greeted with a large-scale blended projection
Visitors are greeted with a large-scale blended projection of archive footage featuring a spitfire, with a tantalising glimpse of the aircraft displayed beyond. This leads on to the main exhibition space that features a timeline explaining the evolution of the air defence system and setting the scene for the story.
Descending into the underground display, visitors learn more about the No.11 Group Operations Room whose staff controlled air defence for south-east England. Looping archive footage shows the bunker in action, while touchscreen displays allow visitors to navigate the Operations Room through a 360° interactive experience. The latter provides access for those unable to go underground to the bunker and original Operations Room itself.
Audio adds another layer of authenticity to the experience. Visitors can hear voices from the past recounting genuine anecdotes and first hand experiences.
Delivering a 1940s message in a 21st century manner
"From the very beginning of our project, we wanted to include audio-visual and digital interactive elements to complement our wartime artefacts," explained Daniel Stirland, Senior Curator at the Battle of Britain Bunker.
"Sysco have helped us to realise this by incorporating large projections of original wartime footage, audio recordings of veterans, and touch-screen recreations of wartime technology that deliver our 1940s message in a 21st Century manner."
Among the highlights is a replica of the original and iconic plotting map table. Updated with modern technology, visitors can take control of events via three interactive touchscreens. Each of these is accompanied by a 1940s custom-made headset. Magnetic contacts hidden within the table are activated by the touchscreens. This enables visitors to move physical objects to specific positions on the table.
'The end result is outstanding.'
Visitors can even answer custom period telephones which ring when they detect movement. On lifting the receiver, the visitor hears a relevant, pre-recorded response, giving these historic events a surprising immediacy. Push buttons can also be triggered to activate an 'alarm' which creates a reaction in the wider exhibition area.
"Working with Sysco has been an incredibly easy process, and the end result is outstanding," added Stirland.
Sysco collaborated with Skellon Studio, Clay Interactive, Scena and Displayways on the project.