New designs for the renovation and expansion of the Cleveland Museum of Natural History have been unveiled, evoking the glaciers and waters of the Great Lakes.
The renderings reveal a new exhibit wing, as part of the museum's $150 million Centennial Campaign, featuring a curvy, flowing design.
"Our whole landscape in effect is shaped by water, by the impact of glaciers and water," said Paul Westlake, the architect who led the redesign (via cleveland.com).
CMNH's $150m Centennial Campaign
"The building is an interpretation of that fact."
On calling attention to climate change, Sonia Winner, CMNH President and CEO, said: "We're always going to present the facts and we're always going to make statements about what we know and what we don't know. That's part of our obligation to the community."
The Cleveland Museum of Natural History hired DLR Group / Westlake Reed Leskosky for the project, part of the $150 million Centennial Campaign – a capital campaign to transform every part of the museum's campus.
Renovations of additional education and gallery areas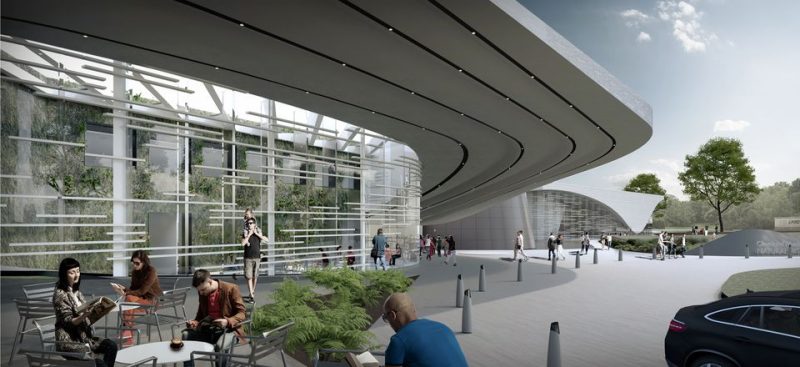 CMNH has identified new projects to revitalise the space, set for completion by the Centennial Celebration in December 2020, which include:
The renovation of the Kent H Smith Environmental Courtyard with major changes to the existing space, including the addition of a trailhead patio, new walkway paths that will meander through native plant species, and a state-of-the-art sound system for naturalist presentations.
The creation of a Science News Station – a hub that will provide up-to-date information about local and global scientific discoveries.
The renovation and expansion of Murch Auditorium and Fawick Gallery.
The attraction also plans to break ground in 2021 on a 50,000-square-foot exhibit wing with two labs for educational programmes and improved storage space for museum collections.
Other elements of the project, including renovations of additional education and gallery areas, will be completed by December 2025. CMNH has so far raised $86 million.
Last year, the Cleveland Museum of Art revealed plans to establish the Center for Chinese Paintings Conservation. The move is part of a growing interest in Asian art as China rises as an economic and cultural power.
Images: DLR Group / Westlake Reed Leskosky