Digital Projection's award-winning HIGHlite Laser II projector is powering a Boy George hologram performance at Liverpool's new visitor attraction, The British Music Experience.
Housed in the Grade II listed Cunard Building, the interactive museum celebrates British popular music through the decades.
Eight state-of-the-art exhibition galleries take visitors on an interactive journey from 1945 to the present day. Artefacts such as costumes, instruments and memorabilia are combined with performance to create a fully immersive experience.
The centrepiece of the experience is the main stage show featuring a five-minute custom-produced performance by Boy George and a large-scale stage hologram made possible by Digital Projection's HIGHlite Laser II, powered by a 7thSense Delta Nano-SDI media server.
The British Musical Experience first debuted in London's O2 in 2009 and continued at the venue until 2014. Its move to Liverpool reflects the city's importance as a spawning ground for so many landmark acts such as the Beatles, Cilla Black and Frankie Goes to Hollywood.
Creating a seamless experience was paramount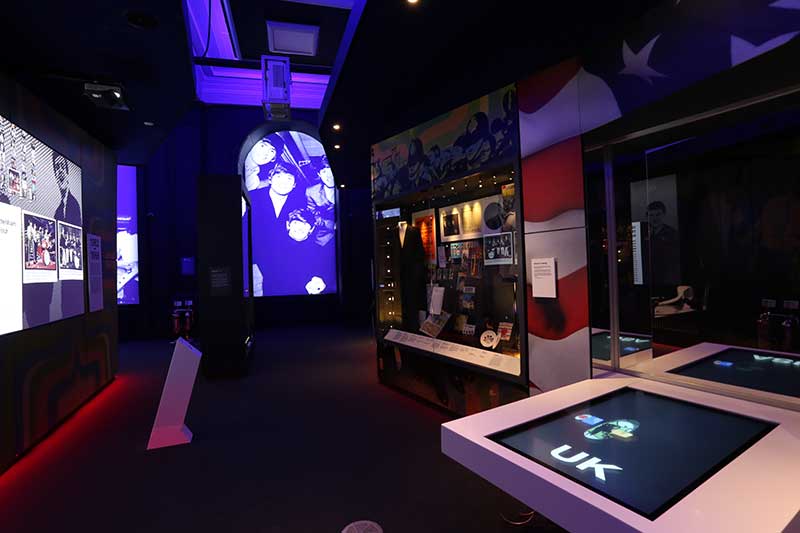 DJ Willrich was the company tasked with using the latest technologies to refresh the experience:
"The projection technology used for the London BME became dated since the installation in 2009, and we needed the projected video of Boy George on the HoloNet screen to be bright and punchy," explained DJ Willrich's Director, Josh Miller.
"A seamless experience was paramount. Visitors get up really close to the display so it had to be visually stunning from all angles and distances. Digital Projection's HIGHlite Laser II was the obvious and best choice to help us achieve this."
Alongside the HIGHlite Laser II, further Digital Projection projectors deliver high-impact images such as a giant Union Jack in the reception area and rotating images of various rock stars.
"If you think about music, it has to be inclusive, that's very important for us here," added Olly Taylor, Technical Supervisor at The British Music Experience.
"We want people to come, but we also want people to come back."