Germany's largest science centre has reopened its doors to the public after a major expansion, featuring as its centrepiece a dual use dome theatre from Kraftwerk Living Technologies.
Located on an island in the Neckar river in the city of Heilbronn, the new-look experimenta – Das Science Center debuted in April after 20 months of reconstruction. As part of the expansion, the museum features a striking new building that houses the experimenta Science Dome. The hybrid dome theatre installation from Kraftwerk Living Technologies combines surround projection with a stage set and 150-seat rotating auditorium.
The unique concept from the Austrian audiovisual (AV) system integrator has two operating modes. In dome mode, a total projection area of 726 sq m can be used for 3D dome and planetarium shows. Spectacular show concepts can be entertained as the audience is rotated through different scenes.
In event mode, meanwhile, the 170 sq m stage and rear screen can be used for lectures, 2D digital cinema performances or music and theatre productions.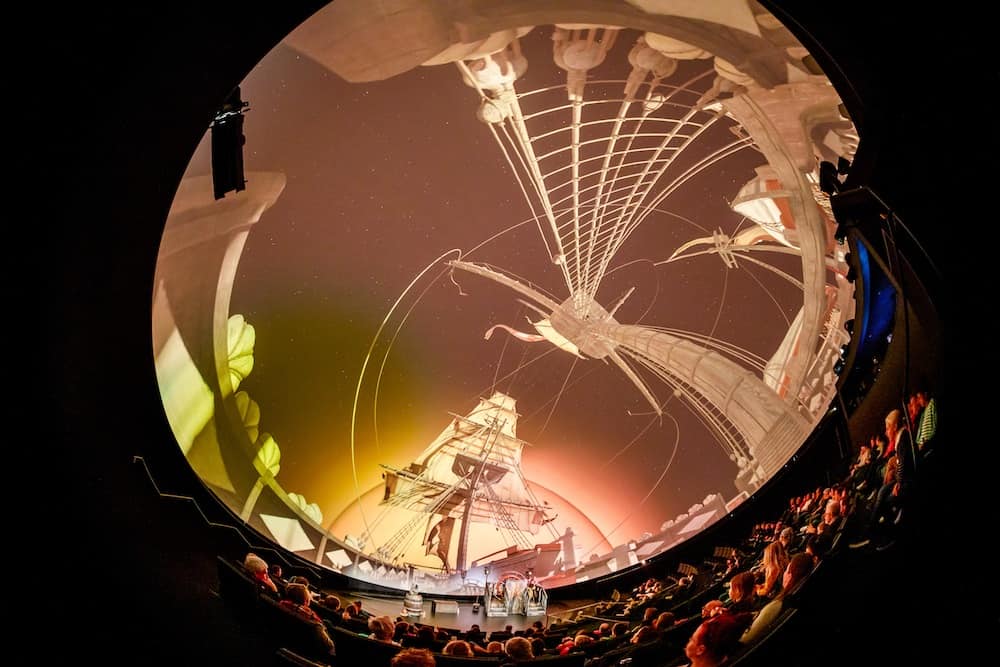 Intense images, special effects and state-of-the-art technology
Here are a few facts, figures and technical details associated with the Science Dome:
The projection dome has a total diameter of 21.5 m and is of a free-hanging aluminium construction
Six high-performance RGB laser projectors allow exceptional brightness and image intensity
3D content is played over twelve 4K projection channels, producing razor sharp images with a resolution of 8K x 8K
An integrated Zeiss star projector allows for the dome to be used as a planetarium in theatre mode.
A suite of special effects are available when used in full dome mode. These include a show laser, holographic screen, water, fog, wind and spectacular lightning discharges via Tesla coils.
The auditorium features immersive 3D audio technology. State-of-the-art theatre equipment is also included on-stage.
Science and discovery for all ages
The original experimenta opened on November 2009, but closed for rebuilding and refurbishment on July, 2017. At experimenta – Das Science Center, visitors can now explore four creative studios, nine laboratories and an observatory in addition to the Science Dome. In total, the 25,000 sq m science centre houses approximately 275 interactive exhibits for all ages. The expansion was privately funded by the foundation of Lidl supermarket founder Dieter Schwarz.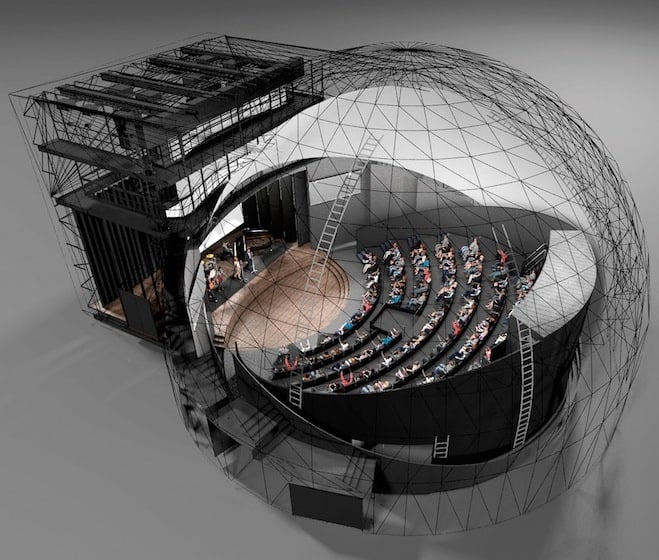 Kraftwerk Living Technologies founder and CEO Manfred Meier praises experimenta as a "visionary client." The Austrian firm came on board as part of the project in 2012 when it was invited to contribute ideas for the science centre's expansion. Plans for what initially going to be a 4D theatre soon evolved into a planetarium and eventually the multi-purpose dome space that has been created.
Kraftwerk Living Technologies was responsible for the technical design and detailed planning of the Science Dome. In addition, it handled everything from the implementation, programming and commissioning of AV and show control right down to the carpet and seats.
Images © experimenta and Kraftwerk Living Technologies