A rustic world of zip wires, boat rides, treehouses, slides, forest bridges and marsh walks, it is an exercise in imaginative outdoor play.
First opened in May 2007 on the outskirts of the Broadland village of Hoveton, BeWILDerwood is rooted in his books for children.
Tom Blofeld – whose grandfather, Thomas Robert Calthorpe Blofeld (1903-1986) was at Eton with Ian Fleming; his name the inspiration for James Bond supervillain, Ernst Stavro Blofeld – spoke to Blooloop about BeWILDerwood's beginnings, its evolution and its plans for expansion.
Explaining the original idea, he says:
"At the heart of it is the fact that I am a creature of the Norfolk marshes.
"I live in the Broads, and spent my childhood in the kind of oomska and mess and God knows what that proliferates here."
He drew on that childhood when, running a fireplace business at the time, he decided he needed a change of direction. He says:
"One day I just woke up and realised I could not any longer do anything that didn't work for my soul. I wanted clients I liked. And I came to the conclusion that the only people in the world that I actually like are children."
Gathering the courage to do something different
Blofeld had wanted to write children's books for years:
"I never quite had the guts to do it. So I just decided to build this thing in the marshes, and in the process wrote the books for it. It was just replicating my childhood imaginings."
His first book, A Boggle at BeWILDerwood was written that year. Its sequel, The Ballad of BeWILDerwood followed a year later. The BeWILDerbats and A BeWILDermuddle were then released in October 2008 and June 2010 respectively.
At the same time, he brought the world of the books to life in the marshes, lakes and forest of Hoveton.
He says: "One of the qualities is that the stories and what you do in the park are truly interlinked."
Stepping into Tom Blofeld's world
Later, his own children informed his imagined world:
"There are now five or six books, although only four have been published. I have two children, now aged 11 and 10, shortly to be 12 and 11. Rufus, who is on the autism spectrum, and Evie, and they have both been sneaked into the books."
Featuring treehouses, rope bridges, slides, zip wires, a maze, a boat-ride through a marsh, and creatures such as Crocklebogs, Boggles and Twiggles, BeWILDerwood is a real-play experience that makes extensive use of natural materials, and was, slightly to the consternation of its creator, a hit from the moment it opened.
He says: "It was just an extraordinary success, from day one, to the extent that on day three I went on the radio locally to ask people to stay away, because we were not actually capable of coping with the numbers of people.
"And then it grew."
BeWILDerwood – a magical experience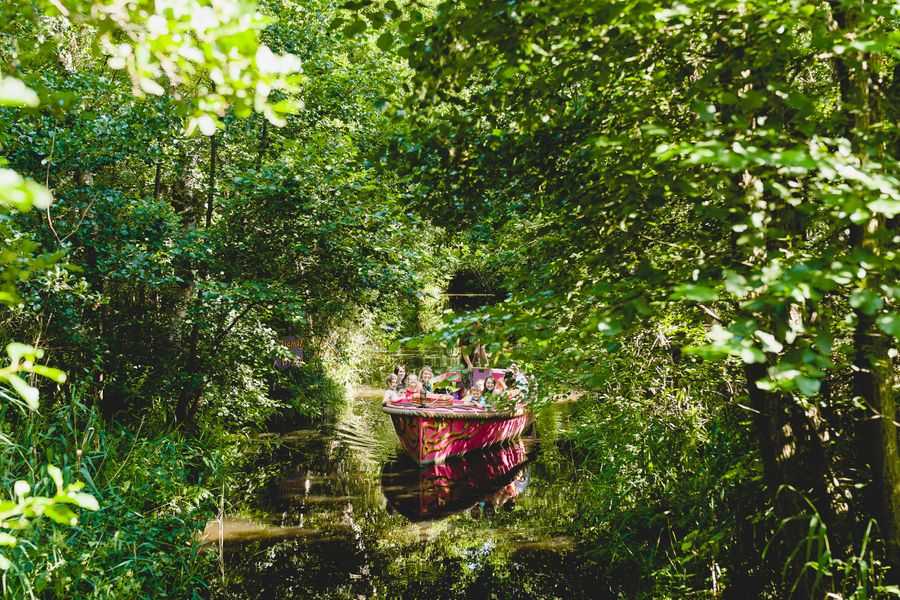 Describing the experience, he says:
"It is a genuine forest experience. You come in through the marshes on a pink electric boat, and see all these little jetties and villages in the Marsh."
A glimpse of the water squirting Mildred, a Crocklebog, is also quite likely:
"And then you play in the forest. We definitely fill the place with magic. There is a 'broken' bridge 7m up in the air, for instance, where we took out the middle slats and replaced them with glass ones. … It's the little details like that. The sky maze is over half a kilometre large. There are Parasquawks in there and you have to hunt them down.
"Only adults get lost. Children never get lost. We actually had a couple of members of staff get lost in it today, who hardly ever go in it because they are management; it was very funny."
He says: "We spent five years really getting the park together; it took a while to do all the things that we wanted to do, and by year five or six it was pretty much complete."
As far as possible, the structure is kept organic:
"There is no machinery in the wood. The food is very simple: sausages in a bun, no chips, no lasagne, no pizza.
"The idea is that you enter a magical world where you forget your home, your dog, your work problems. You just enter this beautiful, magical world, and it actually works."
Something for everyone in Norfolk
This year, a new piece of equipment has been added.
"We were slightly underwhelming for the seven, eight, nine-year-old boy. So we wanted to make a bit of a robust clamber-through thing.
"It's an enormous £200,000 bit of kit. We didn't even know what it was called, when it was two thirds of the way up. But it turns out to be called the Towering Tangles.
"We based it on a blackberry bush covered in convolvulus flowers, but they are all the size of you. I think 9m is the highest platform; it's quite a thing."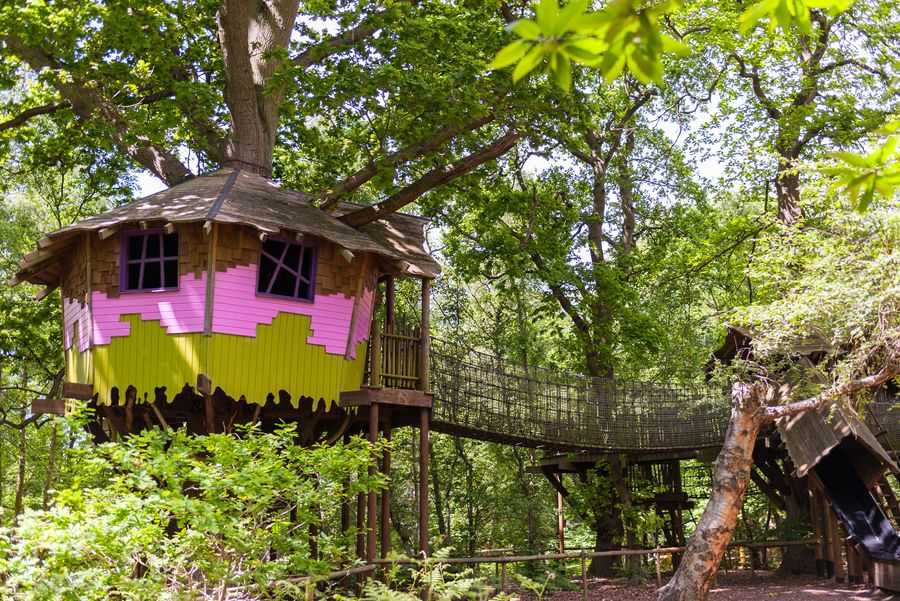 Describing Norfolk as "the back of beyond", Blofeld says:
"It was a very silly place to build it. You've got sea on two sides, and fens on one, so not a shed load of people can come in. They do, notwithstanding, coming from London and Cambridge and all kinds of places, but that is partly because Norfolk is a holiday destination."
Around half the visitors are locals:
"We only draw from a base of 1 million. And we get 170 thousand a year, which, for the kind of attraction we are, is extraordinary."
BeWILDerwood no. 2 on the way for 2020
BeWILDerwood has won a number of prestigious awards. This is including a THEA Award of Excellence at the 2009 THEA Gala in Los Angeles.
Blofeld says: "Actually, I wish I had done it later; we won it in the first three years, and it was lovely, but I didn't really know what to talk to them about. Now I do. It's a whacking great lump of glass, I'll tell you that."
A second BeWILDerwood is planned for next year:
"We are building it in Cheshire. We're not at the stage of announcing when it's going to open. Though, I can tell you it's estimated to open for summer next year."
A cool expansion in Cheshire's marsh
The new location will mean that the second BeWILDERWOOD is slightly different from the first.
Blofeld says: "I found a marsh in the middle of Cheshire, which was quite an achievement, I thought."
Cheshire's meres and mosses are a chain of bogs, marsh and fen wetlands associated with much of the county's wildlife.
He says: "And it is a really interesting bit of wood. The trees are rather different; taller and older, and, if you like, more vertical.
"I think of forests as having rooms. You think it all looks the same, but after a bit, as you get used to it, every hundred yards is a completely different experience; a completely different space, just as a house is.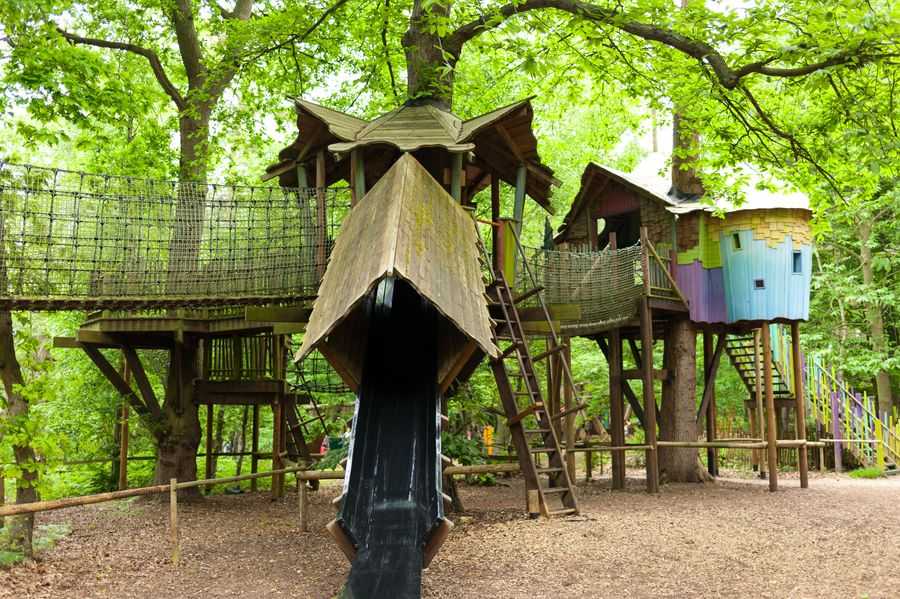 "So both sites have lots of different 'rooms'. Lots of silver birch in one, lots of pine trees in another, some open spaces here, some really dark ones here.
"There are lots of rhododendrons. I have cleared most of them out because they're not very good news. However, actually rhododendrons are lovely and gnarly and cool and fun inside, so I have kept some.
"I am the absolute bane of my project manager's life.
"He has had really dark mutterings on more than one occasion. But we are getting there.
"And the fact that we are expanding in this way is quite cool."
Room for growth & car park site secrets
While stressing that he doesn't envisage BeWILDerwood everywhere in McDonald's fashion, he feels there is plenty of room for a third site in the future.
With the Cheshire venue accessing a catchment covering Manchester, Liverpool, and to some degree, Birmingham, London would Blofeld feels, be the obvious next location:
"I would love to be at the Westcountry end of London, to enable Bristol and the south coast to come into play. There are also some really beautiful woods down there. We did at one point look at Windsor Great Park. However, the trouble with the M4 corridor is that I couldn't get the cars through. It is that jam-packed."
He says: "The secret of a site is car parking.
"If I've got a decent road in, and car parking that the council will permit, then I could probably work my magic on anything but Forestry Commission. I can't do straight lines of trees."
Primary objective for BeWILDerwood is not to make money
However, despite the good business practice that underpins BeWILDerwood, profit is not Blofeld's primary objective:
"I never got into this to make money," he says:
"It happens to have been a success. And it's jolly nice to be paid well if you can be, but I am actually doing this because I genuinely like what I do. I am going to have to like doing part two before I engage in part three."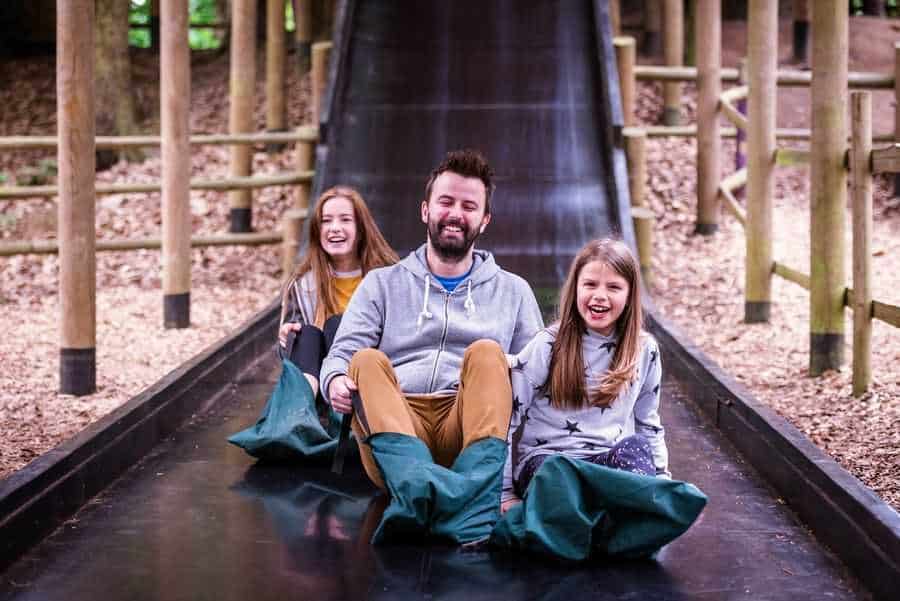 Easy ticketing solutions
Ticketing is currently around 50% online.
Blofeld says: "It used to be 10 or 20%, and that was exhausting. 50% makes much more sense. We can look after the customers once they have booked online in a much more overt way.
TOR Systems, leading ticketing, Epos and booking supplier, provided its MaximCloud solution for walk-up and back office bookings at the park. The company is proud to have been involved in this family-friendly attraction and has reported excellent visitor figures since the opening in February.
A company representative from TOR Systems said, "Customers have been purchasing online day passes, gift vouchers and annual memberships since November 2019 with many customers choosing to make their first visit on the first week of opening for the new season. We are delighted to say that the first week of operation went well with record numbers of visitors for the period, thanks to the wonderfully (and unexpected) warm weather throughout half term. We look forward to supporting them in the months and years to come!"
One of Bewilderwood's key USPs is the fact that it is assumed adults will play alongside children.
Blofeld says: "I used to go with my children, and my brother's children, whom I was instrumental in bringing up and stand miserably clutching a cold cup of coffee, watching them for two hours as they did some activity. So here, you are expected to play alongside your children. This is one secret of our Park."
Sticking to your own integrity
Expanding on this, Tom Blofeld describes some of the insights he has gleaned in the years since opening BeWILDerwood:
"The main one is probably: Stick to your own integrity.
"In a way, I've had to follow my ego, which is very bad for everybody around me. Ultimately, it has to be the vision of one person. Every time we have come a cropper it is been when I have allowed, or other people have insisted, for whatever reasons, in having their vision realised.
"If you are going to make something that is a true brand with real integrity and a true set of stories, it has to come from one person and one place. If you don't fancy it, however brilliant an idea it is, it shouldn't go in. Stripping out the things I didn't like, and making sure that the story was in, and how to communicate that story, took me a long time to really understand.
"Many people don't like reading books, but they all like stories. So finding an increasing number of clever ways to tell the stories is actually more important than finding great bits of play.
"Children are incredibly imaginative and would really make two matchsticks play with each other if there is nothing else going on, but they do love to be told a story.
"I think what I have learnt above all else is the importance of story."
Creating an imaginative experience through story
Blofeld's children's books are the bedrock on which BeWILDerwood is built; informing the imaginative experience of all visitors, whether they have read the books or not.
Expanding on this, he says:
"Roughly speaking, I would say one half of the customers don't read the books, but nevertheless like the fact that there is a story. Around 20% absolutely love them."
Initially, he hadn't intended to write the books himself. He had imagined he would outline the ideas, and let a professional writer take it from there:
"But my wife worked at the time for a magazine called Variety, and she read it. And she said, this is really good, you are not letting anyone else write this: you are doing it, mate.
"And so I did. And I discovered that I do actually have a genuine voice. To certain children, it means everything.
"That is the most flattering thing, when a child really gets excited about some nonsense that I have knocked out. It doesn't get better than that."
Passion and global warming
As the UK moves towards its exit of the European Union, Blofeld describes himself as a passionate 'remainer':
"Passionate almost to the point of insurrection. And what my wife and I are really cross about is that Brexit has taken us away from the more important story: global warming.
"We are all concentrating on these pillocks in Parliament, and not concentrating on making legislation to stop burning fossil fuels and to alter farming, and so forth.
"I feel very, very angry about Brexit, in every possible way."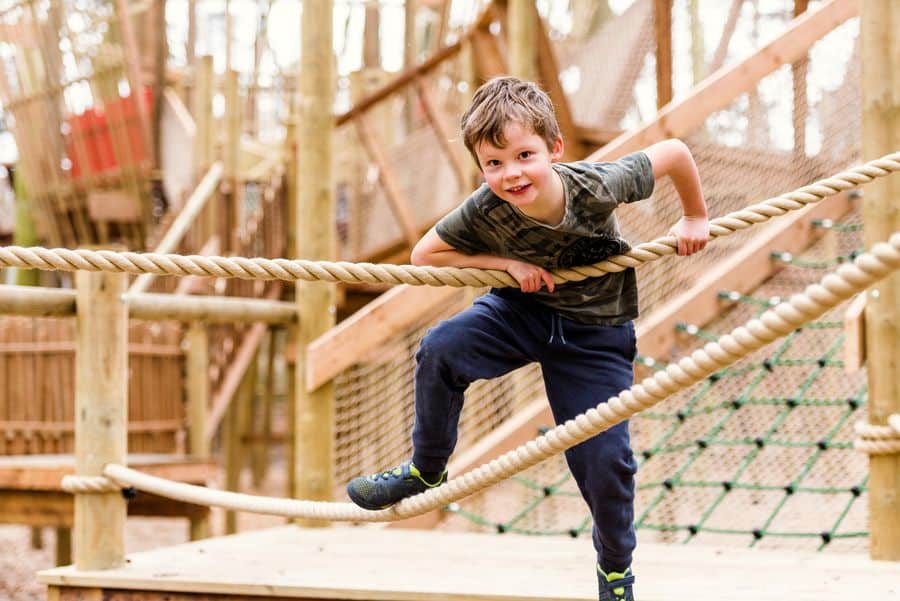 Citing everybody's favourite refugee, the small bear from Darkest Peru with the strong ethical message, he says:
"All children are like Paddington Bear, which is a great thing.
"The great joy of Paddington is its message that says, let us share our universe with everybody that has a good heart. I don't think Brexiteers feel that at all."
All images kind courtesy of BeWILDerwood and Tom Blofeld.