According to leading creator of digital experiences, Guru, augmented reality (AR) is a really fun way to deepen visitor engagement at museums, zoos and aquariums.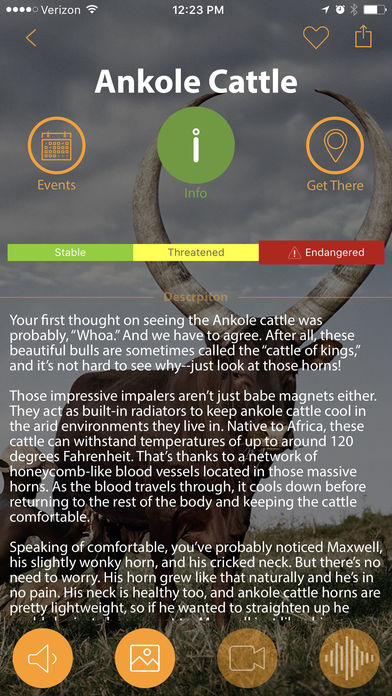 'There are a host of ways that AR can be used to enhance learning, create connections between visitors and animals, and even increase revenue through donations and sales,' says the company.
AR can take a number of forms. Visitors point their mobile device at a 'trigger' such as a sign, T-shirt or picture, which produces an AR experience overlaid onto the real world. This might be a 3D model of an animal or person. Or, it might simply be video or audio.
Another option is to engage guests with a Pokémon Go-style solution. In this instance, an AR experience or object is triggered depending on a guest's location.
Taken together, says Guru, there are a host of ways that AR can be used as a tool to enhance the visitor experience and improve engagement.
Examples of these ideas in action can be seen at the Living Desert Zoo and Gardens. Guru created a special app featuring AR for the Southern California attraction.
Seeing an answer or object in 3D significantly boosts its impact
The technology brings a zookeeper to life on a visitor's iPhone. It also uses a trigger to answer questions in 3D. For example, a trigger asks "How big is a giraffe's heart?" When visitors point their phones at the trigger, 3D models of an anatomical heart and a basketball the same size pop up. Guru argues that seeing the answer in 3D significantly increases its impact.
In a fun twist, they also put the same trigger on a sticker. In this instance, it asks, "How big is your heart?" and connects to the donation page of a giraffe conservation group.
According to Guru, zoos, aquariums and natural history museums that aren't making the most of this interactive technology are missing a trick. AR can bring animals – extinct or otherwise – to life. What's more, keepers and naturalists can share their knowledge with visitors even when they can't be physically present.
'When a 3D object springs out of the ground where nothing was before, many of us can't help feeling like we're in Star Wars, and Princess Leia is sending us an urgent message,' says Guru.