Museum visitors will spend less time searching and more time learning thanks to a brand new user interface platform developed by Guru.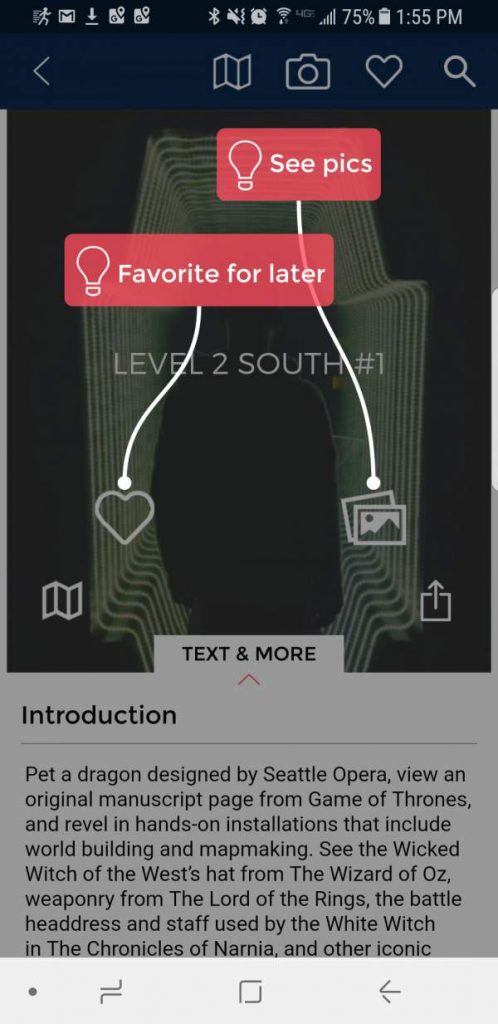 Created in response to museum and visitor surveys and research, Guru's new app experience is both faster and more intuitive.
In fact, users tap 37% less than they did when navigating the company's previous interface.
A key improvement is the all new, all-access homescreen.
Museum visitors access any app feature from the homescreen
Visitors can now access any app feature direct from the homescreen. This means it only takes one tap to get them exploring.
They can do this in several ways:
Wheel Menu – App users scroll through the wheel menu for quick access to tours, camera, maps, events and more.
Main Feature Top Menu – Maps, camera, favourites and search functions are accessed from the top menu of the homescreen.
Hamburger Menu – One tap from the homescreen provides instant access to ticketing, calendar, membership, parking, info and much more.
Search Bar – App user can locate any feature by typing its name into the search bar. The search bar is easily located at the top of the homescreen.
Updated, active labelling provides a more intuitive user experience
"Updated, active labelling in the app provides a more intuitive user experience," explains Guru. "Rather than tap a button labelled 'Tours', users now see an action statement they can relate to, such as 'I Like Taking Tours'."
Another benefit is the platform's advanced wayfinding. Featuring real-time GPS guidance, visitors can see their location in the venue or in an individual gallery. They can even use GPS to find their next destination.
The look and feel of the app has also been brought bang up-to-date with larger and sharper images on items pages and tour menus. Easy-to-use icons have also made navigation, favourites and bonus content easy to locate.
Finally, Guru has revamped its Tour UI with an easier-to-understand interface, clearly-marked navigation buttons and GPS mapping to the next tour stop.