Leading Dutch architecture form Mecanoo has revealed its plans for a spiral-shaped, partially submerged museum, the Maritime Centre Rotterdam 
A key part of the Condrico Terrain development on Rotterdam's harbour, the Maritime Centre Rotterdam will explore international maritime history.
The centre, which will offer accommodation as well as exhibition space, will stretch over 15,000 square metres and comprise three linked buildings. A series of walkways will wind in and around the buildings, offering a variety of viewpoints.  The walkways will then spin outwards, meeting existing pathways to create a circular pedestrian route around all the quays of the Rijnhaven.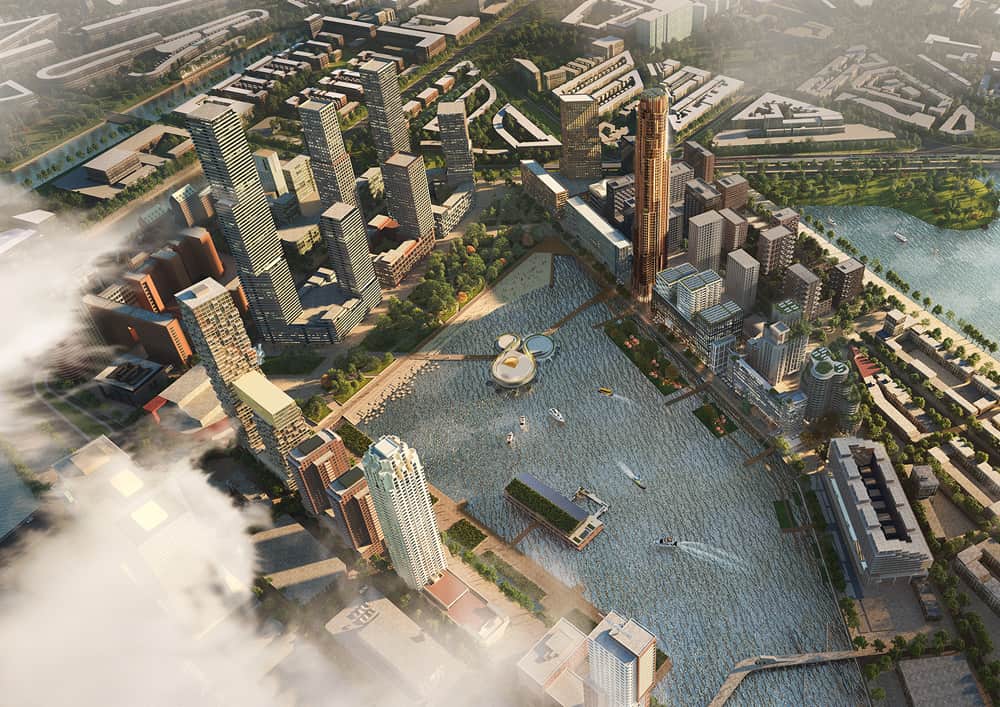 The lower levels of the three buildings will join up beneath the surface of the water.  Mecanoo say it will create "an underwater world" – a space for exhibitions, performance, and other events.  Indirect lighting will come via round skylights protruding above the water.  At low tide, this part of the building will also become visible
Mecanoo has designed its sinuous organic form to contrast with the linear blocks of the port's existing architecture.  "It is elegant, versatile and invites you to discover," says Mecanoo.  "It will be a place for maritime entrepreneurs, science and culture.
Wider development of the harbour area
"The centre will be accessible to the public. It will also will create a place to stay, on and in the water, with a view of the surrounding port."
The architects therefore see the Maritime Centre as a "giant leap" towards the Rijnhaven becoming a "new Rotterdam city centre for the 21st century".
The Maritime Centre Rotterdam is one part of a wider development vision for the harbour and its surrounding area. This is called the Condrico Terrain.  The Codrico factory site will be unlocked for redevelopment according to designboom, releasing space for 1,500 new homes alongside shops, offices, restaurants and cultural facilities.  The development has been drawn up by RED Company in collaboration with Powerhouse Company.
The municipal council will discuss and adopt the memorandum of principles for the project.  Following this, a zoning plan will commence.
The growing tide of underwater development
It's not the first time Mecanoo has built underwater.  In 2018 the architects built the Glass Villa. This is a three-story house in the Cotswolds, UK to create the feeling of "living outside on water".
It's also not the only underwater project in the Netherlands.  As Blooloop recently reported, the Docking the Amsterdam project has just been announced, creating an underwater museum for Amsterdam.
A host of other underwater attractions are already being built or under consideration.  These include the Living Museum in the Sea at La Caleta Underwater National Park in the Dominican Republic,  Jordan's underwater military museum  and a new underwater sculpture park for Miami Beach.
In addition, the Marassi Aquarium and Underwater Zoo was announced this summer. The Pairi Daiza Resort in Belgium also announced its new themed accommodation this July – with some rooms offering underwater views of animals.