The Musée du Louvre and Christie's auction house, are holding Bid for the Louvre, a luxury fundraiser. The Mona Lisa Mania lot offers a once-in-a-lifetime chance to see the world's most famous painting up close.
Other lots in the online auction, supported by Hôtel Drouot, include unique experiences and bespoke gifts from luxury brands such as Cartier, Dior and Louis Vuitton.
The sale runs until December 15th and is being held on Christie's online platform. It's a totally new venture for both the iconic museum and the famous auction house, with proceeds supporting projects at both the Louvre and new venture, The Studio, slated to open at the end of 2021.
Mona Lisa Mania
The Mona Lisa is a huge draw for the Louvre and famously draws huge crowds for a glimpse of the masterpiece. Before the pandemic struck the museum had made efforts to limit overcrowding by welcoming fewer guests. As a result visitor numbers fell in 2019 to 9.6 million, following a record 10.2 million guests in 2018.
The experience being put up for sale is to be present at the annual inspection of the Mona Lisa:
"Each year, the Mona Lisa is unhooked and taken out of her glass case for a brief moment. Painted around  1503 by Leonardo da Vinci on a very thin poplar panel, a crack weakens this masterpiece. Thus, the curators of the department take advantage of these moments to check the state of conservation of the most famous painting in the world.
It is at this precise moment that you are invited …
You will be able to directly meet the gaze of Mona Lisa and admire this iconic work up close."
Luxury brands and exclusive experiences
In all, 24 lots will be auctioned, including experiences, works of art, and unique gifts from luxury brands. They range from a private concert to be held in your honour, to a guided evening by torchlight at the gallery, and a tour of the roof with the Louvre fire brigade and artist JR. Contemporary artists with close ties to the gallery who have donated works of art include Pierre Soulages, Johan Creten, Jean-Michel Othoniel, Xavier Veilhan, Candida Höfer, and Eva Jospin.
Exclusive gifts include the 'Panthère de Cartier' diamond, onyx and emerald bracelet in the form of a jewelled panther (starting bid EUR 30,000), Dior Dreams, a hand-crafted haute-couture miniature dress in an embellished trunk (starting bid EUR 16,000), and a bespoke Louis Vuitton fragrance in its own carrying trunk (starting bid EUR 26,000).
The move highlights the growing trend for unique and VIP experiences, as visitors increasingly seek personalised and unique experiences.
Battling the effects of pandemic closures
A report in Forbes. suggests that the Louvre is facing losses of nearly $50 million, following a four month shutdown earlier this year.
"Everyone has been able to understand the difficulties that the pandemic has created for cultural institutions," said Cécile Verdier, President of Christie's France, told Art Daily . "The Louvre is no exception. It is our great honour to support our friends at the Museum through this initiative."
Democratising art and culture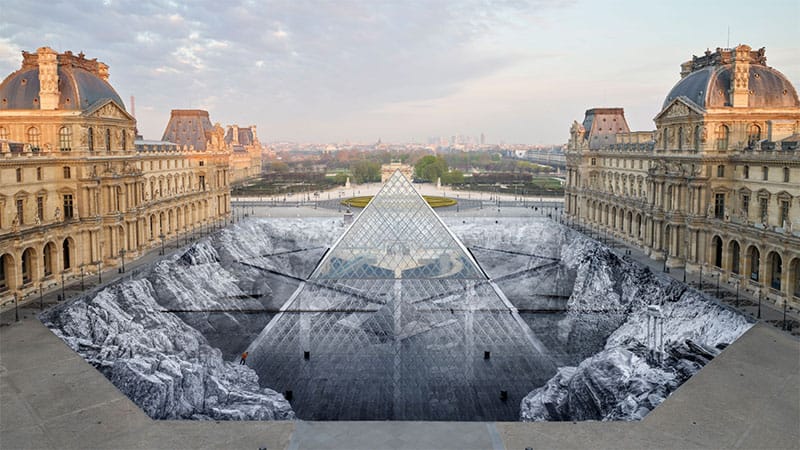 The proceeds of the sale will be used to fund accessibility projects, including new venture The Studio, a 1,150 square metre space devoted to cultural and artistic education. The aim is to open art to those who may feel excluded or uncomfortable in the main museum. In particular it hopes to welcome students, families, people with disabilities and those who are vulnerable. Earlier this year, Jean-Luc Martinez, the Louvre's president and director, admitted that the museum can 'intimidate' people, and that he hoped to shake off its elite and potentially off-putting image by aiming for a "cultural democratisation" of its collection.
"This period of pandemic, which is hitting the most vulnerable in society first, makes this project even more necessary," said Martinez. "The art community and those luxury brands with close ties to the Louvre responded instantly to our call for help and I thank them very warmly. They know that educational projects are at the heart of the Louvre's work."
"We can easily see how challenging it is for everyone to have access to culture," said Alexandre Giquello, President of Drouot Patrimoine. "By supporting the Bid for the Louvre sale, we are delighted to participate in the democratization of our institutions and to support the Louvre's solidarity projects."
Museums thinking outside the box
Museums and galleries are recognising that they are going to have to become more inventive when it comes to raising funds in a post-pandemic world. Some museums have already embraced the trend for luxury or themed museum hotel accommodation to entice visitors to extend their stays and spend more. Even the Louvre followed suit with an Airbnb partnership offering a night in the iconic Pyramid.
The Louvre has also welcomed collaborations with celebrities. Influencers such as Beyoncé and Jay-Z  are helping institutions to attract a new demographic.
Images:
Header – https://commons.wikimedia.org/wiki/User:Victorgrigas
Others – Christies