MOUA, the Museum of Underwater Art, has announced that it is ready to welcome divers and snorkellers as soon as tour companies can operate boat trips again.
MOUA is the only underwater art museum in the Southern Hemisphere. Located on the Great Barrier Reef in Townsville, Australia, the museum aims to highlight reef conservation, restoration and education.
The museum's opening was delayed due to COVID-19 in April. However, the museum is now ready to welcome visitors, The Guardian reports.
Featuring sculptures by British artist Jason deCaires Taylor, an underwater sculptor, the museum wants to inspire visitors to help conserve the coral reef.
A 'coral greenhouse' underwater
Set in the John Brewer Reef at the heart of the Greater Barrier Reed Marine Park, Taylor has created a 'Coral Greenhouse'. The structure and statues are designed to be built upon by the reef until it is completely absorbed by its surroundings.
The structure of the 'greenhouse' is made from pH neutral cement compounds. The benches provide refuge space for marine life while its expansive floor space provides ample access for divers.
The 20 statues within the greenhouse are 'reef guardians'. These statues are based on children from local and international schools who tend to the coral, protecting and nurturing it.
Colour-changing statue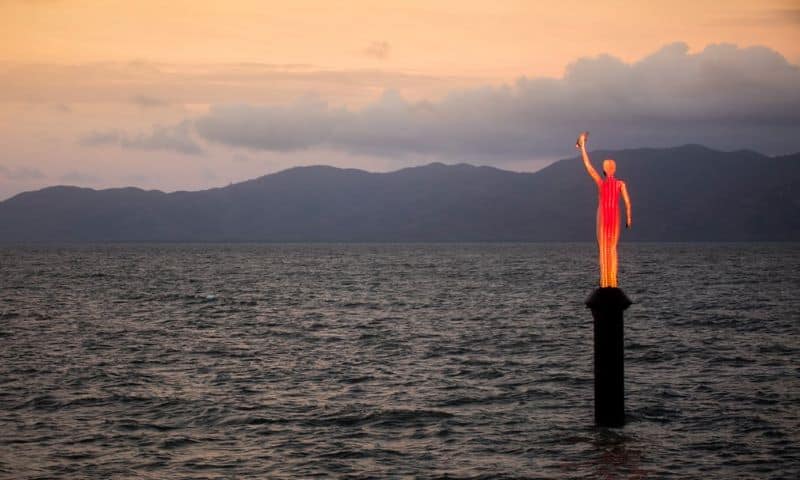 'Ocean Siren' is the only part of the museum that can be seen above the water. It is based on an indigenous girl from the Wulgurukaba called Takoda Johnson. The sculpture reacts to live water temperatures and changes colour accordingly, from blue to dark red.
The LED lighting is powered by solar panels so that it is self-sufficient. Taylor, the artist, said that the statue is " a visual representation of the current conditions out on the reef and can potentially warn of risks to coral reefs from warming seas".
MOUA is expected to generate over AUD $42 million in regional economic activity each year and bring in an additional 50,000 visitors to the region annually. The museum will create 182 jobs in the local area.
Underwater museums are becoming more popular around the world. In December 2019, the 'Living Museum in the Sea' opened in the Dominican Republic. The museum provides divers with the change to see conserved artefacts from shipwrecks.
In Jordan, divers can explore tanks, helicopters and more in the underwater military museum located just off the coast of Aqaba. And in Bahrain, a Boeing 747 was submerged to create an underwater theme park.
Images: MOUA