The Pennsylvania Trolley Museum held a groundbreaking ceremony for the new Welcome and Education Center on May 6. The museum has raised more than $14 million to fund the project, which covers 21,000 square feet.
"We have a small visitors' center, but it's only about 2,000 square feet, so it's pretty small," said Scott Becker, executive director of the Pennsylvania Trolley Museum (via TribLIVE.com).
"Of course we have the trolley barns," added Becker. "But we've run out of room, especially when we have special events."
The Welcome and Education Center is adjacent to the Trolley Display Building. It will include a visitor centre, educational exhibits, classrooms, event rooms and offices, as well as a ticket kiosk, gift shop and café.
$14m raised for expansion project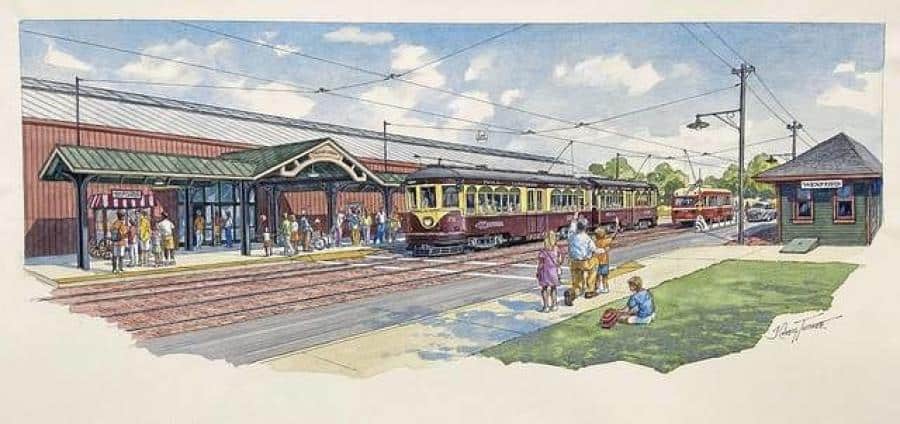 The Welcome and Education Center will display exhibits that explore the history of trolleys and streetcars, as well as interactive STEAM exhibits designed in partnership with the Carnegie Science Center.
"The Carnegie Science Center is right now designing interactive STEAM exhibits," said Becker. "They're going to be on different topics like electricity, braking.
"And we even have one called 'Rolling Melting Pots' that talks about all the diversity that trolleys were able to foster because people of all different backgrounds were able to ride the streetcar together."
Trolley Street, an immersive and educational outdoor display where visitors can tour and ride trolleys, is "set up like a movie set", said Becker.
Groundbreaking ceremony held on May 6
"It has old-fashioned street lights, old-fashioned traffic lights, and it's going to have curbs on it so we can park antique cars as the trolleys roll down the street."
Pennsylvania Trolley Museum officials hope the project will be completed by the second half of 2022. "It's really going to give us a lot more latitude to provide some great programming," said Becker.
The Pennsylvania Trolley Museum boasts a collection of 50 trolley cars from Pennsylvania, Ohio, and West Virginia. It also houses New Orleans' famous 'Streetcar Named Desire'.
Elsewhere, Imperial War Museums (IWM) is opening the £30.7m Second World War Galleries and Holocaust Galleries at IWM London on October 20, 2021.
Images: Pennsylvania Trolley Museum