Leading digital content creation and distribution partner for world-class visitor destinations, Picsolve, is celebrating a new partnership with 360 CHICAGO Observation Deck.
A breathtaking 1,000ft above the city and overlooking Lake Michigan, the attraction affords spectacular 360-degree panoramic views over the city.
This latest win reflects the company's continued expansion in the US. It also marks Picsolve's sixth observation deck partnership. Existing partners include One World Observatory, Eiffel Tower Las Vegas and One Liberty Observatory Deck.
The addition of Picsolve's green screen technology at the 360 CHICAGO Observation Deck entrance aims to add an extra layer of interactivity to the guest experience. With a selection of engaging and seasonally-updated content to choose from, guests can instantly share images of their view high above Chicago's skyline.
Roaming photographers will capture visitors on TILT – Chicago's highest thrill ride
Roaming photographers will also be on hand to capture visitors as they experience TILT – Chicago's highest thrill ride. The attraction tilts riders over Michigan Avenue from the 94th floor via an enclosed moving platform.
"As the owners of this prestigious attraction, we're very proud of the experience we offer to visitors – so it was paramount we worked with a trusted partner with a proven track-record," explains Nichole Williamson, General Manager at Montparnasse 56 Group.
"Our successful partnership with Picsolve at our One Liberty Observatory Deck in Philadelphia proved they were up to the challenge of delivering another seamless photography experience for our visitors."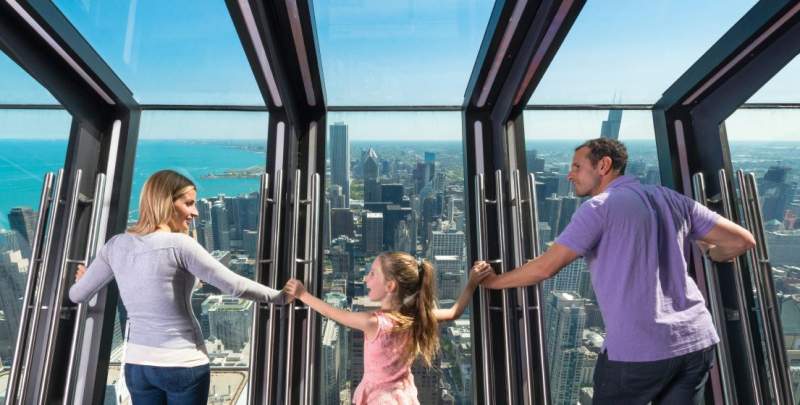 Picsolve cemented its ambitious US expansion plans with the acquisition of Freeze Frame in 2017. The company continues to partner with an increasingly diverse range of leisure destinations.
"The substantial growth and sector diversification we've seen in the US is testament to our hard work in building mutually beneficial partnerships and delivering on our promise to customers time and time again," adds Cliff David, Picsolve North American President.
"We're delighted to be providing our innovative imaging technology, so that more visitors are able to capture and share the stunning views they experience when they visit this iconic attraction."