The National Museum of Finland in Helsinki is expanding with a new 6,300 square metre addition to the museum. JKMM Architects, who won the design competition for the project, has now submitted their plans for planning permission.
There were 185 design proposals for the new project. JKMM Architects' proposal, called 'Atlas', was chosen in December 2019. The extension is now underway as the plans have been submitted, ArchDaily reports.
'Atlas' extension plans submitted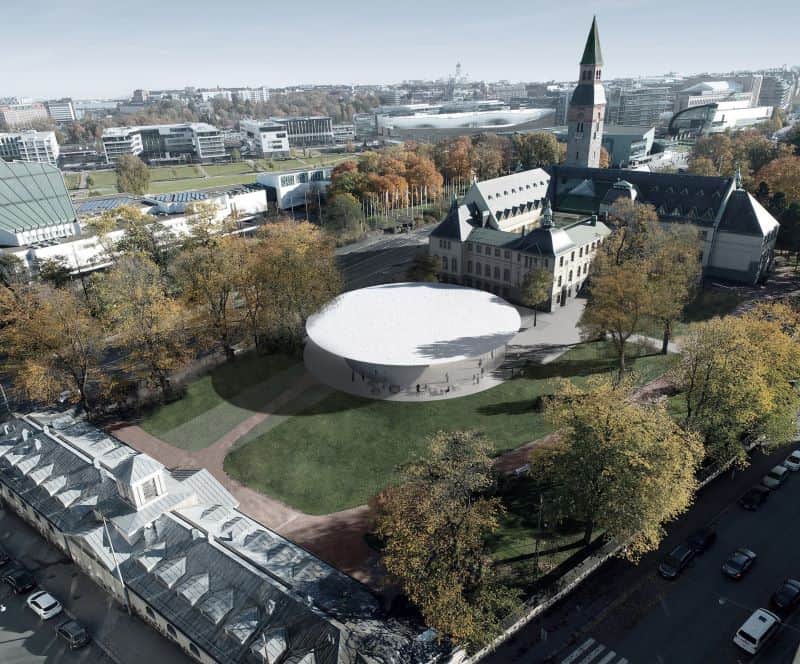 This new extension is expected to open in 2025, and is part of Finland's investment in culture after the coronavirus pandemic.
As part of 'Atlas', 3,600 square metres will be added to the historical museum. This will create a new entrance, more exhibition spaces and a garden restaurant.
The current museum is a listed, early 19th century building, built in the National Romantic style. It is considered as one of Finland's most important architectural buildings.
The new designs are more modern. JKMM explains that the extension is designed to "transform the museum into a modern landmark to house Helsinki's largest exhibition spaces".
A modern, simple space
A large structure will form the main entrance to the museum, with a "monolithic cantilevered concrete roof" above it. A stepped 'public square' in this space will lead visitors into the museum.
JKMM designed the new building to be "simple, universal and even primeval in its concept".
This project was organised by the Finnish Heritage Agency, the National Museum of Finland and Senate Properties.
The Finnish Government has also announced that it will fund the construction of a new Architecture and Design Museum in Helsinki. This will be part of its coronavirus support package.
The new museum will open in 2025, and has received €60 million from the government. Combining the existing museum, the new museum will be built on the South Harbour.
Images: JKMM Architects