SL Green has revealed plans for Summit One Vanderbilt, an immersive experience and observatory located at the top of the $3.3 billion One Vanderbilt tower in Manhattan.
Summit One Vanderbilt offers multi-sensory experiences and cutting-edge technology, with an immersive art experience designed by Kenzo Digital and interior design by Snøhetta.
Launching on October 21, Summit One Vanderbilt will boast a glass elevator called Ascent, which travels 1,210 feet up the outside of the building, offering incredible views of NYC.
NYC observatory launching in October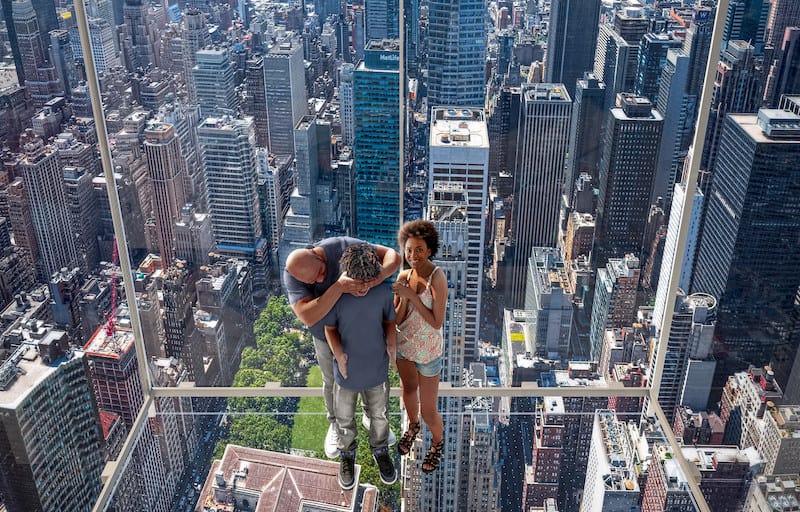 In addition, it will feature The Summit outdoor bar and glass sky boxes called Levitation that stick out of the building and suspend guests 1,063 feet above Madison Avenue.
"We have created a destination that offers an interactive experience that will be remembered for a lifetime with the best, amplified views in all of New York City," said Marc Holliday, chairman and CEO of SL Green.
"Summit One Vanderbilt is awe inspiring, magical and needs to be experienced to be understood. It is a special, thrilling place that New Yorkers and travelers from across the country and the world will want to visit time and time again."
The tower's immersive art installation will "awaken your senses, transform your perception of New York, and reimagine your relationship to nature", according to Digital.
Ascent glass elevator offers views of NYC
The entertainment space covers 65,000 square feet and was designed by Snøhetta. "Snøhetta has designed a continuous yet evolving adventure," said Craig Dykers, founding partner architect of Snøhetta.
"Each space is sensitively considered to ensure the optimum experience within a changing dynamic as one is transported from the ground to the sky and back," he added.
Elsewhere, Bristol City Council's planning committee has approved a planning application for the Arc Bristol viewing cabin, located atop We The Curious.
Images: SL Green