teamLab has created a digital-only art museum in Japan.  The ground-breaking immersive digital art museum is sold out on its opening day in Tokyo.
Experimental Japanese art collective, teamLab describes itself as a group of "ultra-technologists". It comprises designers, computer scientists, engineers and programmers. teamLab, in collaboration with Tokyo-based urban developer Mori Building, has opened a 107,000 square-foot museum in Tokyo's Odaiba district using only digital art.
teamLab is another example of a new appetite for updated immersive art experiences, as evidenced by the success of Meow Wolf in New Mexico.
"By collaborating with teamLab, we hope this 'digital art museum' will become a new destination for tourists, art lovers and museum-goers, and also reinforce the appeal and status of Tokyo," said Ou Sugiyama, project manager of Mori Building.
The interactive, digital art moves across the walls and floors of the space, creating a totally immersive experience. "Every day will be a different experience," said Takashi Kudo, teamLab's communications director. "There are different monitors and projectors – people can become part of the work. It's borderless and transcends boundaries."
The delight of digital is that the art can constantly change. "When you create something, there are already boundaries," he continues. "If you make it on canvas, there are boundaries; if you make a sculpture, you can't change it. But for digital, you can always change, because the digital world doesn't really exist. We want to really bring people inside our artworks."
teamLab has been exploring the field of immersive digital experience for over 15 years. The museum expands on previous work which included installations in galleries around the world, including London, Sydney and Istanbul.
"Walk, Walk, Walk: Search, Deviate, Reunite" opened at the National Gallery Singapore earlier this month. The installation allowed visitors to wander through cherry blossom glades and bamboo forests. Digital pedestrians were encountered, who could change direction and respond to real-life movements.
The collective explores the relationship between humanity and nature. Now the group has a permanent space, it will continue to explore the concept.
"We try to find the relationship of the human and the world," says Takashi. "In Japan, nature, and humans – one part of nature."
Selling the experience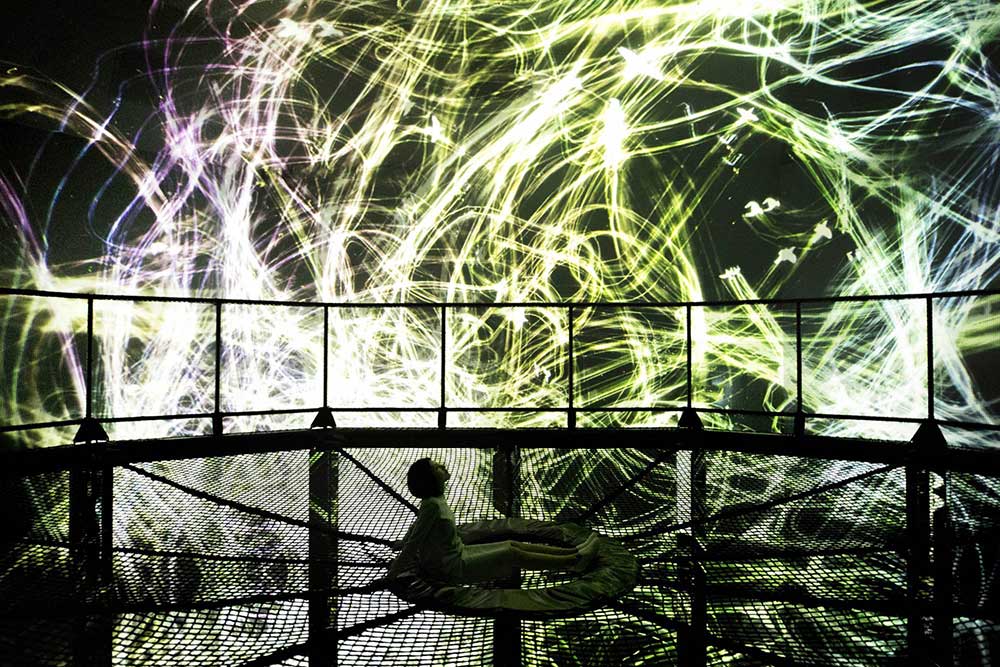 Although the exhibition is clearly well-suited to a museum setting, there are questions over how to price and sell such experiential artworks.
"Although we do sell teamLab monitor-based works in the gallery, large-scale environments are too big for all but a few collectors, corporations or museums," says Peter Boris, executive vice president of Pace Gallery, in an interview with CNN. Pace has hosted four teamLab exhibitions in recent years. "So with large-scale installations, we are not so much selling objects as we are selling an experience.
He points out that the production costs of building the immersive environments, and the tech team behind the installations, are substantial – often going into millions of dollars. "The business model becomes more like entertainment, movies, theatre, music," says Boris. "We have made it work by selling tickets."
teamLab, however, thinks digital production is no different from any other artistic process. "We think this is craftsmanship," says Takashi Kudo. "We're creators (and) we believe in experiencing something that can change our way of thinking, our values — something that can give us dreams for our future.
"We don't know if our output is 'art' or not. Maybe that will be decided in 100 years. But we try to create something we believe in."
https://edition.cnn.com/style/article/teamlab-mori-building-borderless-museum/index.html